Hawaiian music camp victim of Molokai Ranch closure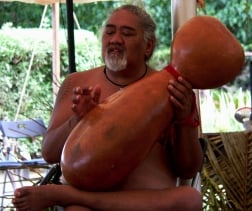 Molokai Ranch closed earlier this month, forcibly relocating Aloha Music Camp.
For the last five years, the Hawaiian music, dance and culture camp convened each summer at Molokai Ranch's isolated Kaupoa Beach Village.
This year's camp—scheduled for June 22-28—will move to the Big Island's considerably less remote Outrigger Keauhou Beach Resort.
The camp suffered an even more irreplaceable loss last week with the death of much-loved kupuna Auntie Winona Beamer. The noted Hawaiian entertainer and cultural touchstone (in middle photo), along with members of the Beamer ohana—including her son, Grammy-nominated slack-key musician Keola Beamer—hosted the camp each year.
"The camp really is about her life, in a lot of ways," says camp administrator Mark Kailana Nelson. "Her whole life was dedicated to having Hawaiian culture reach out and be taught and cherished and understood. And that's why we're continuing it."
Nelson and Keola Beamer founded Aloha Music Camp on the Big Island in 2001, before moving it to the beachside lodging owned by Molokai Ranch.
"Molokai was just the most perfect place imaginable. There was a very Hawaiian presence," says Nelson. "The village was on a secluded beach. The people on Molokai had such aloha. Our hearts really go out to them. So many of them lost their livelihoods."
The camp is moving to a conventional Hawaii resort—perhaps longer on amenities, but hardly as isolated, or as surrounded by nature.
Nelson argues the camp itself transcends its setting. "It's not about the location. It's the people. It's the aloha. It's the ohana. We've been fortunate enough to create that experience in two different locations now. That's what we're going to do at the Keauhou as well."
But Molokai will be missed.
It's a special place," says Nelson. "The utter silence. The sound of the ocean, the birds, the wind through the trees. Listening to Keola sing 'Honolulu City Lights' with the Honolulu city lights right across the channel was chicken skin.
""The first time he did that, there wasn't a dry eye in the house."