Hawaiʻi's Bike Sharing Program, Biki, Continues to Grow in 2020
Expect to see a lot more Biki bikes rolling around Honolulu in the coming years.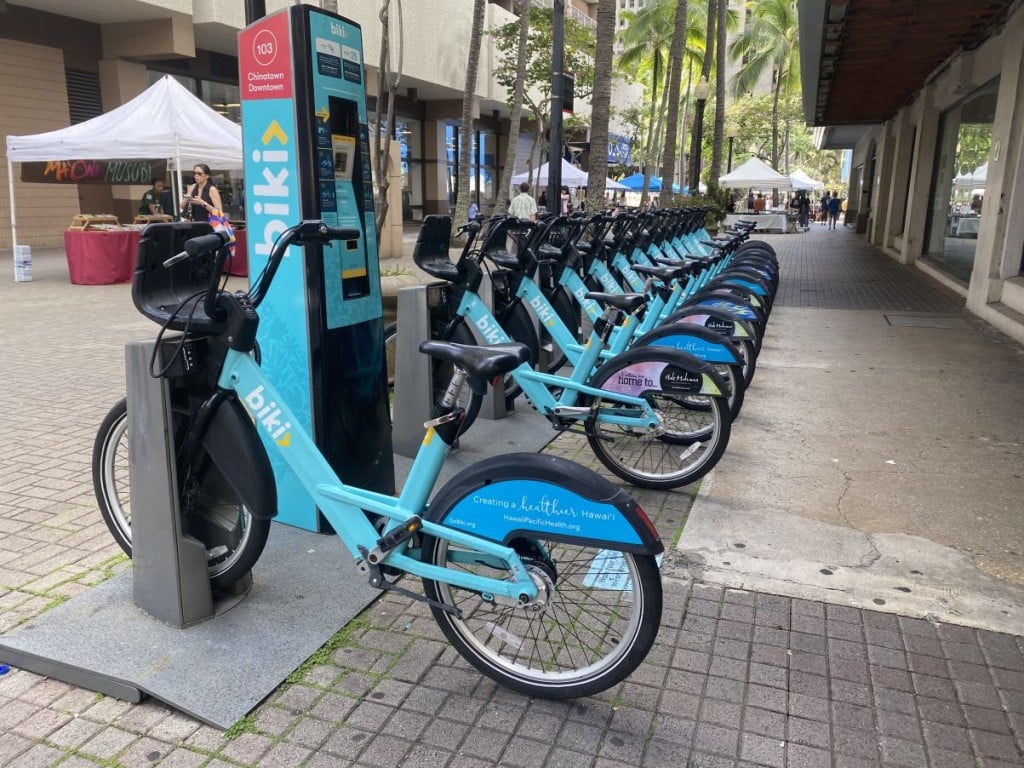 Started in June 2017, Biki, a nonprofit bike sharing organization known for its rentable aqua-blue bikes, has seen growing success in Honolulu and surrounding districts, where its rental racks are located.
In 2019 alone Biki recorded nearly 1.38 million riders, a 22% increase since 2018. The number of unique riders also increased by a staggering 14%, to just above 121,000. It helps that Honolulu is becoming a more bicyclist-friendly city, thanks to the protected bike lane on King Street, one of Honolulu's busiest streets, and others.
Cheaper and more accessible than cars, Biki, which charges $4 for a one-way 30-minute trip and $25 for a bank of 300 minutes that can be used as you please, has also expanded its initial offering of 100 rental stations. Since dropping its first 100 racks in urban areas such as Waikīkī, Ala Moana, Downtown Honolulu and Kakaʻako, Biki added 36 more rental stations and 300 bikes in December 2018 in residential boroughs like Mānoa, Iwilei and Makiki. It's important to note that Hawaiʻi residents are eligible for exclusive kamaʻāina plans, which offer affordable monthly fares for an unlimited number of 30- to 60-minute rides.
SEE MORE: Take the Scenic Route with Biki, Hawaiʻi's Bike Sharing Program
"The community has responded very positively to Biki; 68% of our rides are taken by residents of Oʻahu, many of whom use Biki to commute to work, run errands, and for exercise," says Kelsey Colpitts, marketing and communications manager at Bikeshare Hawaiʻi (Biki). "We have introduced new programs such as Biki Social Rides—a free ride series for residents 50-plus, Biki Bicycling Basics safety and education workshops, and an Access Program for income-qualifying residents."
When it comes to future growth, however, Biki doesn't have any immediate plans to expand outside of Honolulu. Instead, its next phase will likely focus on additional neighborhoods in the Honolulu district. "Generally, bike share programs begin in the dense city center and slowly expand into the surrounding neighborhoods," says Colpitts. "Our next phase will likely include Kaimukī and Kalihi. In the long-term, we are looking at potential opportunities to introduce e-bikes and integrate Biki with the rail." A date has not yet been set for this expansion.
With its current offering of rental and return locations, Biki provides a convenient alternative to driving around Honolulu's sometimes hectic streets. The organization recommends riding its bikes at Ala Moana Beach Park or using the protected King Street bike lane to see Honolulu's urban aesthetics. Whether you're content riding down to Kakaʻako or cycling up Diamond Head road, Biki provides an affordable and convenient way to see all Honolulu has to offer.
For more information on Biki, visit its website or call (888) 340-2454.