Hawaii's Schools of the Future are Here, Right Now
Thanks to supporters like the Oak Foundation, Hawaii schools are gaining inspiration and innovation.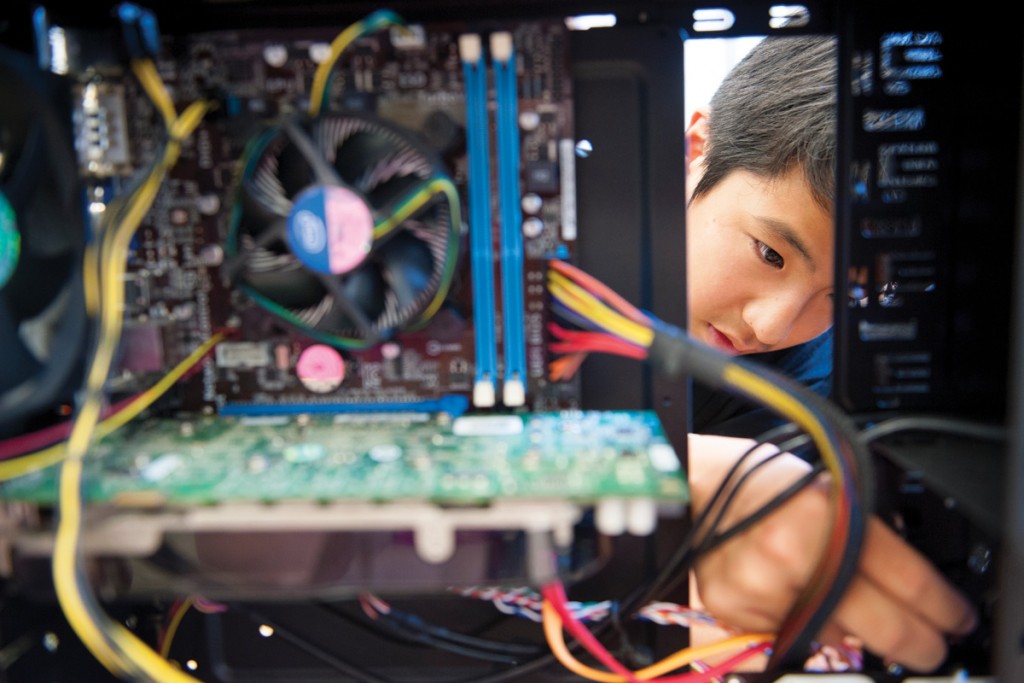 Last year's conference opened like many in Hawaii, with a blessing in a large ballroom full of anticipation and excited attendees. Middle school students with ukulele waited on the sidelines with heads bowed for the prayer. Once onstage, they charmed the crowd, strumming, singing and reminding everyone of the promise of Hawaii's youth and their reason for gathering that day.
Our island state's geography and unique blend of cultures make Hawaii students unlike any in the world. They deserve an education that honors that uniqueness and empowers them to overcome the obstacles preventing them from thriving. In January 2008, the Hawaii Association of Independent Schools and the Hawaii Community Foundation began exploring how Hawaii's education practices could be adjusted to respond to the changing global economy. As a result, the Schools of the Future Initiative and Conference were launched with the intent to transform learning environments and teaching strategies and better prepare students for work and citizenship in the 21st century.
For teachers eager to learn the latest, most effective and most creative ways to engage students, there is no better venue in Hawaii than the annual Schools of the Future Conference. Held each fall, just as kids return to the classroom, the conference gathers pre-K through postsecondary teachers, counselors, administrators and others from public, private, charter and parochial schools and the community to hear presentations and personal stories about improving education for Hawaii's keiki.
Once considered nontraditional education, concepts like Social and Emotional Learning, or SEL, and Learning Variability are gaining traction in classrooms and school districts around the world. Teachers who've tried the concepts in their classrooms know why. The results are highly convincing.
Classrooms that strive to build a climate of trust and value and create space for relationships and mutual respect also see a jump in academic achievement. Kids are happier and more emotionally resilient to life's challenges.
The Schools of the Future, or SOTF, was borne out of the realization that future graduates need different skills to succeed in the 21st century, including the ability to think critically, communicate well, be creative and work collaboratively. Many of those who donate to support the conference want to build these skills into today's education so that our future workforce will be better equipped, no matter how technology evolves.
"If you look at the data, what employers are looking for in a candidate – what identifies success in the workplace – are social and emotional skills like leadership, communication, problem-solving, empathy and critical thinking," says Richie Ressel of Sanford Harmony, an SEL program available for free to schools around the nation. "The strongest job performers have developed these competencies equally to their academic achievements."
Social and Emotional Learning
SEL is just one of the eight educational tracks at the SOTF Conference, but it's a good example of a topic that has expanded dramatically to meet the demands of attendees. Donors have been instrumental in helping make these packed sessions happen.
Pillars of Peace Hawaii, a donor-funded program of HCF, has sponsored the entire SEL track. Schools in Hawaii – and all over the nation – that include SEL are witnessing an astounding drop in aggression, depression and other obstacles to student achievement.
"We are seeing, in everyday and seemingly unremarkable circumstances, remarkable instances of students being aware of deeper dimensions of themselves," says Dr. Thomas "Toby" Yos, a University of Hawaii and Waikīkī Elementary School based specialist in Philosophy for Children, or p4c, one of the many SEL programs that have been implemented in Hawaii schools.
The Personal Approach to Learning
The fact is, not everyone learns by didactic reading or listening. Educators have known for a long time that many learn by watching or doing. Yet, translating this understanding into a personalized, more effective teaching approach is far beyond the resources of most classrooms.
That's where the new Learner Variability & Individualized Learning track at the SOTF Conference, supported by international funder Oak Foundation, comes in.
"When funders like Oak Foundation invest in our keiki, it's because they recognize what many of us know," says Lydia Clements, vice president for foundation and corporate partnerships at HCF. "Strategic giving can have a tremendous impact here. By supporting educators to better respond to each student's needs, we can have a multiplier effect because students become more aware of how they learn and they develop a true love of learning. This sets the stage for them to thrive in Hawaii and beyond."
Digital Promise Global, an organization that presented at the 2018 SOTF Conference, incorporates SEL into its approach on Learner Variability, drawing from the experiences of teachers in Hawaii's diverse classrooms to build out some of its approaches.
Vic Vuchic, executive director of the Learner Variability Project and chief innovation officer at Digital Promise Global, stressed that each learner is unique in his presentation on Learner Variability at the 2018 conference. "Learner Variability recognizes that each student brings their own skills, experiences and challenges to the classroom, and tailoring instruction to their variability can empower each student to rise and meet their potential," he said.
Shifting an educational approach for an entire state is no easy task. But if enough people and organizations mobilize around a common cause, the energy is electric and can power a sea change.
"We ask a lot of our students as we try to prepare them for a future that none of us can predict. We want them to be flexible, brave, open to change and good at collaboration," says Clements. "Who better to teach these things than the teachers that attend this conference? They are jumping into learning new material and applying what they learn in their classrooms right away."