Hawaii's stars perfectly align for total lunar eclipse, Oct. 7. Bishop Museum to host viewing party.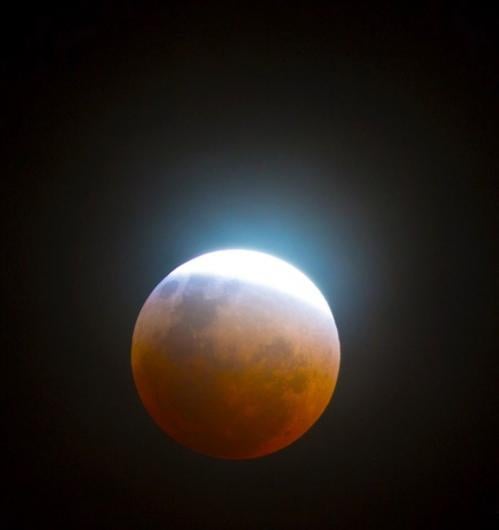 Late Tuesday night, when many Hawaii residents would otherwise be dreaming, many of us will be watching the skies for an awe-inspiring phenomenon taking place overhead. Around 11:14 p.m. (Hawaii Standard Time), the Earth will orbit between the sun and the full moon, casting its dark shadow across the moon's surface in a total lunar eclipse. Lucky for us, due to the event's timing, Hawaii and the Pacific will enjoy some of Earth's best views (weather permitting, of course!).
The eclipse is expected to last for a little over two hours as Earth's shadow gradually envelops the moon's surface. The grand finale and total phase of the eclipse will take place between 12:25 a.m. and 1:24 a.m. Once fully eclipsed, the moon is expected to emit the coppery red glow characteristic of a "blood moon."
If you're on Oahu and want to watch the event with fellow stargazers, head to Honolulu's Bishop Museum for their "Return of the Blood Moon" lunar eclipse-viewing event from 9 p.m. to 2 a.m. ($10 general admission, $5 museum members and youth ages 4-11). Hawaiian Astronomical Society volunteers will be on hand to answer questions as you enjoy telescope viewings from the Great Lawn.

Throughout the five-hour hosted event, the entire museum will be open to visitors. The J. Watumull Planetarium will be screening star shows about blood moons and lunar mythology every hour. Special tours focusing on the moon and the Hawaiian lunar calendar will be conducted in Hawaiian Hall. A pop-up Eclipse Lounge Bar will feature live music, snacks and cocktails for over-21 revelers.
"Return of the Blood Moon" is the first-ever lunar eclipse event hosted by the Bishop Museum, though multiple nighttime astronomy-focused events have been held there in the past. This is the second and final total lunar eclipse of 2014—the previous one was in April and only partially visible from the Hawaiian Islands because it occurred before moonrise.
The Bishop Museum's "Return of the Blood Moon"
9 p.m.- 2 a.m., Tues., Oct. 7-Wed., Oct. 8
Bishop Museum, 1525 Bernice Street, Honolulu.
http://www.bishopmuseum.org/special/blood_moon.html