Here are Our Favorite Shrimp Trucks on Oʻahu's North Shore
We did all the research for you.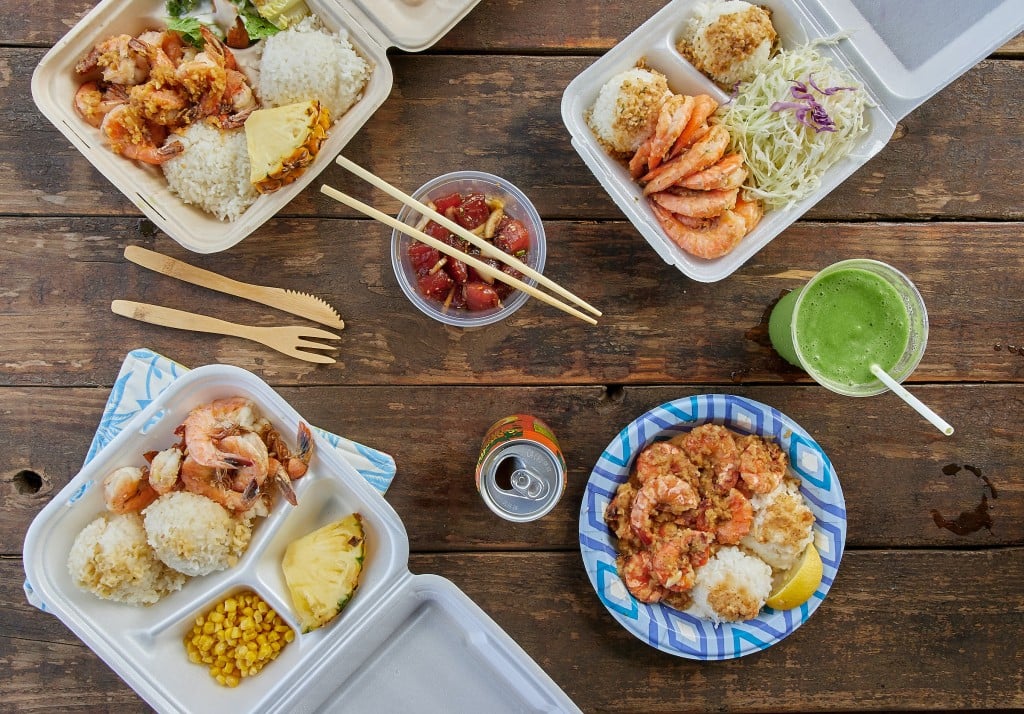 It's nearly impossible to take a trip along O'ahu's North Shore without making a pit stop at one of several shrimp trucks parked alongside Kamehameha Highway. A trend that began with Giovanni's Shrimp Truck back in 1993, shrimp trucks now draw in hundreds of customers a day, residents and visitors alike. There is no shortage of options—each truck offers a unique take on the garlic shrimp craze, along with new twists on the classic.
Stop at one truck or turn your day trip into a garlic shrimp tour. No matter what, we recommend bringing an empty stomach.
Honos Shrimp Truck
The shrimp at Honos are tender, with a thick coating of garlic and two hefty scoops of rice. And the servings are generous: For $13, we got 11 pieces of shrimp (shell on). We enjoyed the sauce's sweetness and the light slaw served on the side, a perfect way to cut the heaviness of the plate. If you're looking for something different, other flavors include garlic spicy, barbecue and pineapple sweet-and-sour. Or you can make it a combo with some Korean kalbi ribs. Either way, the lines are short (even at noon!) and service is quick.
Hours: 10:30 a.m. to 5 p.m. daily, closed Thursday, 66-472 Kamehameha Highway, Hale'iwa, (808) 341-7166
Jenny's Shrimp
Within walking distance from Honos, Jenny's Shrimp offers a plate of shrimp packed with garlic flavor. Another perk—the truck butterflies its shrimp so it requires little work to get them into your belly. Our plate featured nine pieces of shrimp—smaller ones than at other trucks—for $14. If classic butter garlic shrimp isn't your style, choose from spicy, lemon pepper, spicy garlic, salt and pepper and even coconut shrimp.
Hours: 9:30 a.m. to 6:30 p.m. daily, 66-532 Kamehameha Highway, Hale'iwa, (808) 429-3522
Big Wave Shrimp
View this post on Instagram
If we thought Jenny's Shrimp reigned supreme for the amount of garlic used, we were quickly proven wrong when we went across the street to Big Wave Shrimp. The truck's shrimp were coated in a thick sauce with massive chunks of garlic, which spilled off our 12 pieces of shrimp and onto the bed of rice underneath. The shrimp here were firmer than at other trucks and also butterflied. For an extra dollar—the plate cost $13.95—you can get the shrimp peeled. The truck—which was featured on Food Network's "Diners, Drive-Ins and Dives"—also offers spicy, lemon pepper and coconut shrimp in addition to steak, ribs, fried chicken, calamari, and fish and chips.
Hours: 10:30 a.m. to 6:30 p.m. daily, 66-521 Kamehameha Highway, Hale'iwa, (808) 366-2016, bigwaveshrimp.com
Fumi's Kahuku Shrimp
While Fumi's has a brick-and-mortar spot alongside Kamehameha Highway, we stuck to our food truck rule and swung by its truck about a half mile down the road. We weren't disappointed. Featuring shrimp grown in its nearby shrimp farms, it really doesn't get fresher than this. It's pricier, though; we paid $14 for seven large butterflied shrimp. However, it was one of the butteriest shrimp plates we had. We also loved the side of chilled Kahuku-grown corn, a sweet break from the salty, savory shrimp. The truck also serves lemon pepper, hot and spicy, coconut, tempura (battered and fried) and spicy garlic versions, as well as deep fried cod and chicken katsu (cutlet).
Hours: 10 a.m. to 7:30 p.m. daily, 56-777 Kamehameha Highway, Kahuku, (808) 232-8881
Famous Kahuku Shrimp
The garlic shrimp at Famous Kahuku Shrimp—which has two locations, one in Kahuku and another in the sleepy plantation town of Waialua—brings a whole new level to the garlic shrimp game. Our plate at the Kahuku locale featured 10 medium-sized shrimp topped in the thickest butter and garlic sauce of all the trucks we tried. We quickly fell in love with this shrimp reminiscent of a quality shrimp scampi. The price was great, too—only $12. We loved liberally dipping our bites of rice into the melted butter that pooled at the bottom of the plate. The truck also has spicy, fried, steamed, tempura and coconut shrimp, and shrimp combos including steak, mahimahi, and hot or garlic squid.
Kahuku—Hours: 10 a.m. to 6 p.m. daily, 56-565 Kamehameha Highway, Kahuku, (808) 389-1173; Waialua—Hours: 10 a.m. to 6 p.m. daily, 67-21 Waialua Beach Road, Waialua.
Giovanni's Shrimp Truck
View this post on Instagram
This is the truck that started it all—and the lines at both locations are no joke. But they're not unwarranted. There's nothing like the garlic and butter combo coating this shrimp. For $14, we got nine large scampi shrimp (despite the sign saying each plate features 12) and two large scoops of rice. Other flavors include hot and spicy and lemon butter, or you can try the truck's garlic dog, a hot dog cooked in scampi sauce. The biggest drawback at this truck is the lengthy wait time—it took us an hour before we sat down with our plate—but it's the price you pay for visiting the original garlic shrimp truck on O'ahu.
Hale'iwa—Hours: 10:30 a.m. to 5 p.m. daily, 66-472 Kamehameha Highway; Kahuku—Hours: 10:30 a.m. to 6:30 p.m. daily, 56-505 Kamehameha Highway; (808) 293-1839, giovannisshrimptruck.com