Here's How We Make the Best Hawaiian Plate Ever
Our favorite places to go for the required ingredients.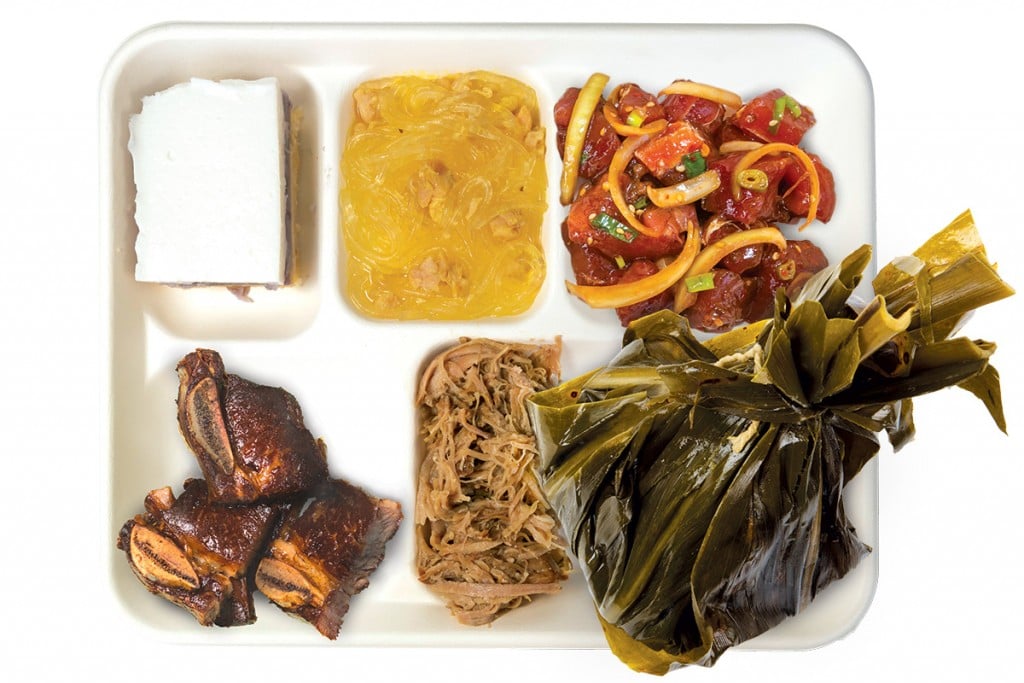 You can get a Hawaiian food plate lunch almost anywhere in the Islands, with nearly all of the required fixins (kalua pig, laulau, lomi salmon, etc.). But if we were to craft the best Hawaiian plate ever, here's where we'd go.
1. Haupia: Yama's Fish Market (Oahu)
We appreciate Yama's taking creative license with the coconut gelatin-like dessert. Okinawan sweet potato/haupia squares? We're there. 2332 Young St., Honolulu, (808) 941-9994, yamasfishmarket.com.
2. Chicken long rice: Yama's Fish Market (Oahu)
Everything we want in our CLR—lots of tender' bite-sized chicken; al dente glass noodles and just enough rich chicken broth holding it all together.
3. Poke: Kahuku Superette (Oahu)
The sauce—soy salty' with hints of toasted sesame' sesame oil and a bit of heat—is what makes this rustic general store's ahi shoyu poke stand above all others. 56-505 Kamehameha Hwy., Kahuku, (808) 293-9878.
4. Pipikaula: Helena's Hawaiian Food (Oahu)
We thought we knew pipikaula until we tried Helena's short-rib version of the salt-rubbed' dried beef delicacy. Now we stop by regularly' offer our eternal praise and devour as much of Helena's moist' tender' finger-licking signature dish as they'll sell us. 1240 N School St, Honolulu, (808) 845-8044, helenashawaiianfood.com
5. Kalua Pig: Masa & Joyce (Oahu)
Tender' never fatty and always packed with just the right amount of salty and smoky goodness. 45-582 Kamehameha Hwy., Kaneohe, (808) 235-6129, masa-n-joyce.business.site.
6. Laulau: Young's Fish Market (Oahu)
You can't go wrong with the generous portions of juicy' fork-tender' pork, beef, chicken or butterfish wrapped in steamed leaves. 1286 Kalani St., Honolulu, (808) 841-4885, youngsfishmarket.com.
7. Poi: Hanalei Poi (Kauai)
You say you can't stand poi? Try this thick' creamy' naturally sweet take and you'll eat those words' and a lot more poi. 5-5269 Kuhio Hwy., Hanalei, (808) 826-4764, hanaleipoi.com.
8. Lomi salmon: Tamura's Fine Wines & Liquor (Oahu)
An even salmon-to-tomato ratio rates it our fave outside of homemade. Hidden away in the back of a liquor store, it's even more of a gem when you find it. 3496 Waialae Ave, Honolulu, (808) 735-7100, and multiple locations across the Islands; tamurasfinewine.com.
9. Squid Luau: Helena's Hawaiian Food (Oahu)
Lusciously creamy luau leaves' lots of tender squid and subtle coconut milk flavor. Heaven.