Here's What's Inside a $250 Musubi
You won't find any Spam in this luxury musubi, put together by Seattle chef Scott Lutey.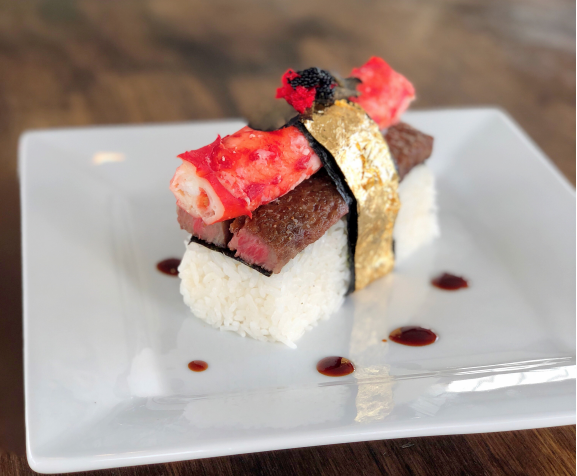 If you live in Hawaii or have visited the Islands, you're probably not used to spending more than a few dollars for a musubi, a local comfort food consisting of rice and a slab of Spam wrapped tightly together with a strip of seaweed. Well, across the pond in Seattle, Scott Lutey, an award-winning chef who was recently hired to lead the culinary direction of seafood eatery Poke to the Max, has concocted a luxe musubi that is literally wrapped in gold and will cost you $250.
Named the Billionaire Musubi, this extravagant twist on a Hawaii classic is sold at Poke to the Max, one of the many restaurants founded by chef, restaurateur and TV personality Sam Choy. So what constitutes a $250 musubi? "We use an A4 wagyu, fresh king crab bought at $28 a pound and premium sushi rice," says Lutey. "The 24-carat gold wrap really drives up the price, and we also put Ossetra caviar on top, which we purchase at $150 an ounce." A Maui native, Lutey's mission was simple. "I wanted to make it as expensive as I could," says Lutey, with a laugh, "and still make it edible, of course."
If you can't drop $250 for a single musubi, don't fret, most of us can't. The menu at Poke to the Max still caters to the non-billionaires, and even serves a much more affordable Millionaire Musubi, which comes with Dungeness crab and a lower grade wagyu beef. Or you can always make your own Spam musubi, which might not have caviar or a gold wrapping, but is still ono (delicious). But, as Lutey puts it, "If you want to join the billionaire club, then you've got to order the Billionaire Musubi."