Hidden Gems: Alicia's Market on Oʻahu
Once a neighborhood grocery store in Kalihi, this beloved family-run shop is best known for its super-fresh poke, roast pork and boiled peanuts.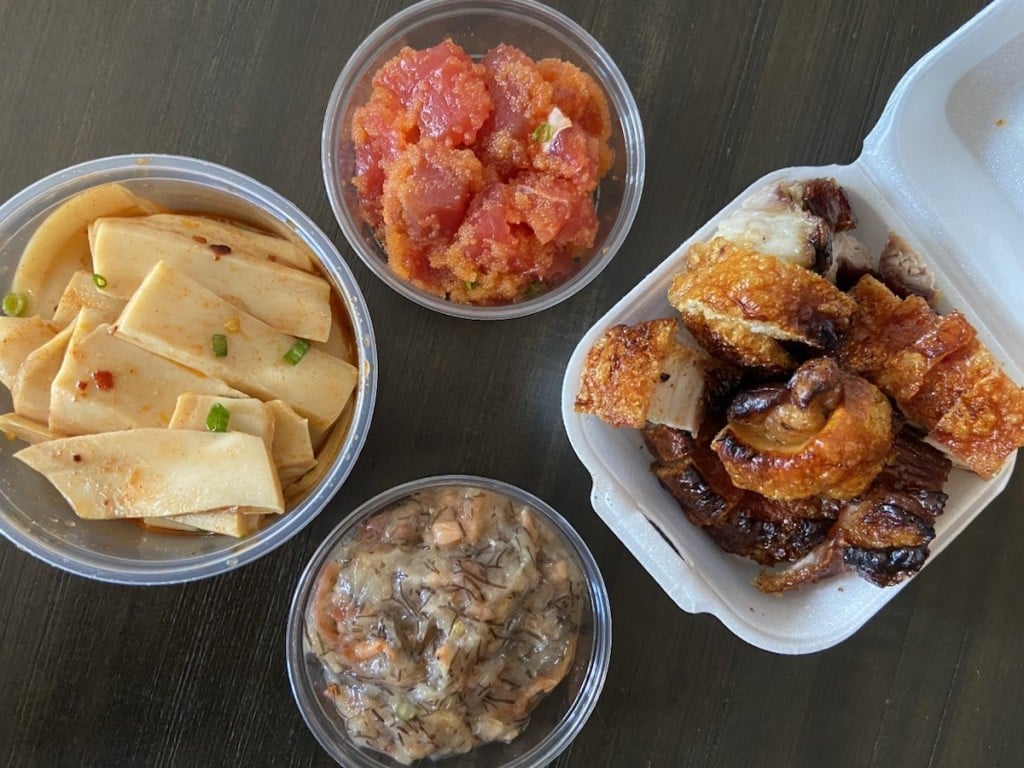 It's not quite lunchtime and there's already a line forming outside a small window on Mokauea Street in the industrial part of Kalihi.
And no one here needs a menu.
The loyal customers of Alicia's Market, a former grocery store that started serving poke when it opened in 1949, know exactly what they want, whether it's the popular wasabi-masago poke (ʻahi cubes tossed with capelin roe and the spicy paste from Japanese horseradish root) or the crispy-fatty roast pork.
(Poke is typically composed of cubed raw fish—usually ʻahi—seaweed, sweet onions and inamona, or roasted kukui or candlenut.)
View this post on Instagram
Alicia's is named after the original owner, Alicia Kam, who opened the mom-and-pop store with her husband, Raymond, in 1949. The couple purchased an old wooden building on Mokauea Street, selling typical grocery fare along with home-cooked foods like roast beef, char siu, boiled peanuts and, of course, poke. In fact, the market—which stocked everything from cold beer to toilet paper—became a go-to poke stop for locals; it serves about 30 different varities of the dish, fmor smoked tako (octopus) to lomi ʻōʻio, a deconstructed fish cake of sorts made with bonefish mixed with limu (seaweed), onions, bits of salmon, ebi (sweet shrimp) and tomatoes. "That one scares people," says general manager Chris Kam, grandson of founder Alicia Kam, with a laugh. "[Visitors] don't know what fish cake or bonefish is; they only know certain fish like ʻahi, marlin and mahi mahi … We're one of the only places that make this."
Unlike newer poke shops, the poke here is not made to order. Kam says he prefers the flavor after the fish marinates in the sauce for a bit.
View this post on Instagram
In 2018, a fire gutted the market and the Kam family decided to open a much smaller take-out counter (with a new 20-foot poke case, of course) a couple of doors down. The menu is smaller, too. But that, coupled with a global pandemic, hasn't stopped die-hard customers from standing in line—six feet apart and wearing masks—from getting their poke or roast pork fix.
Kam says he hopes to reopen the original market in early 2021.
"We have big things planned for that," he says.
267 Mokauea St., (808) 841-1921, aliciasmarket.com, @aliciasmarket
SEE ALSO: Hidden Gems: Bogart's Café on Oʻahu