Hidden Gems: Bogart's Café on Oʻahu
This neighborhood café outside of Waikīkī is known for its fried rice, acai bowls and bagels—and now it's serving dinner.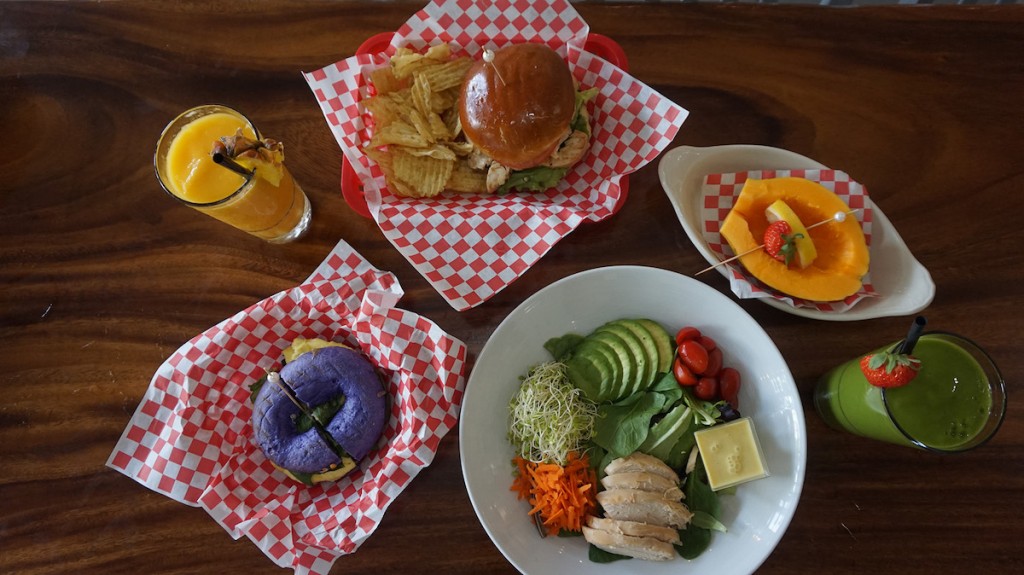 It was 20 years ago when Maria Barnette decided, almost on a whim, to buy an ice cream/shave ice spot on Monsarrat Avenue just outside of Waikīkī.
She saw an ad posted and thought, "I know how to make eggs." Without any kitchen experience—Barnette learned to cook from magazines and the Food Network—she took a gamble, leasing the 800-square-foot space in a small strip mall to open a small neighborhood café.
"I wanted to create a job for myself, and I liked to cook," Barnette says. "I just thought, ʻWhy not?'"
And that's how Bogart's Café, now a beloved breakfast spot known for its local take on classic dishes, started.
She kept the name—Bogart was the name of the previous owner's Labrador—and offered bagels, cold sandwiches and great coffee. Over the years she added other items, including fried rice, omelets, Benedicts, acai bowls and the now-popular breakfast bagel with jack and cheddar cheeses, a slice of tomato, spinach and a fluffy egg. Two years ago Barnette moved to a larger location—now 1,200 square feet with double the seating—in the same strip mall, and last week started dinner service five days a week.
The secret to Bogart's longevity?
"I keep adding dishes," Barnette says, laughing. "I figure if I have everything on the menu, everyone would come."
She may be right: Bogart's Café boasts more than 70 menu items not including drinks. And with dinner, that number will increase to nearly 90.
Speaking of dinner, Barnette created a menu inspired by her travels to Italy. Signature dishes include prawns in calabrian chile sauce, braised veal cheeks, uni tagliatelle and cacio e pepe (literally "cheese and pepper") that features a Parmesanlike cheese from the Dolomites in Italy that she packs in suitcases and brings home with her. Seriously.
"I just love this cheese," she says.
Here's the story: On a trip to Florence, Italy, she and her husband came across a restaurant that served this unnamed cheese. She couldn't stop thinking about the food—and that cheese. When she returned to Hawaiʻi, she emailed the restaurant and asked if she could work there for a few weeks to learn how to cook Italian food. The restaurant owner agree and Barnette spent five weeks in this little town, working 12-hour days and learning how to prep and cook the food she loved.
"It was hard, they worked us to death, but it was one of the best experiences of my life," she says.
All of the pasta on the dinner menu is made in-house, from scratch. And everything on the menu features authentic flavors and high-quality ingredients. There's a seared scallops dish with a cauliflower purée and white truffle oil, pork chop with slow-braised fennel and Kalamata olive tapenade, and a Basque-style seafood stew featuring Atlantic salmon, Kauaʻi shrimp and smoked paprika.
The café also now serves wine and cocktails, including its refreshing signature Waikīkī Sunrise, with Champagne, gin, fresh lemon juice and saffron syrup.
But despite the changes—larger dining area, expanded menu and now dinner—everything loyal patrons love about Bogart's Café is still there: the delicious food, the friendly service and that breakfast bagel.
Barnette, who can still be found cooking in the kitchen and busses tables, loves her customers, many of them who have been coming to the restaurant for the past 20 years. There's a group of runners who stop in every Sunday and a mother and son from Nuʻuanu who have had breakfast here every morning since the café opened. (The son is now in his mid-20s.)
"I've been so lucky," she says. "I have the best customers."
3045 Monsarrat Ave., (808) 739-0999, bogartshawaii.com