Holding period for 2014 Vans Triple Crown of Surfing on Oahu's North Shore begins Nov. 12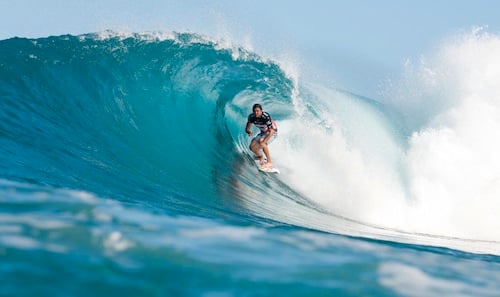 Time to put your beach chairs and binoculars—or, at least your web browser—on notice.
The official holding period for the 32nd annual Vans Triple Crown of Surfing competition, begins this Wed., Nov. 12 on Oahu's North Shore. The 39-day, three-event professional contest is one of the surf world's most prestigious, bringing a multitude of elite, top-ranked surfers to Oahu's legendary North Shore breaks each year.
Each Triple Crown event maintains a holding period, with competition happening only on days when ocean conditions are just right—in general, sustained wave heights of 15 feet or higher. The holding period for the Reef Hawaiian Pro, the first jewel of the Triple Crown, begins today and runs through Nov. 23. Competition for this event happens in the waters off Alii Beach Park on the west side of the Haleiwa Boat Harbor. Alii Beach Park is also known as the southernmost gateway to the so-called "Seven-Mile Miracle" of famed surf breaks that make up Oahu's North Shore.
The Triple Crown's two other competitions are the Vans World Cup of Surfing at Sunset Beach, with a Nov. 24 through Dec. 6 holding period, and the Billabong Pipe Masters at the Banzai Pipeline, with a Dec. 8 to Dec. 20 holding period.
If you can't be on Oahu to watch it all in person, all three events will be viewable live online when competition is on.
Each Triple Crown event requires at least seven days of wave heights and ocean conditions good enough for competition. Hawaii's annual winter big wave season, between November and February, typically provides a reliable supply of large swells to the north shores of all of the Islands so enough Triple Crown "go" days are rarely a problem.
More than $1 million is up for grabs in the combined purses of this year's Triple Crown competitions. The surfer who earns the most points over all three events will be crowned the 2014 Vans Triple Crown of Surfing Champion, and will earn an additional $50,000 in prize money.
If you're on Oahu and want to check out the action, visit the Triple Crown of Surfing website each morning to check on surf conditions and the status of events before heading to the North Shore. Pending wave conditions, all events run from around 7:30 a.m. to 4 p.m. It's best to arrive early. Expect thousands of surf fans, media and the just plain curious on days when waves are kicking.
For more information about the Triple Crown, or to view events live online, go to the Vans Triple Crown website. Events will also be streamed at the Association of Surfing Professionals site.
32nd annual Vans Triple Crown of Surfing
Reef Hawaiian Pro
Nov. 12-23 • Alii Beach, Haleiwa, Oahu • Website
Vans World Cup of Surfing
Nov. 24-Dec. 6 • Sunset Beach, Haleiwa, Oahu • Website
Billabong Pipe Masters
Dec. 8-20 • Banzai Pipeline, Haleiwa, Oahu • Website
Two women's events also run in conjunction with the males-only Vans Triple Crown:
Target Maui Pro
Nov. 22-Dec. 6 • Honolua Bay, Maui • Website
Women's Pipe Invitational
Dec. 8-20 • Banzai Pipeline, Haleiwa, Oahu • Website