How First Hawaiian Bank Demonstrates Character, Caring and Collaboration
First Hawaiian Bank, Hawaii's first and oldest bank, uphold its core values through programs that benefit the community.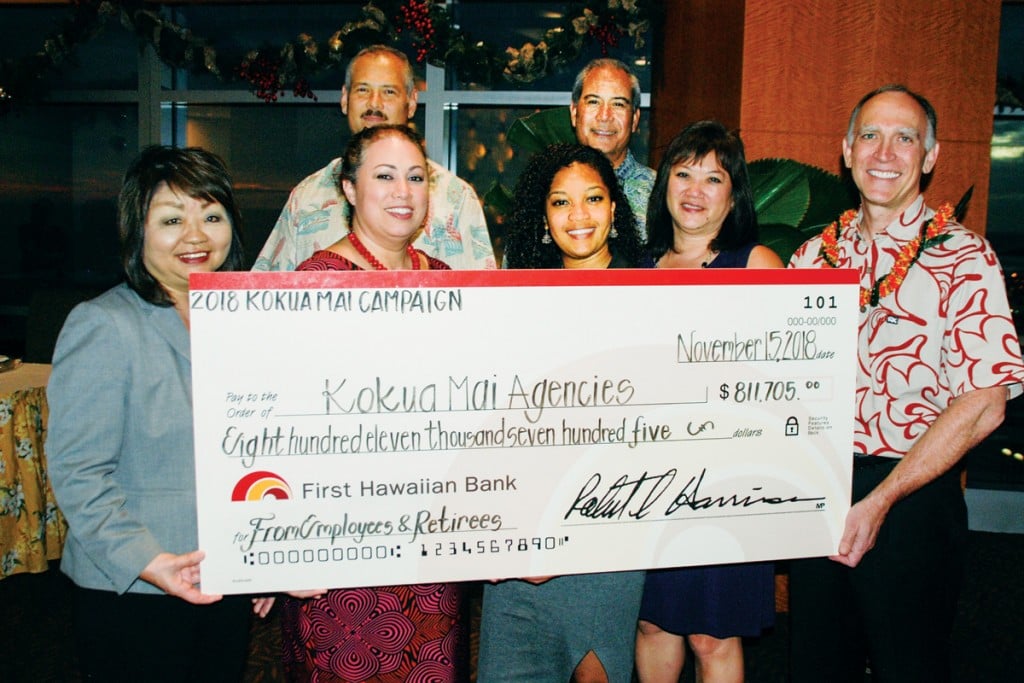 First Hawaiian Bank, Hawaii's first and oldest bank, is more than just a financial institution. It's an organization with character. Its employees understand the foundations the company was built upon, and they depend on the trust of their customers and each other. Their caring spirit, sincere compassion and professional capabilities are demonstrated both inside and outside the workplace, and they work together to support each other while serving their customers and the local community.
The Kokua Mai program, which began in 2007, is FHB's annual giving campaign. Run by employees, the monthlong campaign has a 99% employee participation rate. To ensure 100% of employee donations go straight to their charities of choice, FHB covers all administrative costs of the campaign. Since the program's inception, the bank's employees and retirees have donated $7.7 million to charity. In 2018 alone, $821,839 was raised — surpassing the campaign's goal by 137% — including donations of over $1,000 each from close to 200 leadership givers Altogether, the donations benefited 33 agencies in Hawaii, Guam and Saipan.
In addition, the First Hawaiian Foundation donates $4.25 million to 400 charities every year. It's the largest corporate foundation contributing to charities in Hawaii, Guam and the Northern Mariana Islands. The foundation's primary focus is to enrich education opportunities for youth, build healthier communities and invigorate the diverse cultural life in the islands. The foundation regularly invests in programs and services that are dedicated to solving community challenges, extending opportunities for young and old, and enriching lives throughout the Hawaiian Islands, Guam and the Northern Marianas.
But FHB isn't only about giving money — its employees understand the value of donating their time and talents as well. Through Community Care, FHB's volunteer service program, employees show their aloha for other local organizations that work hard to build stronger communities. Employees can participate in volunteer service activities for four hours on a Saturday to support various nonprofit programs in Hawaii, Guam and Saipan. The program began in 2014 and like Kokua Mai, is run by employees for employees, with FHB providing lunch for all volunteers on the service date. Over the past five years, FHB employees have bettered Hawaii's communities through many different activities, such as helping to restore He'eia Fishpond, painting and landscaping nonprofit facilities, helping to collect and pack food for the Hawaii Foodbank, beautifying public school campuses, and cleaning rooms and gardening for guests of the American Cancer Society's Hope Lodge. Most recently, FHB employees supported charitable projects at Kahauiki Village Phase II, Goodwill Industries of Hawaii and Gustav Webling Elementary School, as well as the American Red Cross Sound the Alarm and Magic Island Relay for Life programs.
YesTeams, another charitable FHB program, consists of volunteer teams of FHB employees who go out into the community to support local nonprofits in other ways. In addition to helping nonprofit programs with various community service projects when the need arises — such as volunteering for pledge drives — employees also participate in charity walks, bike races and other events, including the Men's March, Charity Walk, Heart Walk and Tour de Cure for diabetes.
First Hawaiian Bank has actively supported the communities it serves since 1858 and its branch networks often serve as convenient donation collection points for community disaster relief efforts. The bank's culture and legacy continue today through its employees, who volunteer as coaches, Scout Masters, Girl Scout Leadersserve on nonprofit boards and participate in blood drives, food drives, and charity events. Its core values of character, caring and collaboration have led to amazing acts of charity in the Islands. And the giving will only continue.