How Hawaii's Cacao is Making the World Sweeter
Hawaiian cacao crop and its delicious chocolate is capturing the attention of Hawaii's small farmers, and the appetites of everyone else.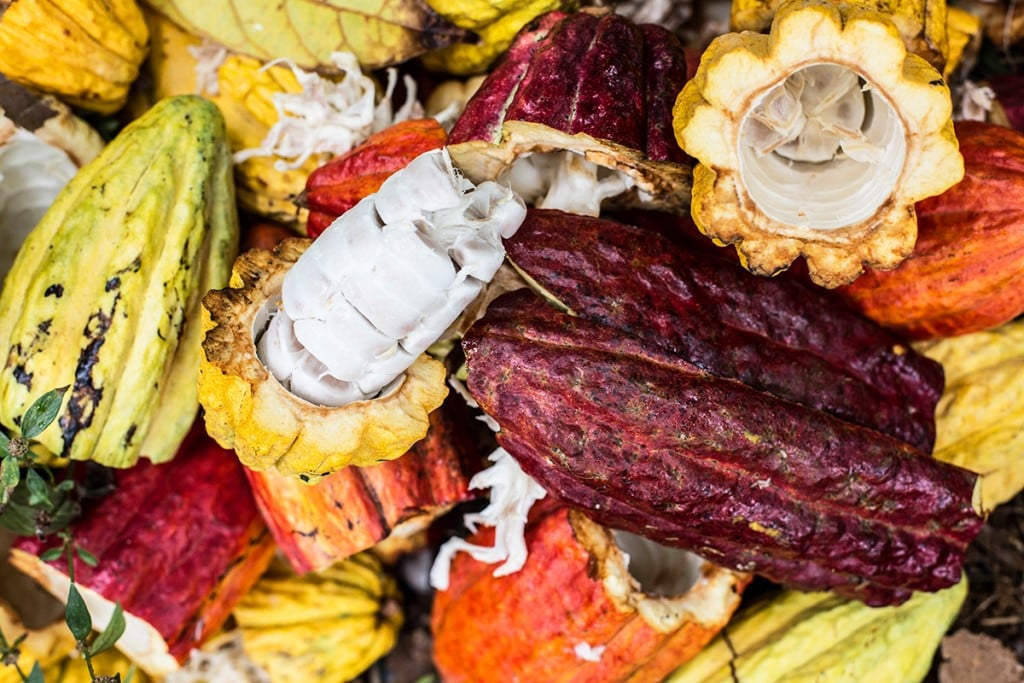 I make a scoop with my hand and pull out sticky, slippery white beans from a ridged, yellow pod.
It's a cloudy Friday afternoon in Kapaa in East Kauai. I'm in a small clearing in a cacao orchard on Lydgate Farms. Every month, Will Lydgate, the owner and namesake of Lydgate Farms, hosts cacao-harvesting volunteer days at the 46-acre farm. About a dozen people turn up, each grabbing two 5-gallon buckets—one to sit on, one to dump seeds into—and pull the roughly 40 seeds from each of hundreds of ripe cacao pods that the farm's staff had picked earlier and cut open. That afternoon, we fill 12 buckets worth of beans. These beans will ferment and dry, then be ground and tempered, transforming into about 100 melt-in-your-mouth chocolate bars. We each leave that day with some chocolate made from the previous harvest and the satisfaction of knowing that we helped a local farmer. Plus, our work means the farm will get to make more delicious chocolate.
Native to South America, cacao was first introduced to the Islands in the 1830s. King David Kalakaua grew the stout trees, with their autumn-colored pods, in his gardens. Tropical as Hawaii is, the Islands are actually the coldest place in the world where cacao can grow. Hawaii sits about 20 degrees north of the equator, right on the periphery of the tree's cultivation range. Fast forward nearly 200 years from the Hawaiian monarch's first cacao trees, Hawaii is now the only state that commercially grows cacao. In Hawaii's storied agriculture history of growing sugar cane, pineapple and coffee, cacao is a relatively new commercial crop. But there are industrious farmers on each of the main Hawaiian Islands, helping not only to diversify Hawaii's crops, but also to cultivate a new industry with branch-to-bar chocolate. Here are the farmers and chocolatiers across Hawaii who will make indulging in your sweet tooth worth every bite.
Kauai
Roughly every three weeks, Lydgate deftly uses a machete to cleave the centers of hundreds of oval, palm-sized cacao pods. Lydgate, part of a fifth-generation Kauai family, manages Lydgate Farms. The farm, tucked between Mount Waialeale and Nounou Mountain, also known as Sleeping Giant, offers tours of its diversified crops, including fruit trees and flowers. But most people visit for the chocolate.
"We're being chocolate advocates through our tours," he says. "We're able to create experiences through the product."
The educational farm tours are three hours long. Our guide, Kate, details what's on the farm before our group walks to the cacao orchards. There, I try a cacao seed for the first time. Enveloped in a milky white pulp, the brown beans taste like a Starburst, but with a bitter, crunchy aftertaste. We then generously sample the final result of the beans—Lydgate's chocolate—while Kate talks about the history of chocolate and how it's made.
Lydgate doesn't make its own chocolate, but instead ships its beans to Oahu, where Dylan Butterbaugh of Manoa Chocolate crafts them into 70 percent and 50 percent cacao bars under the Lydgate Farms label and sells them online and at Lydgate's farm shop. "Right now, I'm focused on farming," says Lydgate, but adds that he's looking into manufacturing his beans on Kauai in the near future.
Oahu
View this post on Instagram
There are 13 different types of chocolate bars at Manoa Chocolate. Husband-and-wife team Dylan and Tamara Butterbaugh want to make Hawaii's terroir renowned for quality chocolate, the way Bordeaux and Napa Valley have become for wine. Located in Kailua, on the lush Windward Side of Oahu, the shop offers complimentary tastings and, for $10, a chocolate factory tour. I sample each bar side by side on the tour and learn that it does indeed make a difference where cacao is grown. Hawaii's chocolate is fruity, while a bar from the Dominican Republic tastes nutty.
"We're set up like a winery," says Tamara Butterbaugh, "and we have three to four chocolate sommeliers … (who are) changing consumers' expectations. It's an accessible way to learn about place in Hawaii."
Born and raised on Oahu, Dylan Butterbaugh started Manoa Chocolate in 2012, shortly after graduating from the University of Hawaii at Manoa. (He majored in Spanish and sustainable development.) He says he chose the name Manoa, a valley in Honolulu and not Kailua, because, in Hawaiian, it means thick, solid, vast. "It's easy for everyone to pronounce, too," he adds. Like many in Hawaii's cacao and chocolate industry, Butterbaugh is self-taught.
As chocolatiers, Manoa Chocolate comes in after the cacao beans have been harvested, fermented and dried. It works directly with six Hawaii cacao farmers and growers from South America. The company makes single origin bars, such as its 85 percent, 70 percent and 60 percent cacao, as well as bars with ghost peppers, goat milk and Maui-grown lavender. In 2018, Manoa Chocolate made 25 tons of chocolate, making it one of the biggest local chocolate makers in Hawaii. It sells its chocolate at its shop, online and in grocery stores, boutiques and hotels across the Islands.
Before farmers like Lydgate and chocolatiers were in the industry, Mike Conway was cultivating the hardy trees on Hawaii Island. The longtime agricultural manager planted some of the state's first modern-day orchards in the 1980s. Today, he works for Dole Food Co., which owns Waialua Estate Coffee and Chocolate (waialuaestate.com) on Oahu's North Shore.
"We're the biggest growers of cacao in Hawaii," says Conway, adding that last year the farm's 17 employees harvested 3 million pods. The 235-acre farm, of which 85 acres is dedicated to cacao—the rest is coffee—sits on the Wahiawa plateau on former Waialua Sugar Co. lands. In fact, the farm's harvesting facilities are housed in the old Waialua Sugar Mill. Its chocolate factory is in another of Oahu's former plantation buildings: the former Dole Cannery in Honolulu. Waialua Estate sells two dark and two milk chocolate bars online.
Like Waialua Estate Chocolate, Seneca Klassen, the owner of Lonohana Hawaiian Estate Chocolate (lonohana.com), is also based on the North Shore, with a farm just outside of Haleiwa and a factory and retail outlet in Honolulu. Originally from Northern California, Klassen started Lonohana in 2011. (The name is a mashup of Lono, the Hawaiian god of agriculture, and ohana, or family.) Before he and his family moved to Hawaii, Klassen was already captivated by cacao; he founded Bittersweet Café, a Bay Area chocolate shop. "But I woke up one day and I decided I wanted to do something different," he says. "The premise was quality chocolate, educating people about Hawaii chocolate and doing it in a fair, ethical way."
Each morning, Klassen tends to the farm's 14 acres of cacao trees, all planted from seeds. He will then usually head into Honolulu, where, in 2013, Klassen and his dad custom built a cozy chocolate factory in Kalihi, nestled among warehouses and auto body shops. Here, he helps make 10 to 12 different types of bars, including 70 percent cacao, dark ginger, and 50 percent milk. After they're packaged, they head to the retail shop at Salt at Our Kaka'ako, a shopping complex outside of Waikiki. You can often find Klassen there, too, on hand to answer questions about his chocolate and passing out samples.
"You take this fresh fruit, and it converts itself into an entirely different product," he says. "I'm digging it."
Hawaii Island
Pam and Bob Cooper became farmers and started the Original Hawaiian Chocolate Factory on the slopes of Hualalai in Kailua-Kona after they retired. Originally from North Carolina, the couple had been vacationing regularly in the Islands for 20 years. In 1997, they moved to Hawaii Island and bought a 4-acre farm on which cacao, macadamia nut and coffee trees were already growing.
"At first we didn't know anything about chocolate," she says with a laugh. "It was all a learning experience and an adventure. It still is an adventure."
They hired caretakers and worked with a consultant who taught them about farming and chocolate making. In 2000, the Coopers made their first batch of chocolate.
Their Hawaii Island property, with a view of the ocean, has everything for locally made branch-to-bar chocolate. The farm has 1,400 to 1,500 cacao trees, where the beans dry in the sun. (The company also gets beans from other Hawaii farmers.) The Original Hawaiian Chocolate Factory sells bars as well as plumeria-shaped chocolates, both at its farm shop and online.
Early on, the Coopers opened their farm to the public, where you can often see Bob working in the orchard or overseeing chocolate production. "What's more romantic than Hawaiian chocolate?" Pam Cooper asks.
Ten miles south of the Original Hawaiian Chocolate Factory is the 5-acre Kuaiwi Farm in Captain Cook. Owner Una Greenaway has been farming here—organically—for the past 41 years, so she knows about hard work. Visit the homey farm during a tour and Greenaway will likely host the tour herself, in between pruning and harvesting cacao trees, among other crops, and making small batches of single-origin dark chocolate.
"What I believe makes my chocolate great is that we're small," she says. "We have attention to detail."
Kuaiwi Farm now has about 200 trees, from which Greenaway and a cadre of young farmers on a work-exchange program, harvest. She says she purchased the farm's original cacao trees from the Coopers. She then makes chocolate bars, leaf-shaped chocolates and chocolate-covered macadamia nuts from nuts grown on her farm.
Make reservations in advance and you can learn how to make your own chocolate. "Everyone is a foodie now, with Instagram and all the Netflix shows," she says. "Everyone loves (chocolate)."
Maui
Hana Gold Chocolate is probably Hawaii's most remote cacao farm. In 1978, owners Francine and Robert Frost founded the farm and built their house just outside the sleepy town of Hana in East Maui. It wasn't until about 20 years later, though, that they started growing cacao. "I read an article about Waialua Chocolate," says Francine Frost. "I didn't realize you could grow cacao here!"
The couple bought two trees from a Maui nursery and planted them. They thrived, she says, so they kept planting more. Today, they have about 1,000 cacao trees. After each harvest, they take their fermented and dried beans to a commercial kitchen in Kihei, on Maui's southwest shore, where they make 70 percent and 51 percent cacao bars. They also make chocolate bars with Hawaii-grown ginger, coffee and macadamia nuts and sell them at their farm shop, online and in stores on Maui.
Hana Gold Chocolate continues to be a family-run business. The Frost's son, Aldon, and his wife, Alyssa, also live and help on the farm, including offering tours three times a week. "Not everyone is going to have the opportunity to travel to South America (where much of the world's cacao is grown)," Francine Frost says. "The uniqueness of where we are makes it special."
Other Cacao Farms
Madre Chocolate
Waialua, Oahu,
By reservation only, madrechocolate.com
21 Degrees Estate
47-546D Mapele Place, Kaneohe, Oahu,
(808) 778-0308, 21degreesestate.com
Kahi Ola Mau Farm
45-3584 Old Mamalahoa Highway,
Honokaa, Hawaii Island,
(808) 494-2129, hichocolatefarm.com
Garden Island Chocolate
5-2719 Kuhio Highway, Kilauea, Kauai,
(808) 634-6812, gardenislandchocolate.com
Hamakua Chocolate Farm
27-2313 Hawaii Belt Road, Papaikou, Hawaii Island,
(808) 443-9165, hamakuachocolate.com
Where to Buy Locally Made Chocolate
Diamond Head Chocolate Company, Sheraton Waikiki, 2255 Kalakaua Ave., Waikiki, Oahu, (808) 931-8937
Choco lea, 2909 Lowrey Ave., (808) 371-2234, Manoa, Oahu, chocolea.com
Padovani's Chocolates, Dole Cannery, 650 Iwilei Road, Suite 280, Honolulu, Oahu, (808) 536-4567, padovanichocolates.com
Madre Chocolate, online only, madrechocolate.com
Sweet Paradise Chocolatier, 34 Wailea Gateway Place, Suite 107, Wailea, Maui, (808) 344-1040, chocolateonmaui.com
Wild Kauai Chocolate, 4-369 Kuhio Highway, Kapaa, Kauai, (920) 475-5405, wildkauaichocolate.com
Chocolat Hanalei, 5-5190 Kuhio Highway at Aku Road, Hanalei, Kauai, (808) 826-4470, chocolathanalei.com
How Cacao Got to Hawaii (A History Lesson)
Cacao first came to Hawaii via Guatemala in the 1830s, according to the Hawaii Chocolate Association. The trees grew in David Kalakaua's gardens. In the 1850s, German physician and botanist William Hillebrand planted cacao in what is now Foster Botanical Garden in Honolulu. But it wasn't until chocolate giant Hershey came to Hawaii in the 1980s that renewed interest in cacao and chocolate making as a local industry was piqued.
"The whole idea at the time was grow cacao and produce it bean to bar," says Mike Conway, the agricultural operations manager for Dole Food Company.
Conway recalls working with Hershey to cultivate cacao on Hawaii Island in a joint venture with a local farmer and investors. He traveled to South America to bring back cacao varieties and helped jump-start the orchard. The project was short-lived, though, he says, stopped by mismanagement and a lack of funding.
But Hawaii's farmers are resourceful: Many are incorporating cacao with other crops that flourish in Hawaii. Today, the Hawaii cacao and chocolate-making industry is the strongest it's ever been. And it's only growing.
"Everybody wants to get on the chocolate train," says Conway, with a laugh. He compares local branch-to-bar chocolate to Kona coffee, where quality is the focus. "The chocolate industry (is) evolving in the same way."