How Master Chef Peter Merriman is Bringing Farm-To-Table to the Masses
His mission is sourcing as much as he can from local Hawaii farmers and producers.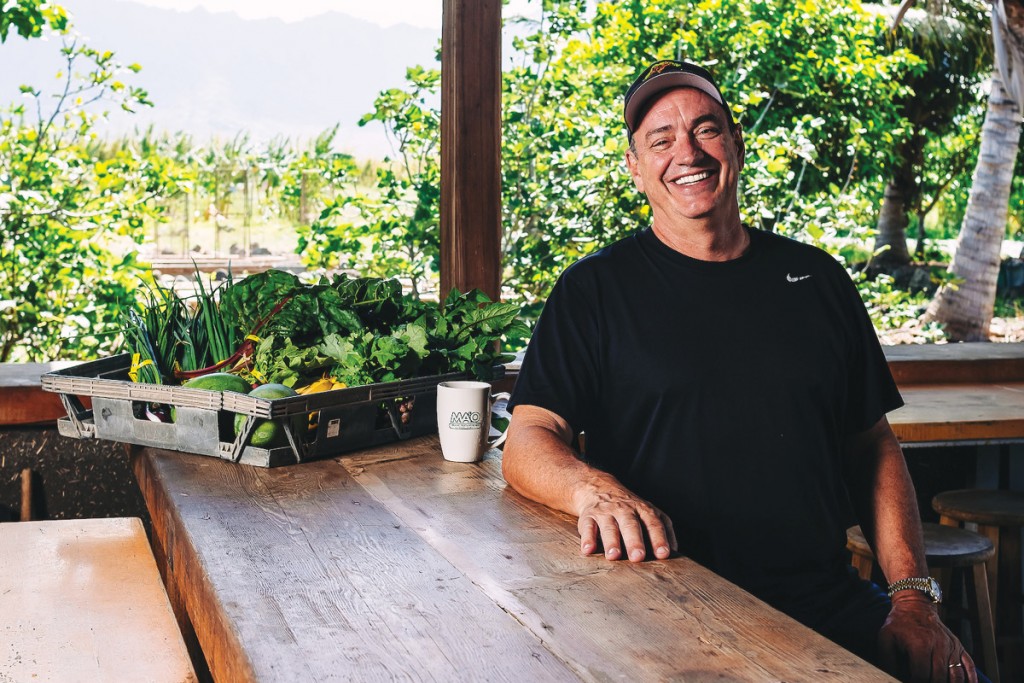 Every restaurant that award-winning chef Peter Merriman has opened in the Islands—from the laid-back Merriman's in Waimea nestled amid ranches on Hawaii Island to the bustling Merriman's Honolulu that opened last year in one of Oahu's most vibrant new neighborhoods—has one very important thing in common. And it's come to define him for more than three decades now.
Merriman is committed to using as many local ingredients as possible in all of his restaurants, building deep and personal relationships with local farmers, ranchers and fishermen that transcend business. There are farmers who grow produce exclusively for him. There are ranchers who consider him a friend. And there are chefs who will say there's no one in the industry who embraces the whole farm-to-table movement as wholly as him.
"[Peter] really wants to preserve Hawaii, to make sure this place, in his small contribution, is here for generations to enjoy," says Neil Murphy, Merriman's corporate chef who moved from New York City to work at the Wailea restaurant in 2006. "He really believes that, and he walks the walk, which is cool."
Up until last year, Oahu was the only island that didn't have a Merriman's restaurant. He first opened in Waimea in 1987, then Merriman's Kapalua on Maui in 2008 and Merriman's Fish House on Kauai in 2009. The Pittsburgh-born chef spent more than 20 years looking for the right spot for his high-end brand on Oahu. (With partners, Merriman runs the more casual Monkeypod Kitchen in Ko Olina and Moku Kitchen in Kakaako, both on Oahu.)
Then he toured the burgeoning neighborhood of Kakaako, just minutes outside of Waikiki, brimming with luxury high-rises and trendy boutiques and restaurants. Immediately, he knew this was the perfect spot—still close to Waikiki but in a hip area that was only going to grow. He opened his first Merriman's on Oahu here, on the ground floor of the luxe 40-story Anaha (which means "reflections of light" in Hawaiian) condo. The restaurant's entrance is beneath the building's glass-bottom pool that juts out about 15 feet and is suspended 80 feet in the air. "I really love this neighborhood," Merriman says. "I love the vibe."
The menu at the Honolulu outpost, which sprawls over 6,000 square feet, reads much like the Merriman's on other islands. Which is a good thing for Oahu diners eager to try his signature lamb (market price), raised in Waimea on the Big Island and served with jalapeño whipped potatoes, or Keahole lobster pot pie ($39), filled with scallops and mushrooms grown in Waimanalo on Oahu's Windward Side.
This restaurant also boasts unique dishes, including a poke made tableside ($16), with cubes of fresh ahi, diced Maui onion, inamona (chopped roasted kukui nut), ogo (a kind of seaweed), avocado and the restaurant's special sauce. There's also an addictive baked macaroni and goat cheese appetizer ($11), served in a hot skillet. It features gooey goat cheese sourced from a farm on Hawaii Island, topped with chia, pumpkin and sunflower seeds.
It's obvious, just from reading the menu, that Merriman sources as much as he can from local farmers and producers. There's chicken from J. Ludivico Farm on Oahu's North Shore, mushrooms and clams from the Big Island, and veggies from MAO Organic Farms in Waianae on Oahu. Even his bar menu features local spirits, from Ocean Vodka to Old Lahaina Rum.
While Merriman likes to keep his menu consistent with dishes that let local ingredients shine, he plans to change it up regularly. "Our idea is to keep our menu a little smaller but change it often," he says. "This way we can keep our quality up and keep people interested."
Merriman's Honolulu, 1108 Auahi St., Honolulu, (808) 215-0022, merrimanshawaii.com.