How the Exquisite Work of Poakalani & Co. is Continuing the Tradition of Hawaiian Quilting
Master quilters Poakalani Serrao and her husband, John Serrao, left a legacy of craftsmanship and beauty while perpetuating this beloved artform.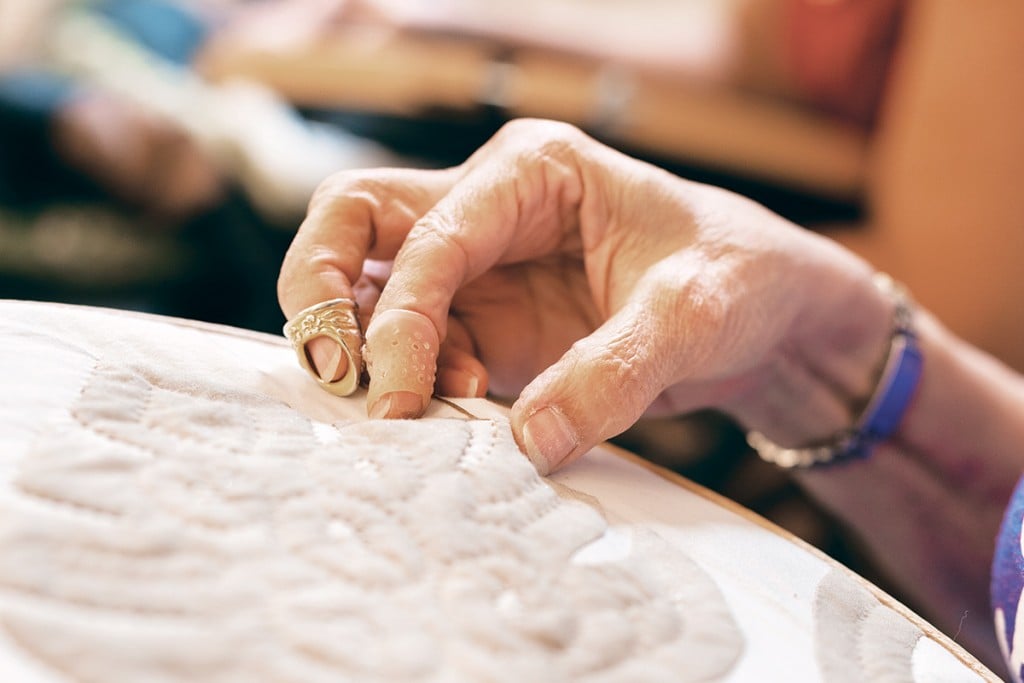 It is another warm Saturday morning in downtown Honolulu.
Gentle streams of light pour through the windows of 'Iolani Palace's former archives building and into the cool, air-conditioned room. Dozens of women are busily setting up space amongst the tables and chairs, arms full of vibrant, heavy fabrics and wooden hoops. They chat about their families and the challenges they are facing with their projects. They offer words of encouragement to one another. The sweet smells of coffee and sugar welcome the ladies as they prepare for class. They greet each other with generous hugs, smiles and the kind of aloha spirit that feels most palpable during the holiday season. But for these ladies, it's simply another Saturday spent doing what they love—perfecting the art of Hawaiian quilting.
These classes are the realized dream of famed Hawaiian quilter Poakalani Serrao and her husband, quilt designer John Serrao. Their shared passion manifested over three decades ago when they established the Poakalani & Co. Hawaiian quilt guild in 1988. Longtime member Doris Shibuya, one of their earliest members, recalls the Serrao philosophy she was taught from her first appliqué. "Their philosophy was to preserve and appreciate the cultural heritage of Hawai'i," she explains. Bringing the traditions of their families together through their love of quilting, John and Poakalani celebrated the proud art form through practice and education until their respective passing, in 2012 and 2018.
Though the ladies of Poakalani & Co. feel the immense loss of their teachers and mentors, they quilt with even more purpose and vigor thanks to Poakalani and John's daughters, Cissy and Raelene, the next generation of Serrao quilters who continue to teach in their parents' honor.
Growing up in her home on School Street on O'ahu, Poakalani eagerly watched her grandmother, famed quilter Caroline Correa, quilt with an unspoken curiosity. Born with only one arm, Poakalani was determined to learn the art of quilting, but her grandmother knew the challenges it would pose for her. To quell Poakalani's thirst for knowledge, her grandmother taught her to appliqué and patchwork on the sewing machine instead. Years passed without a stitch in sight as Poakalani and John married and raised a family of their own. After the passing of her grandmother, however, Poakalani felt the undeniable call to quilt in remembrance of her tūtū's teachings, and she took on the old patterns with sheer determination. Her husband, celebrated Honolulu police officer John Serrao, realized the challenges she faced in pursuit of her passion and took matters into his own hands. As the grandson of a skilled quilter himself, John adapted the tradition in modern ways for his wife. Though traditional Hawaiian quilting was done with circular hoops on large, heavy fabrics, he crafted a square hoop for his beloved and reimagined a large queen-size blanket pattern into a 22-by-22-inch pillow for her to learn. Before long, Poakalani had mastered the art of Hawaiian quilting and, in 1972, John created the first 30 cushion patterns in their collection.
"Whatever she needed, he made for her to learn," explains daughter Cissy Serrao.
A natural-born artist, John's instinctive designs came from his desire to share his culture and creativity, and his commercial patterns quickly gained popularity among the growing community of quilters throughout the state who were inspired by the cultural renaissance of the 1970s. When John retired from the Honolulu Police Department after 26 years, he decided to dedicate himself to quilting and supporting Poakalani's craft. Prior to his retirement, the couple had begun teaching workshops and demonstrations throughout Honolulu at Kaimukī Dry Goods and Kuni Island Fabrics in Mō'ili'ili. Retirement allowed him time to explore his creativity through pattern designing as he honed his artistic abilities, growing his repertoire to include midsize and large cushion and quilt pieces full of heart and meaning.
John and Poakalani began teaching weekly classes at the Hawaiian Mission Houses near Downtown Honolulu and established their Hawaiian quilting guild, Poakalani & Co., in 1988. The couple quickly realized they were not alone in their shared love of quilting as students filed in to learn about Hawaiian culture, Poakalani's skillful technique and to create pieces featuring John's artful designs. "My mom and dad didn't just teach quilting, they taught culture," Cissy explains. "I think that's what made the classes different—they taught you about the meaning of the design and why it was made that way."
Members of the group steadily honed their craft each week, first at the Hawaiian Mission Houses in Downtown Honolulu, then Queen Emma's Summer Palace in Nu'uanu and eventually in the Kana'ina Building at 'Iolani Palace. These historic surroundings point to the tremendous value of this work, with each venue heartily welcoming Poakalani & Co. and its mission to further Hawaiian quilting traditions.
Master quilter Pat Gorelangton has been a member of Poakalani for over 12 years and is the group's only member creating commissioned works. She notes the impact of their class environment in John's designs.
"At 'Iolani Palace you are surrounded by history," she says. "So many of the designs John created were influenced by the palace, whether that be the plants and flowers he saw there, the gazebo, feather kāhili (feather standard), even King Kalākaua's chrysanthemum badge. John was constantly inspired."
One element he shied away from, however, was the use of birds in his quilt designs. "He explained that he didn't design birds because they fly away. Every time he designed a quilt with a bird, the quilter moved away from Hawai'i," explains Cissy.
Each of John's patterns was created with intent, the significance of which is as important as the craft itself. The art, spirituality, culture and purpose of a design moved through him as organically as the skill of quilting came to his wife, and he would submit to the inspirations at any time of day or night. "His designs were made with a specific purpose so he wanted the quilters to have their own tradition and create their own heirlooms to pass down to their family," Cissy says.
After a hard-fought battle with breast cancer, Poakalani passed away in 2012, leaving daughters Cissy and Raelene to carry on the quilting kuleana (privilege, responsibility). They assisted their father with classes, and took advantage of the chance to teach several workshops in Japan. With interest in quilting on the rise there, John and Cissy saw a way to ensure that their family's quilting traditions would be preserved. At the request of various students, they created a certification program for students interested in teaching Hawaiian quilting, to ensure they had mastered Poakalani's techniques and the Serrao teaching style.
"They had to finish a cushion, a wall hanging and a full-size quilt, as well as attend classes here in Hawai'i so that we could work alongside them and observe how they teach," Cissy explains. "Dad would always tell the ladies, 'If you want to learn about Hawai'i, you have to come to Hawai'i. You can't fully learn about our culture until you come and be with the people.'"
At the end of their training, 21 Japanese students graduated and were certified in the Poakalani quilting traditions and five continue to teach today. Though John died in October 2018, Cissy and Raelene have continued to champion their parents' legacy by maintaining their dedicated Saturday classes and showcasing the work of Poakalani's students in a quilting exhibition at the annual Honolulu Festival in March.
Though the students of Poakalani & Co. feel the profound loss of their teachers, they are proud to carry on Poakalani's visionary teachings and to give life to John's heartfelt patterns. "We have students that come from all over the world—the Mainland, Japan, Canada, Australia—and to have the two girls continue in their parents' name is just wonderful," says Shibuya. Not only has quilting offered the group a shared passion and hobby, it has also provided a second family for its members and especially for the Serrao 'ohana (family).
The women are steadfast in their practice each Saturday, stitching fastidiously as they have done for decades. In recent years they have welcomed high school students, church groups and other organizations in the hopes of sharing their passion with younger generations so that the art of Hawaiian quilting can continue to flourish for years to come.
"It's been a wonderful journey and a continuation of how we were raised," Cissy says. "My dad was half Hawaiian and mom was over half Hawaiian with both sides fluent in 'ōlelo Hawai'i (Hawaiian language), so this is just a progression of what we've always done. Our goal has always been teaching quilting and culture, and we never want to stop."
Through their passion for Hawaiian quilting, the ladies of Poakalani & Co. have become family—the kind whose closeness has been marked by love, loss and decades of laughter. Together they have celebrated creative achievements, grieved the losses of their illustrious instructors and continued quilting every step of the way. Despite the ache of Poakalani and John's absence, the ladies continue in their honor, bringing the artistic vision of their mentors to life. As the proud keepers of the Poakalani tradition, theirs is a family stitched together by their beloved pastime, and even for some, a newfound career.
And for the Serrao 'ohana, the women represent Poakalani's legacy of culture and creativity.
History of Hawaiian Quilting
Kapa (Hawaiian bark cloth) is known as the indigenous fabric of Hawai'i. Made by drying and pounding native wauke (paper mulburry) bark into thin fabric, the material could then be dyed and adorned with bamboo stamps. Traditional kapa moe, or bedcoverings, were created by connecting layers of kapa. The missionaries innovated this tradition in the early 1800s with their arrival to Hawai'i, introducing colorful cotton fabrics and sewing techniques such as appliqué and patchwork design. Hawaiian quilting began in 1870 utilizing the traditional western style of quilting and two different colored fabrics. As quilters honed their skills, their designs began to evolve, soon reflecting their surroundings including native flora and fauna and other Hawai'i motifs.