How The Maui Cookie Lady Rose to Sweet Stardom
Her whirlwind success includes website crashes, celebrity endorsements and one very memorable helicopter ride.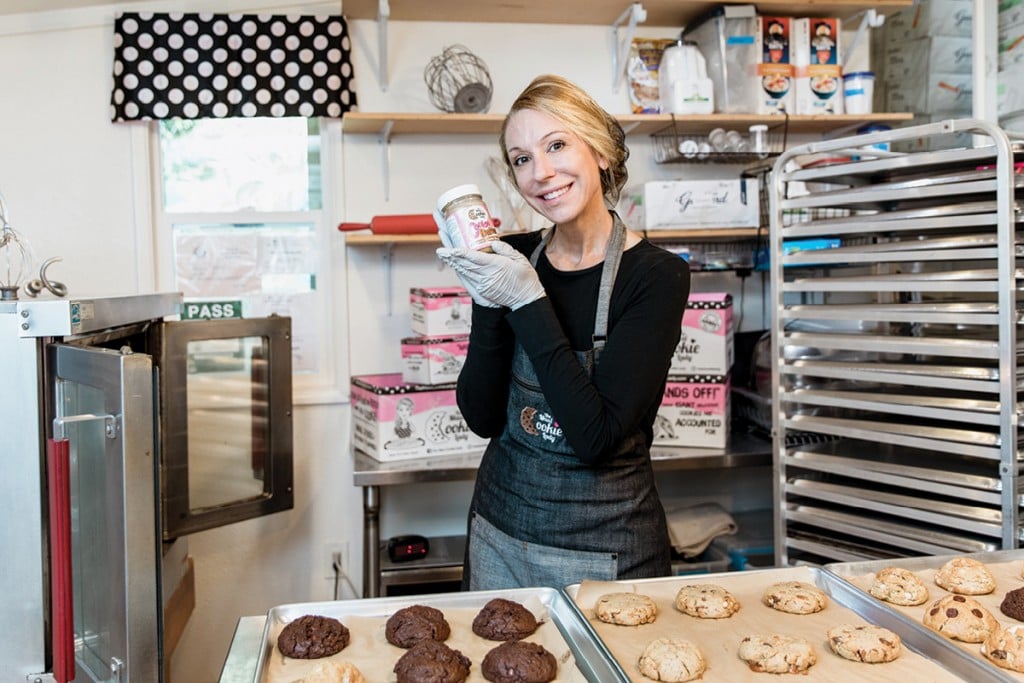 While leaving Costco one day in October 2016, Mitzi Toro looked down at her phone to see her website had crashed and her Instagram account was flooded with hundreds of messages—all because of a personal Instagram endorsement by Dwayne "The Rock" Johnson on one of his buzzworthy "cheat days."
"This is 16 ounces of handmade, hand rolled—slap someone in the face 'cause it tastes so good—decadent and dangerous chocolate chip cookie. … from one of my fav cookie spots in the world," he shared with his 119 million followers. The post turned a modest Maui baker into an Island novelty, and set Toro on course for cookie stardom.
Toro's passion for baking has long been rooted in the values of sharing and nurturing. As a shy teen in El Segundo, California, she recalls the comfort she felt during her freshman year of high school when her English teacher passed out homemade cookies to her class. The moment sparked her interest in baking as it immediately calmed her nerves, and Toro asked for the recipe the next day. She altered that original recipe over 20 times as she honed her skills and created her signature flavor, a modern chocolate chip cookie featuring three varieties of chips and a hint of rum. It's known as the Butter Rum Triple Chunker. And while Toro has continued baking ever since as a way to simply make people happy, her hobby evolved into a business in an unexpected way.
After her father died in 2012, Toro sold her cookies as a fundraiser for the intensive care unit (ICU) nurses at the hospital, as a way to thank them for their care. She set up a booth at Wailuku's monthly First Friday event, indicating that the proceeds would benefit the ICU nurses, and was amazed by the overwhelming response. She continued baking part time, while balancing her job as a teacher at Kalama Intermediate School. The momentum continued to grow, however, and in 2015 she left teaching after 15 years to dedicate herself to her passion. "I loved my job. I loved my staff and the principal, who were so supportive and actually bought me my first mixer. But once I made the decision to go into entrepreneurship full time was when the business just blossomed," she explains.
With the help of her husband, Toro established The Maui Cookie Lady and moved her operation to a commercial kitchen. The business grew overnight and so did their opportunities, including a growing list of Maui retailers and a custom box for luxury department store Saks Fifth Avenue in Honolulu. No one could have anticipated the effect the endorsement from Johnson, however, (who counts The Maui Cookie Lady as one of the select 290 people he follows on Instagram) would have on her business. Since his post, a circle of celebrities in the entertainment industry caught the cookie craze as well. Earlier this summer, rapper and actor Ludacris made national news when he posted a series of Instagram posts chartering a helicopter from Oahu to Maui to meet Toro in person and pick up her fresh-baked cookies. "I literally rented a helicopter to fly all the way from Honolulu, Oahu, to Maui to meet this woman right here; it's on my bucket list and it's all Dwayne Johnson's fault," he told followers in an Instagram video, as the camera panned to Toro holding a box of 9-ounce chocolate chip cookies with Oreo, Snickers and Reese's Peanut Butter Cup candies baked inside. The clip went viral, making local and national headlines and leading to a story on "Good Morning America," which crashed Toro's website a second time. Though she doubled her staff, Toro can barely keep up with demand as her online orders sell out months in advance and show no signs of stopping.
Toro prefers that each cookie be hand-rolled, which requires the constant work of a dedicated staff, unlike the process of machine-made cookies. While her learning curve has been great, the biggest challenge has been simply keeping up with demand without the use of large machines. She's developed over 125 cookie recipes, from classics such as Da Half Baked and Peanut Butter Perfection, to tropical flavors such as Kona Coffee and Pineapple Lychee Passion, and the nostalgia-inducing Grown Up Samoas and Old School PB&J, as well as seasonal favorites such as Oh My Pumpkin Pie, The Elvis and more. Utilizing the highest quality ingredients and incorporating local products as much as possible, Toro features the likes of Maui Gold pineapples, Maui Brewing Co. beer and Waihee Valley macadamia nuts in her cookies. She also launched her small batch Cookie Butter at the 2018 Made in Maui County Festival, each jar made solely by Toro herself as she works to scale her production to even greater heights.
Although The Maui Cookie Lady's sweet treats have become an international phenomenon, Toro stays true to her values, and the heart of her brand remains unchanged. She attributes her success to the support of family, friends and the local community, as well as the shared pleasure of cookie enthusiasts like herself around the world. "Food unites people," she explains. "I learned early on that it doesn't matter what religion or culture you come from or what language you speak, food is beloved by all," she says. As followers scroll through her intoxicating social media feed, it is evident that the community of cookie monsters who subscribe to this belief have all caught a sugar high and found yet another reason to fall in love with Maui.
The Maui Cookie Lady
Two locations: Maui Pack and Ship, 415 Dairy Rd., Kahului; The Shops at Wailea, Whalers General Store, 3750 Wailea Alanui Dr., Kihei. Or, order online at mauicookielady.com.