How to adventure on Oahu's North Shore at Turtle Bay Resort
Its list of outdoor activities show guests what makes its 850-acre property so special and unique.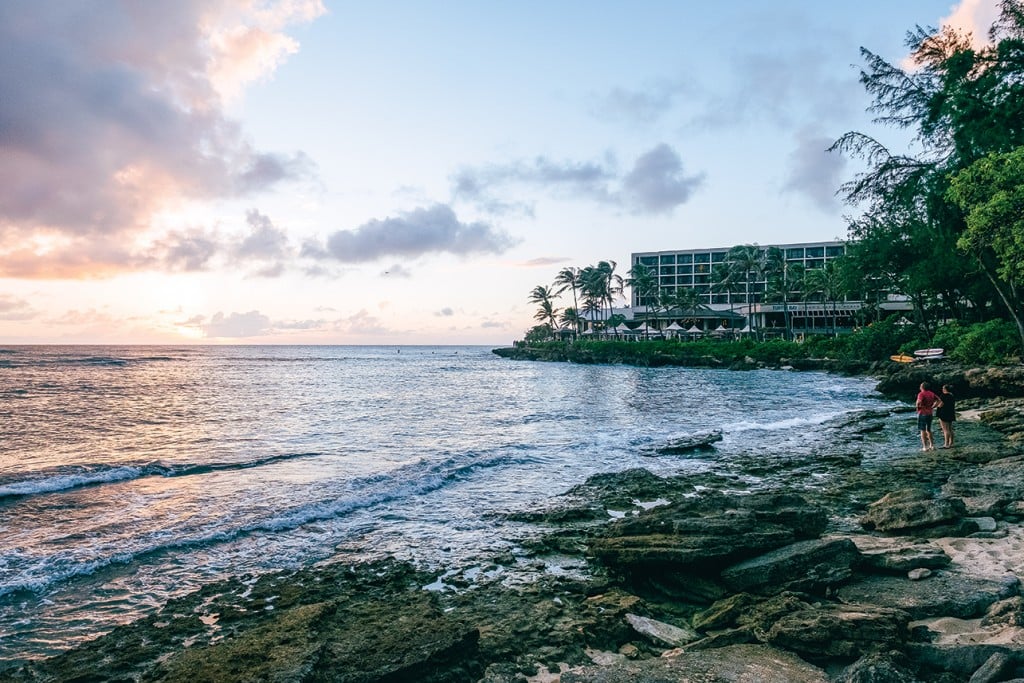 In the calm, emerald-colored water of Kawela Bay, I see a large, round shape swim in the direction of our bright red, four-person outrigger canoe. We're sitting about 200 yards offshore, waiting for a wave to roll in from beyond the reef. It's a honu (green sea turtle). "Look how big he is," I say, surprised by its size. "That's a dinosaur!" Jason, my Hans Hedemann Surf School guide, yells in response from behind me. "He has to be 200 years old!"
I peer down into the water at it swimming beside us and see its large flippers propelling it forward in the same way oars propel a boat. Its head pops out of the water, it makes eye contact with me and quickly dips back under, startled by our presence. I'm watching it swim away when Jason yells, "Paddle!" There's a wave approaching. I pick up my paddle and plunge it into the water. We push ahead at a quick and steady pace, until I feel the tension of the water on my arms ease as the wave picks up our canoe and carries it. The island of O'ahu isn't known for its secluded beaches, but here I am speeding happily toward one, the palm- and ironwood-tree-lined beach of Kawela Bay on the North Shore.
Six hours earlier, I was riding a beautiful white and brown horse named Beatle, along this gorgeous shoreline with another guide, who told me this was the bay used in "The Hunger Games: Catching Fire." I was excited when I recognized it immediately, the beach where Katniss interprets Wiress' "tick, tock" chants to mean the arena imitates the ticking of a clock. But the bay's tremendous beauty trumps anything Hollywood may have created here, and the local knowledge Jason brings to my attention—how native trees on this beach were used to create a wa'a (canoe), and where freshwater pockets bubble up in the ocean—as a waterman familiar with these waters and this ahupuaa (land division), gives me the beginnings of a sense of place.
How to tour the North Shore with Turtle Bay Resort
I booked the horse and canoe rides at Turtle Bay Resort, one of the few places to stay on this side of the island, attracted by its extensive list of activities focused on the outdoors, which includes surfing, stand-up paddling, off-road Segway tours, mountain biking, golf, foot golf, disc golf and 12 miles of running and hiking trails. Turtle Bay Resort is also the only hotel in Hawai'i with a helicopter pad on its property, operated by Paradise Helicopters, with North Shore tours.
Encompassing 850 acres, the resort is much more than its hotel and beachfront cottages; it is the North Shore, or at least a good chunk of it. The resort's coastline is 4 percent of the entire coastline of Oahu, and much of it is secluded because its beaches are not visible from Kamehameha Highway—the often-gridlocked road that passes by the North Shore's famed Hale'iwa Town, Waimea Bay, Banzai Pipeline and Sunset Beach.
Remaining a responsible resort
With so much land comes responsibility, and Turtle Bay Resort will be the first to tell you it hasn't had the greatest relationship with the locals in its 44-year history—there used to be gates at its entrance to keep them out.
"For a number of years, there was a lot of distrust between the local community and Turtle Bay's owners, who a lot of the employees felt didn't have their best interests at heart or a balanced and responsible development plan for the entire environmental resource out here, but we fixed that," says Danna Holck, vice president and general manager of the resort. It changed its mission and values, taking the gates down, adding a large public parking lot next to the hotel, and producing events that bring locals and visitors together, like its Surfer the Bar's Talk Story series. The event gives prominent people from the community, such as professional surfer Sunny Garcia and Native Hawaiian navigator Nainoa Thompson, a place to share their stories and manao (thoughts) on topics publicly.
Last year, Turtle Bay Resort also agreed to drastically reduce the number of developments that would take place on its property from 3,500 new units to 725—all of which will remain centrally located near its already developed grounds, leaving Kawela Bay, to the west, and the beaches near Kahuku Point, to the east, pristine. "Our real belief is that the experience at the resort is so much more important than the building itself, because if you have that great experience, then you'll want to come back. People don't come here to eat, sleep and go to the pool," says Holck.
I was able to see the eastern points of Turtle Bay Resort on the off-road Segway tour, along 4.5 miles of trails that lead to Kahuku Point, the northernmost tip of land on Oahu. My group of seven and I maneuvered our intuitive, but not accident-free (five men fell off at least once), two-wheel Segways along dirt paths, around trees and on the sand. Riding past a small cove called Keiki Beach, we stopped to see a monk seal and her pup slumbering in the sand before continuing past Kahuku Point to where there are more empty beaches many people don't see, except the golfers playing the resort's Palmer Course.
On the way, our Segway guide, Blake, stopped to point out a piece of property, marked with a sign titled, "Kuleana Legacy." It details how a Native Hawaiian woman, Nova Jean McKenzie, was issued this plot of land under the Kuleana Act of 1850, which encouraged Native Hawaiians to file claims for house and agricultural lots, to keep the land they were living on. Not many of these were filed, because land ownership was a foreign concept to Native Hawaiians back then, so I was pleasantly surprised to see this in the middle of Turtle Bay Resort and included as part of the tour.
Find this remote beach
It was here that Blake asked us if we felt comfortable enough on our Segways to continue on the sand, because there was a beach he wanted to show us, his all-time favorite. Everyone consented, and we followed him in single file as he led us to Hanakailio Beach, a large white-sand beach at the corner of Turtle Bay Resort's property line.
Its beauty was even greater because there were only three people on it—two locals enjoying the sand and surf, and one fisherman. There are no roads and no nearby parking lots, so the only way to get there is to hike or bike the long, sometimes unshaded, trails. If not for this Segway tour, I would never have known this beach existed, nor would I have been racking my brain after the tour was done, trying to figure out when I could make a future trip back to it. What surprised me most about the tours at Turtle Bay Resort, though, was something I didn't think Oahu, especially a resort, had: gorgeous, white-sand beaches lying secluded along undeveloped coastlines.
Sunset dinners at Paakai
I wound down for the evening at the resort's fine-dining restaurant, Pa'akai, which means "sea salt" in Hawaiian. I'd met the executive chef, Conrad Aquino, on a previous visit, and was impressed by his commitment to sourcing local products for his restaurant. The resort has made great strides to ensure this continues. Earlier this year, the Trust for Public Land secured a $6 million conservation easement with Turtle Bay Resort, essentially preserving 468 acres as farmland—the agricultural land visible across the highway—in perpetuity, so that it can play a part in developing a sustainable, healthy future for the North Shore.
Our server prepared our appetizer of ahi poke (cubed ahi) tableside, mixing all of the ingredients together, then scooping up the large chunks of 'ahi into individual bowls. This was followed by a Mari's Gardens baby-mixed-greens salad with papaya, macadamia nuts, Surfing Goat cheese drizzled with roasted pineapple vinaigrette. My main course, a pan-seared moi (threadfish) and spicy lemongrass black-bean king crab, was so delicious I didn't want to stop eating it, and the pipikaula (beef jerky) risotto on the side was a perfect complement.
From the restaurant, I watched a crowd of people gather near the hotel's pool and bar to watch the sunset and take photos as the sky turned from orange to pink, while I collected my thoughts about the day's activities, and my renewed sense about what this land Turtle Bay Resort occupies means to me.