How to Celebrate Lunar New Year in Hawaii in 2019
There are block parties, lion dance performances and, of course, a lot of food.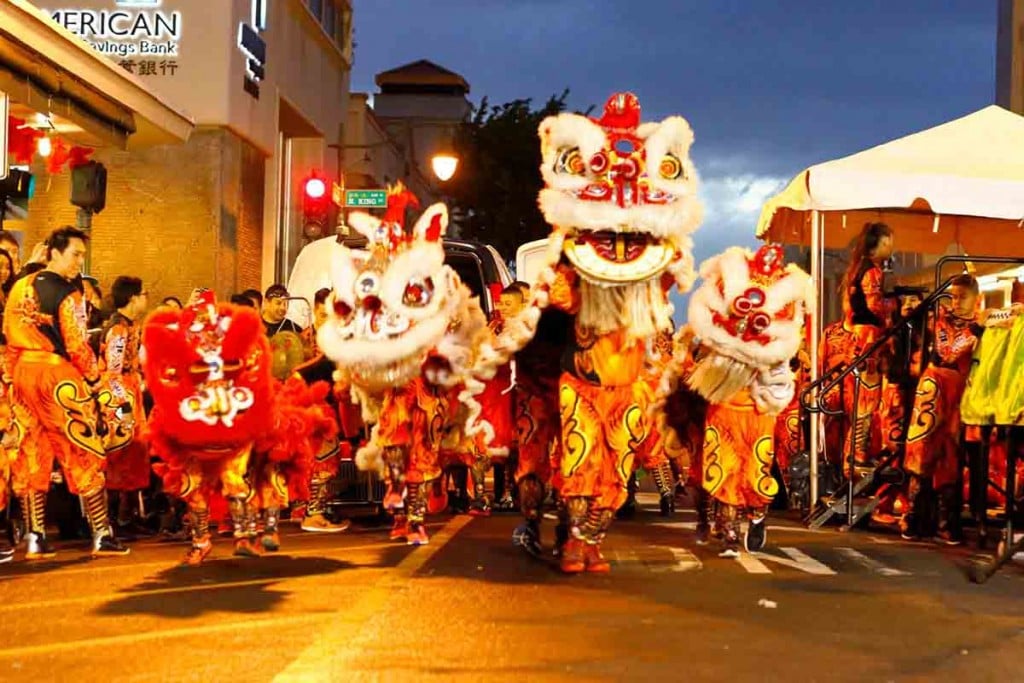 This month—on Tuesday, Feb. 5, specifically—millions of people around the world welcome the start of the Year of the Pig in celebration of Lunar New Year. You can join in on the festivities right here in the Islands by attending a host of cultural festivals and demonstrations and, of course, sampling delicious traditional foods.
Here are several ways you can celebrate Lunar (or Chinese) New Year on Oahu, Maui and the Big Island.
OAHU
Bank of Hawaii Family Sunday: Bring the Noise
Sunday, Jan. 20 from 10 a.m. to 4:30 p.m. (activities end at 2 p.m.)
Bank of Hawaii welcomes the public to enjoy family activities and free admission to the Honolulu Museum of Art, less than 3 miles from Waikiki, on the third Sunday of every month. This month's Family Sunday is inspired by Chinese New Year and will feature an art activity hosted by the Associated Chinese University Women and a craft station at which kids can create small noisemaking art pieces, such as drums, tambourines or whistles. The Taiko Center of the Pacific and Gee Yung Chinese Martial Arts, Dragon & Lion Dance Sports Association will provide entertainment. Although the activities end at 2 p.m., museum admission is free until 4:30 p.m. 900 S. Beretania St., honolulumuseum.org
Chinese New Year's Celebration
Friday, Feb. 1 from 5 to 10 p.m., Saturday, Feb. 2 from 10 a.m. to 10 p.m.
This annual two-day celebration at the Chinatown Cultural Plaza, sponsored by the Chinese Chamber of Commerce of Hawaii, is sure to please with food and craft booths, live entertainment, cultural performances, lion and dragon dances and more. 100 N. Beretania St., chinesechamber.com
Choy Cheng—New Year's Visitation
Friday, Feb. 1 from 6 to 9 p.m.
Witness Choy Cheng, a traditional New Year's blessing, and follow the lively lion dancers and the 2019 Narcissus Queen and her court as they traverse Chinatown, bestowing businesses with good luck and well wishes for the year, starting at the Chinese Chamber of Commerce building. 8 S. King St., chinesechamber.com
Chinatown Merchants Association's Night in Chinatown Street Festival and Parade
Saturday, Feb. 2 from 8 a.m. to 9:30 p.m.
It was a huge disappointment when Night in Chinatown was canceled last year due to a lack of funding. But this year, the event is set to succeed with more than 100 vendors, dozens of live entertainment acts across three stages, martial arts demonstrations, lion dancing and even fireworks. Approximately 30,000 visitors are expected to stop by Chinatown's biggest block party, according to the event website. The Lunar Year Parade will start at 4:30 p.m. at the state Capitol, go along Hotel Street and end in the heart of Chinatown by 5:30 p.m. While at the festival, look for nian gao, a glutinous rice cake sweetened with brown slab sugar. It's thought that each piece nian gao will improve your luck in the upcoming year. Once the nian gao hardens after a few days, it's best to pan-fry it with butter or coconut oil. chinesenewyearinhawaii.com
MAUI
Chinese New Year Celebration at the Wo Hing Museum & Cookhouse
Friday, Feb. 8 from 10 a.m. to 7 p.m.
The Wo Hing Museum & Cookhouse's Chinese New Year Celebration will feature mahjong, calligraphy, cultural and musical presentations, martial arts demonstrations and lion dances beginning at 5 p.m. Leading up to Feb. 8, Chinese New Year exhibits will be on display. The museum offers free admission from Monday, Feb. 4 through Thursday, Feb. 7 from 10 a.m. to 4 p.m. Don't miss the chance to visit this historic building, built by Chinese immigrants in 1912. 858 Front St.
The Year of the Pig Chinese Brunch Buffet
Sunday, Feb. 10
If you want to experience a modern take on Chinese cuisine, reserve a seat at the Kaanapali Beach Hotel's Year of the Pig Chinese brunch buffet at the Tiki Terrace Restaurant. The buffet will include shrimp egg fu young (Chinese omelet), braised short ribs and, as a symbol of longevity, noodles. Children 5 years old and younger are free when accompanied by a paying adult ($48). Children 6 to 12 years old are $25 each. 2525 Kaanapali Parkway, (808) 667-0124, kbhmaui.com
HAWAII ISLAND
Asian Fest
Friday, Feb. 1 from 5 to 8 p.m.
Asian Fest, at the Queens' MarketPlace at the Waikoloa Beach Resort, celebrates the East Asian cultures that have taken root in the Islands. Enjoy taiko and lion dance performances, food and drink sampling booths, and a variety of vendors. It's customary to "feed" the lions money enclosed in red envelopes, called lai see, to secure good health and fortune in the new year. Even if you don't have lai see, it's still nice to support the hardworking dancers and their affiliated schools. 69-201 Waikoloa Beach Drive, waikoloabeachresort.com
Ocean Seafood Chinese Restaurant
Open daily
In addition to niangao and noodles, fish, or yu, is another common dish to eat during Chinese New Year. The whole fish symbolizes unity and the word yu also means prosperity. Oftentimes, families purposefully leave leftovers for the next day in order to symbolize fortune overflowing. The Ocean Seafood Chinese Restaurant in Kailua-Kona offers reasonably priced fish dishes: Fresh steamed Island fish (market price) is available all day and the salt-and-pepper fish dinner special ($14.95) comes with wonton soup, pot stickers and rice.
Open Monday through Friday from 10:30 a.m. to 9 p.m., Saturday and Sunday from 11 a.m. to 9 p.m. 75-5626 Kuakini Highway, oceanseafoodchinese.com