How to Give a Hawaiian Lomilomi Massage (with GIFs)
Some simple techniques you can use to re-energize or relax on a daily basis.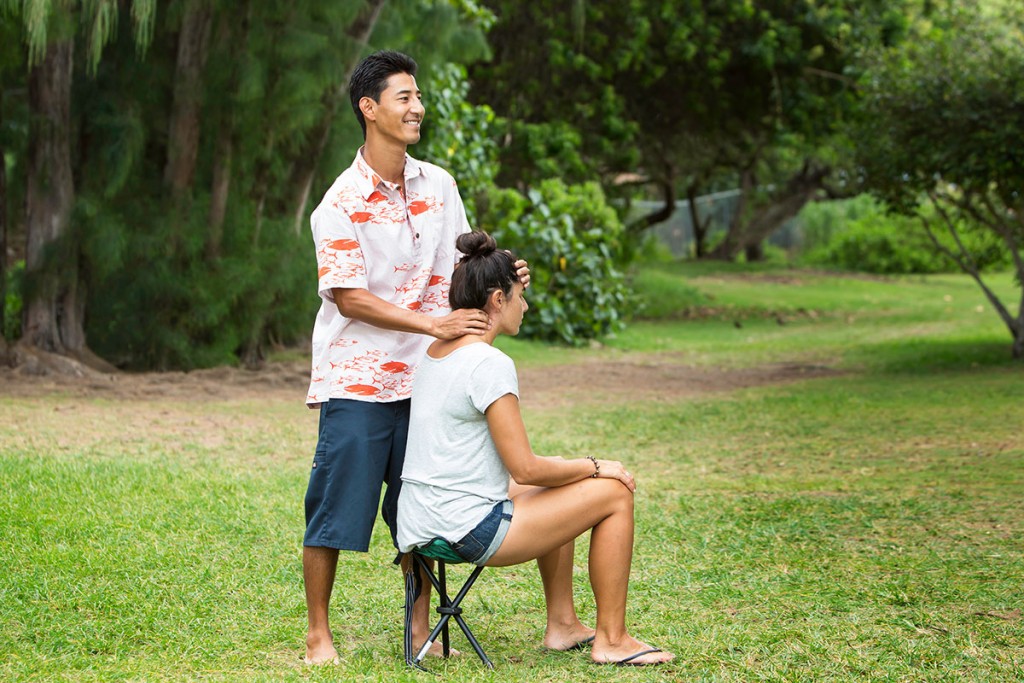 Your back has to carry it all. The slouch of the 2 p.m. work slump. That high tightness from a day spent juggling babies, bags and heavy purses. Those knots need to be unwound, and lomilomi (massage) practitioner Kamakanuiahailono Jingao has just the remedy. Named after one of Hawaii's legendary first healers, Jingao honed his craft from lomilomi masters across the paeaina (islands), leading him to his current post as luna hookele (director) of Hui Mauli Ola—an Oahu-based nonprofit led by cultural practitioners dedicated to health and wellness.
"Each island, each family has its own style," Jinga says. "Lomilomi is something you can have in your home and use to strengthen relationships, as well as heal the body.
Here are some simple, family-friendly lomilomi techniques that you can use to re-energize or relax on a daily basis.
Kuikui
This motion is similar to a pohaku (poi pounder) pounding poi. Form fists with both hands and kui (pound) up and down the back with the fleshy side opposite your thumbs, taking care to avoid the spine and bony areas. "Sometimes I lie on the ground and let my little nephews just hammer away and have fun," Jingao says.
Okioki (or hakihaki)
Using a simple alternating chopping motion, okioki (chop) the back with the length of each hand, from the wrist to the end of the pinky finger. Adjust the strength and speed of your chopping based on your partner's preference. Dancers used this technique often to prepare the body for hula.
Pahupahu
With each hand cupped, pummel the back according to your partner's preference, being careful not to slap. You should hear a percussive, cupping sound with each beat, as if you were drumming a pahu (drum).
Kikokiko
The word "kikokiko" means "to type," as on a computer or typewriter. Use your fingertips only, creating five individual pecking points with each alternating strike. Feel free to contour and reposition your finger position according to what your partner likes.
Kahi
A good way to end the session: Simply rub the entire length of your partner's back from top to bottom with both hands open and flat, using whatever pressure your partner is comfortable with. Repeat as needed. "My tutu (grandma) used to tell us to kahi (rub) the poi bowl, to make sure it's clean," Jingao says. "Similarly, this is a way to clean, to soothe out the body."