How to Holoholo to the Neighbor Islands Now
Here's what to expect if you're traveling interisland now that the mandatory 14-day quarantine has been lifted.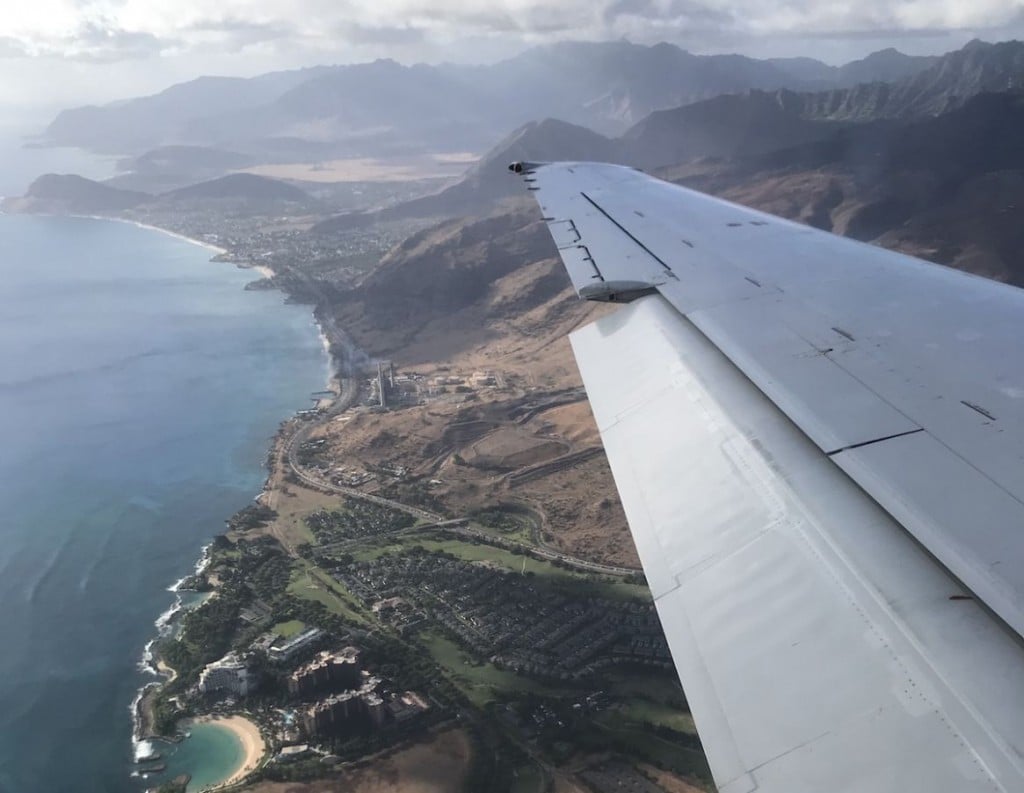 The 14-day quarantine order for Neighbor Island travel was lifted on June 16 and I took a day trip from Honolulu to Līhuʻe the very next day. Working in communications at Hawaiian Airlines, I was well versed in what to expect. But I was also ready for surprises. (Aren't we all, these days?)
SEE ALSO: Hawaiʻi's Mandatory Interisland Travel Quarantine Will End June 16
Before you head to the airport, don't forget your mask. You'll need to wear it throughout the airport and onboard the airplane. (If you do forget it, visit the check-in counter—agents have disposable masks available if you need.)
View this post on Instagram
New Steps Getting to the Gate
The State of Hawaiʻi has a two-step process to follow when you arrive at the airport. The queue starts with a temperature check. Hawaiʻi National Guard troops will aim a touchless thermometer at your forehead. If you're below 100.4, you are cleared to the next step: turning in your State of Hawaiʻi Travel and Health Form.
There's a lot to fill out, but it's pretty straightforward. Forms are available if you need, but you should do yourself the favor of downloading, filling and printing it out in advance. You'll turn it into a representative who will check the information you provided against your I.D. and call your cell phone to verify the number. Start to finish, the state's queue took less than five minutes—but I was also there at 5:30 a.m. Hopefully it's going smoothly throughout the day.
Once you clear this queue you're funneled into a line for the TSA security checkpoint. There is no longer a separate line for TSA PreCheck, but if you show them your boarding pass with the checkmark, you won't have to remove your shoes and you'll go through a separate scanner. The checkpoint is otherwise the same except you'll need to remove your mask briefly so the agent can verify it's you. Took about 15 minutes. (Noting again, this was at 5:30 a.m.)
For both the state screening and federal security lines, you'll see markers for social distancing, which are mostly followed. It helps if you make a noticeable stop at each marker—others will follow your lead. There are multiple hand sanitizer dispensers at the beginning, middle and end of these lines, so don't sweat it if you don't have any with you. I got a dollop right after TSA.
New at the Gate and Onboard
Looking around, everyone is wearing a mask. Announcements at the gate reinforce it. You'll also be asked to remain seated until your row is called to prevent congregations. You'll see plexiglass between you and the gate agent as you queue to board. You'll scan your own boarding pass and follow distancing markers in the jetbridge.
Onboard, a flight attendant will hand you a sanitizing wipe for your hands, cell phone and anything else you want to wipe down. (The cleaning procedures on aircraft are very thorough, FYI.) Flights are not being booked to full capacity—seats are being left open to create some distance. It's not possible to create six feet of distance, however, so it's important to keep your mask on (the flight attendants will remind you) and limit interactions with others. This, of course, is the greatest challenge for Hawaiʻi people—everybody knows somebody on board. But as we're starting to see some moderate case spikes, stay mindful and limit close conversation with folks you haven't seen in a while.
Other than these modifications, it feels exactly like the island hopping we know and love and, after more than three months without a neighbor island visit, it felt great to be back in the air. But there was one surprise…
Kauaʻi has its own process for deplaning passengers at Līhuʻe Airport. I didn't find information for it on official government sites later, but Mayor Derek Kawakami did post about it in his Facebook video briefing on June 17. The process will help them continue to separate transpacific travelers for their 14-day quarantine. Before you can head downstairs to baggage claim and the airport exit, you'll queue into a station where your I.D. and boarding pass are checked, and you'll be asked about any travel outside Hawaiʻi in the last 14 days. Once verified, you'll be given a laminated green pass. As you drive away from the airport, you'll turn in the pass to law enforcement at a checkpoint. Piece of cake.
With a pandemic on, what's in this post could be out of date in a month. Be ready for surprises and you'll be fine. The state's new process for interisland travel is pretty smooth and it's a very, very small inconvenience to protect everyone's health as we start to reopen Hawaiʻi.