How to Mail Order Kaua'i Poi and Kūlolo
If you've been craving these Hawaiʻi foods while you're stuck at home, you're in luck: You can get them shipped to your front door.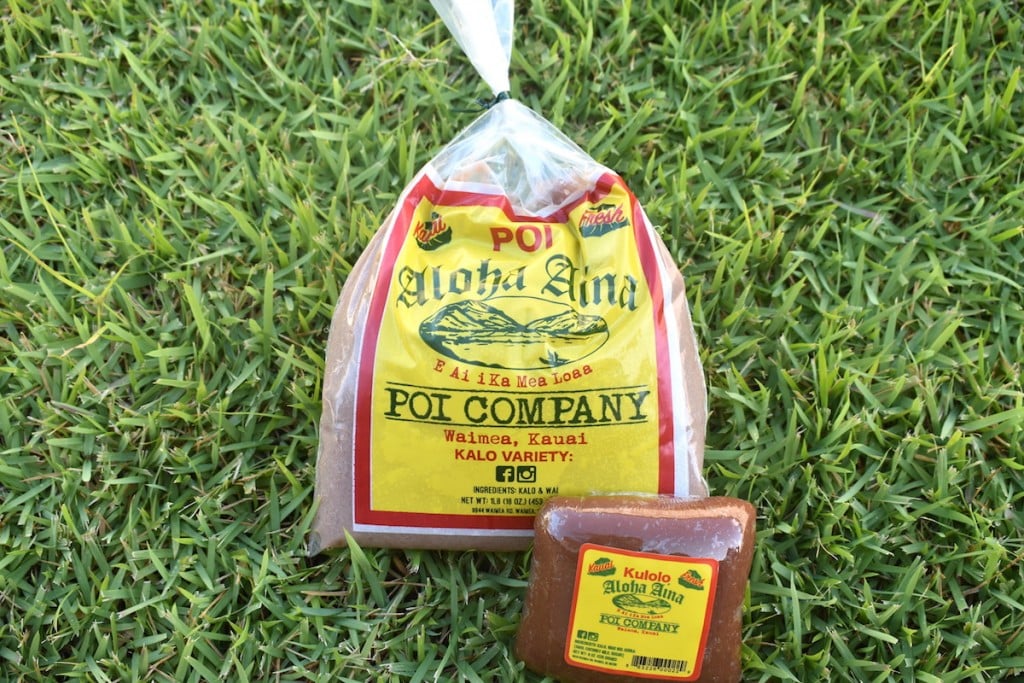 Starchy and addicting. That's how I describe poi and kūlolo, two Hawaiian staple dishes made from kalo (taro).
Poi, which is made from a mixture of cooked kalo and water, starts off sweet and sours as it ferments. It also has a starchy taste and a puddling-like texture. Depending on where you get it from, the consistency of poi can range from runny to a thick paste.
Kūlolo, on the other hand, almost feels and tastes like fudge—a coconut version, that is. It's made by steaming a mixture of taro, sugar and coconut milk pressed into a tray.
Before the pandemic, these delicious dishes could easily be found in local stores, farmers markets and food trucks. If you can't visit Kaua'i right now, there's still a way for you to satisfy your cravings.
Here are three places that ship across the state and to the Mainland.
Aloha ʻĀina Poi Co.
Located in the quiet and historic town of Waimea on Kaua'i's west side, Aloha ʻĀina Poi Co.'s staff of seven produce about 25,000 to 30,000 pounds of poi and 20,000 pounds of kūlolo each year.
Kaina Makua, a farmer and former immersion school teacher, started Aloha 'Āina Poi Co. in 2015 to help feed the community and rebuild a sustainable West Kaua'i. During the pandemic, Aloha ʻĀina Poi Co. and his nonprofit, Kumano I Ke Ala, teamed up to provide meals to kūpuna (elders).
Aloha ʻĀina Poi Co.'s taro is grown all year round by farmers in the western valleys of Makaweli and Waimea and in Hanalei on the island's North Shore. Its poi and kūlolo are mostly made from the lehua variety of taro, which is purple, sweet and starchy.
Taro is more than just a source of food. Makua says the plant is considered the elder brother of Native Hawaiians. The first taro was named Hāloanakalaukapalili and grew from the body of the stillborn child of Wākea, the Sky Father, and Hoʻohōkūkalani, the daughter of the Earth Mother. They later had a second, healthy boy who was named Hāloa after his elder brother; Hāloa was the first Hawaiian person.
The name Hāloa means "the long breath" in Hawaiian. Kalo is grown from cuttings (also known as huli in Hawaiian), so this plant can live for multiple growth cycles as long as it is cared for, harvested on time and replanted, Makua says.
"Unlike any other plant, or any other fruit or vegetable, you cannot get kalo seeds from the store. It's impossible," he says. "And that's such a unique thing to think about because if you cannot buy one from the store, that means every huli … has been truly taken care of and mālama (tended to) for generations."
The whole kalo plant is edible, Makua says, but only the corm (the round, underground stem) is made into poi and kūlolo.
While many local businesses are struggling during the coronavirus pandemic, Aloha ʻĀina Poi Co.'s online orders have been at an all-time high.
"For us, it's been a blessing that we can provide everybody with poi right to their doorstep," Makua says. "And they take advantage of it. And we're super grateful for all the support we get from people locally as well as outside of Hawai'i."
The taro products are shipped frozen inside thermal bubble mailers with gel ice packs. Once you receive your poi and kūlolo, Makua recommends thawing the them in the refrigerator.
From there, the directions slightly differ for each dish. When ready to eat, poi should be mashed into small bits and reheated in the microwave for five or six minutes. At that point, the poi should return to its original consistency. Kūlolo doesn't need to be mashed, just reheated.
"Always eat poi with something salty," Makua advises. "If you're not used to eating poi, eat it with something salty, and it'll be perfect. I promise."
You can also try poi on top of ice cream—or make it into ice cream, he adds.
As for kūlolo, he recommends making kūlolo lumpia by wrapping chopped kūlolo in lumpia wrappers and deep frying them.
Orders must be placed by Friday and are shipped out Monday. They usually arrive at their destinations on Wednesday. Shipping is free.
9944 Waimea Road, Waimea, alohaainapoico@gmail.com, alohaainapoico.com
Hanalei Taro & Juice Co.
View this post on Instagram
Perseverance has always been the Haraguchi family motto, wrote Lyndsey Haraguchi-Nakayama, a fifth-generation farmer and co-owner of Hanalei Taro & Juice Co., a farm-to-table food truck that sells food made from kalo grown on her family's 55-acre farm on Kaua'i's North Shore.
The Haraguchi farm was started in 1924 by Haraguchi-Nakayama's great-great-grandfather. Over the years, it has survived Hurricane 'Iwa in 1982 and Hurricane 'Iniki in 1992, and major floods in 2018 and 2020. Recovery efforts from the 2018 flood, which damaged the family's farmhouse, nonprofit museum and lo'i (taro patches), are still underway.
The family continues to persevere through the coronavirus pandemic. Haraguchi-Nakayama stopped the eco-friendly farm tours and in-person education programs that were provided through her family's nonprofit, and Hanalei Taro & Juice Co.'s main sources of revenue—the food truck and local farmers markets—were temporary closed as government mandates ordered people to stay at home.
"We're all hurting during this time, so we're trying to figure out ways to reach out more," she says, adding that Hanalei Taro & Juice Co. has worked with the local food bank to provide food to the community and hosted giveaways. "We are trying to make sure we can spread aloha."
Only kūlolo was sold online prior to the pandemic, she says, but high customer demand urged Hanalei Taro & Juice Co. to start offering its other taro products online.
"We received messages on Instagram and Facebook asking how they can get poi to their door in Washington state, to apartments in California and New York," she wrote.
Today, customers can order poi, kūlolo, cooked taro chunks, taro mochi cake and taro burger patties on its website. Haraguchi-Nakayama wrote that Hanalei Taro & Juice Co. is currently offering discounted shipping, which can range from $3 to $26, depending on the destination. Orders must be placed by 7 p.m. HST on Fridays so the taro can be harvested and cooked fresh before shipping out on Wednesdays.
Customers on the Neighbor Islands and West Coast usually received their orders the next day, while East Coast customers receive theirs on Fridays.
5-5070A Kūhiō Highway, Hanalei, (808) 651-3399, hanaleitaro.com
Kapa'a Poi Factory
Despite its name, Kapa'a Poi Factory doesn't actually make or sell poi—at least not anymore. Susan Pang, who runs the business with her husband, Rankin, says they stopped making poi in the late '90s after its milling machines broke down. Today, the factory only sells kūlolo, which it has made since the business was started by Pang's uncles in 1947.
Kapa'a Poi Factory turns about 59,000 pounds of kalo into kūlolo each year. Most of it is sold in stores on island, though every once in a while, Pang will get a request to ship her kūlolo off island. During the pandemic, those requests have increased, especially from Mainland customers who are unable to travel to Kaua'i.
"Like someone in Florida, it's someone's birthday," she says. "It's usually someone, saying, ʻOh, it's my mother or my aunty's 90th birthday and this is what she wants,' so we get that request."
Kapa'a Poi Factory's kūlolo is made by Pang and her husband on Thursdays and shipped on the same day. The business sells both half and full trays, though Pang says it's more cost effective to order full trays, which can be cut into 200 one-inch cubes. Shipping, she says, is generally at least $100, but the kūlolo arrives fresh at your door the next day.
1181 Kainahola Road, Kapaʻa, (808) 822-5426, kapaapoifactory.com