How to Visit Hawaiʻi's Sacred Spots
Here are some things to know before visiting Hawaiʻi's heiau, pōhaku, petroglyphs and other ancient sacred sites.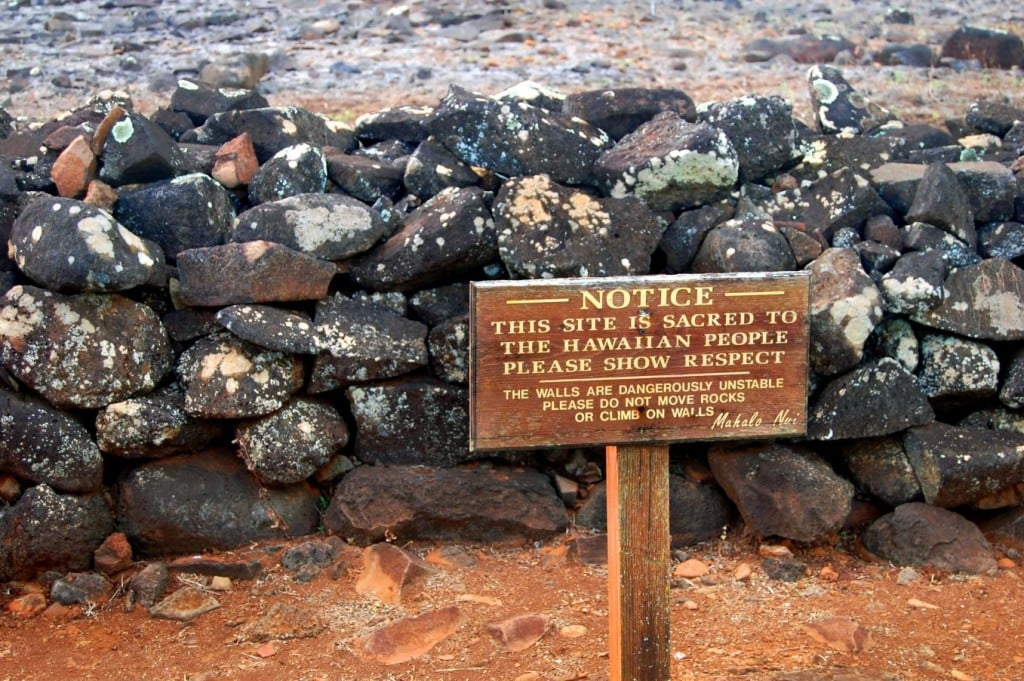 Who knew there was a heiau (Hawaiian shrine) behind Kailua's YMCA?
Not me. I've driven by the spot countless times on my way to the beach and somehow never paid attention to the massive historic stone structure, Ulupō Heiau, just steps from Kailua Road.
It's a spot I would have never known to visit without the expertise of Van James, author of "Ancient Sites of Oʻahu" (Bishop Museum Press, 2010), a guide to the island's archaeological sites, which are often easy to miss, like Ulupō Heiau. For James, it's the product of countless hours spent sifting through records and searching the island for structures and artifacts—like heiau, pōhaku (stones) or petroglyphs—that had been lost and forgotten over time.
His guide takes you off the beaten trail into the richness of Hawaiʻi's history, which is often overshadowed by the newer attractions on the Islands.
"I find that when people come here, they want to go to the beach or Waikīkī. It's difficult to encourage them to be interested in these sites," James says.
However, it's James' hope that this guide—as well as his guides to sites on Hawaiʻi Island, Maui, Lānaʻi and Molokaʻi—compels more visitors and residents to visit and learn about the unique bits of culture and memory hidden right under our noses.
Even I was shocked to read about a heiau hidden right in my own neighborhood of Hawaiʻi Kai in East Honolulu, tucked in a cul-de-sac just a short walk from my front door. (It's called Pahua Heiau and it's believed to date back to the 14th century.) How had I never known about it? Why didn't people talk about it more?
And that's precisely James' point. Two-thirds of Oʻahu's known sites have been demolished and these remaining ones, as well as newly discovered spots, depend on our support for their survival.
In his book, not only can you find descriptions of sites, along with information about their cultural importance and history, James also lays out where these hidden spots can be found, as well as whether they're on private property (and therefore inaccessible) and the best times to visit.
James also lays out some things to remember when visiting these sites. These places hold incredible significance in Hawaiian culture, so respect is key.
Don't climb on any of the sites. These carefully placed pōhaku mark everything from burial sites to fishing spots and can even represent individuals from legends or even gods themselves. Treat these artifacts with the same consideration you would if you were visiting a modern place of worship, like a cathedral, or exhibits in a museum. It's also important that you don't move or damage these markings.
When at a heiau, walk only on designated, clear paths and utilize the proper points of entry/exit rather than just stepping over rocks. These spots were sacred as places of worship, offerings or sacrifices; by following this protocol you're being mindful of their historic and cultural value.
If there are caretakers for the site nearby, it's always a good idea to stop and talk to them first to learn more about the site as well as any additional protocol you should follow.
Within the pages of James' guide, you'll learn more about well-known sites, like Puʻu Lēʻahi (Diamond Head), as well as discover new places chock-full of legends and history.
James even lays out a sample itinerary for visitors, taking you on a journey to some of Oahu's free-to-enter, easy-to-access and awe-inspiring spots (including Ulupō Heiau!) so you don't even have to draw up your own travel plans.
"Ancient Sites of Oʻahu: A Guide to Hawaiian Archaeological Places of Interest, Revised Edition," Van James, $19.95 on barnesandnoble.com or starting at $13.75 on amazon.com.