Hurricane Douglas: What Travelers Need To Know—UPDATED
Get updated information here.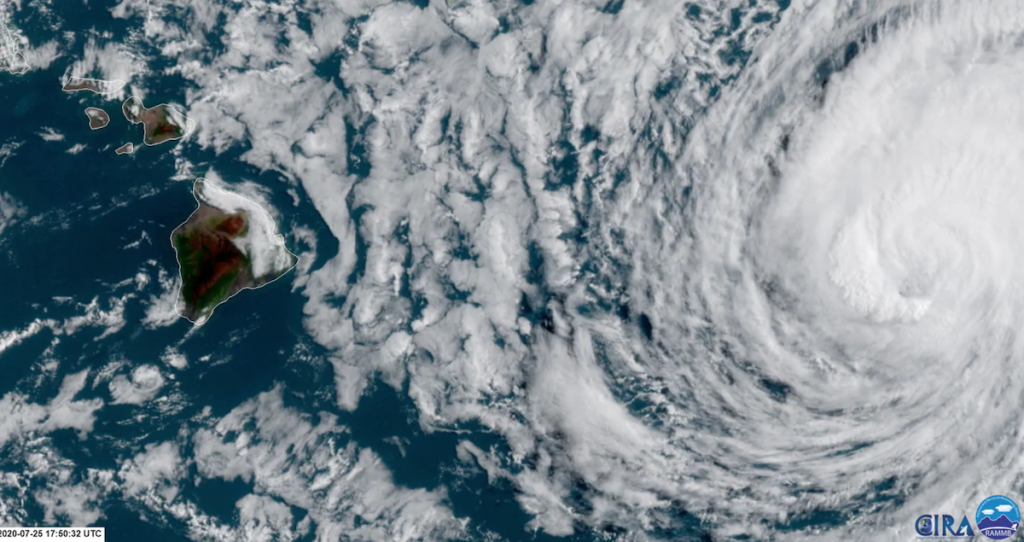 UPDATED 7:15 p.m., 7/26/2020
Hurricane Douglas is slowly weakening, but remains a Category 1 storm as it moves just north of Oʻahu. A hurricane warning remains in effect for Oʻahu and Kauaʻi, but has been canceled for Maui. A tropical storm warning for the Big Island has also been canceled.
At 6 p.m. The hurricane was located about 65 miles east-northeast of Honolulu and moving west-northwest at about 16 mph. It had maximum sustained winds near 85 mph with higher gusts.
The latest forecast track shows it passing north of Oʻahu and Kauaʻi on Sunday night as a hurricane.
UPDATED 10:57 a.m., 7/26/2020
Ala Moana Center, Windward Mall and the International Market Place—all on Oʻahu—will be closed today due to Hurricane Douglas.
With the threat of the hurricane past Hawaiʻi Island, Hawaiʻi Volcanoes National Park will reopen at noon Sunday. There are no reports of damage in the park due to the storm. The Kahuku Unit will remain closed for Sunday and there will be no staffing on Kīlauea Visitor Center lānai.
UPDATED 9:34 a.m., 7/26/2020
Hurricane Douglas continues its trek west-northwest at 16 mph toward the Hawaiian Islands. At 8 a.m., the Category 1 storm was located about 90 miles east of Kahului, Maui and 185 miles east of Honolulu, according to the Central Pacific Hurricane Center. It continues to have 90 mph maximum sustained winds and higher gusts this morning; it is expected to remain near-hurricane intensity as it passes near or over the Islands Sunday and Monday.
Maui County should see tropical storm conditions and possible hurricane conditions through late Sunday and possibly early Monday. Oʻahu will start seeing stormy conditions Sunday afternoon through Monday. Kauaʻi will see effects Sunday night into Tuesday.
Oʻahu, Maui and Kauaʻi counties are still under a hurricane warning, which means hurricane conditions are expected in the next 36 hours. Hawaiʻi County is under a tropical storm warning. The entire island chain is under a flash flood watch until Monday afternoon.
UPDATED 3:35 p.m., 7/25/2020
Hawai'i Volcanoes National Park will close beginning at 5 p.m. on Saturday, July 25, in anticipation of Hurricane Douglas. Douglas may bring damaging winds, heavy rainfall, and high surf to parts of Hawaiʻi Island beginning as early as tonight.
Honolulu city bus services will be suspended as of noon, July 26.
Pearl Harbor National Memorial will close the Pearl Harbor Visitor Center on July 26 and July 27. Additionally, USS Arizona Memorial programs will be suspended on July 25, although the Pearl Harbor Visitor Center, museums, bookstore and historical partner sites will remain open on that day.
UPDATED 1:43 p.m., 7/25/2020
Hawaiian Airlines cancels Hawaii-U.S. mainland flights on Sunday due to Hurricane Douglas. The airlines has also canceled all of its Neighbor Island flights on Sunday, in addition to select flights on Saturday evening between Honolulu and Maui and the Island of Hawaiʻi.
UPDATED 11:41 p.m., 7/25/2020
A hurricane warning has been issued for Oʻahu as Hurricane Douglas continues its path toward the Islands.
At 11 a.m. Saturday, Douglas was a Category 1 hurricane with maximum sustained winds near 90 mph with higher gusts and located about 325 miles east of Hilo or 520 miles east-southeast of Honolulu.
UPDATED 5:33 p.m., 7/24/2020
A hurricane watch has been issued for Oʻahu. Forecasters already issued one for Maui County and Hawaiʻi Island. Just before 5 p.m. today, the storm was located 665 miles east of Hilo and 865 miles east-southeast of Honolulu, forecasters said. Douglas remained a Category 3 hurricane with maximum sustained winds of 115 mph and was moving west-northeast at 20 mph.
ʻIolani Palace, Waikīkī Aquarium and the Honolulu Zoo will be closed this weekend. All Honolulu botanical gardens, city pools and beach parks will be closed on Sunday. Pearl Harbor Aviation Museum will be closed on Sunday and reopen on Wednesday.
TheBus will continue normal operations but could cease as early as 12:01 a.m. Sunday morning depending on updates of weather conditions.
The hurricane comes as Hawaiʻi records its highest cases of COVID-19: "This is a double whammy," says Honolulu Mayor Kirk Caldwell. "We're asking everyone to take this seriously and stay home this weekend."
UPDATED 10:58 a.m., 7/24/2020
Forecasters issue a hurricane watch for Maui County (which includes Molokaʻi, Kahoʻolawe and Lānaʻi) and Hawaiʻi Island as Hurricane Douglas continues approach toward Hawaiʻi. At 11 a.m. Friday, Hurricane Douglas was located about 785 miles east-southeast of Hilo or 985 miles east-southeast of Honolulu and packing maximum sustained winds near 115 mph with higher gusts.
If it's not a pandemic, it's a hurricane.
Hawaiʻi is bracing its for the first big hurricane of the season, which typically runs from June 1 to Nov. 30 and peaks between August and September.
Overnight, Hurricane Douglas crossed over the Central Pacific, weakening slightly though still a major Category 3 storm. It's the strongest storm on the planet right now, with winds of 120 mph that extend 25 miles from the center of the storm, according to the Central Pacific Hurricane Center. It's forecast to reach Hawaiʻi on Saturday night or Sunday morning while still near hurricane strength.
So what do you need to know—or do—if you're in Hawaiʻi right now?
1. Hurricane Douglas is definitely heading our way.
Some forecast models show the storm moving directly over Hawaiʻi Island, others show it hitting all islands directly, still others show it moving just north. The takeaway: This hurricane can hit anywhere within the cone of uncertainty, which is the probable track of the center of the hurricane based on the models used to make the forecast. As of 5 a.m., the hurricane was located about 895 miles east-southeast of Hilo, with sustained winds of 120 mph and moving west-northwest at 19 mph. It's expected to hold this track over the next few days, slowing a little in speed and turning slightly toward the west.
2. Potential threats caused by Hurricane Douglas.
Aside from heavy, hurricane-force winds, expect to see increased rainfall and possible thunderstorms caused by Douglas. These conditions may also lead to flash flooding. Presently, there are no coastal watches or warnings in effect, though this will likely change as the storm approaches. Large surf is also expected to hit all shores of every island, and it's recommended that visitors (and anyone uncomfortable in the water) stay away from the ocean during this time.
3. The difference between watches and warnings.
The Central Pacific Hurricane Center will be the agency issuing hurricane watches and warnings across the Hawaiian Islands. A hurricane watch means that residents and visitors will have up to 48 hours to prepare, while a hurricane warning signifies that there are roughly 36 hours before storm conditions are expected and that hurricane preparation should be a top priority.
4. Closures across Hawaiʻi.
So far, only the Kalākaua Avenue Open Street Sunday event on July 26 has been canceled. Yesterday, Hawaiʻi Gov. David Ige issued a pre-landfall emergency proclamation as the Category 3 hurricane approaches the Islands. Visitors and residents should expect events, parks, trails and other attractions may temporarily close this weekend and into early next week due to the storm. (Follow us on Twitter @hawaiimagazine to get updates.) To find out exactly what's going to be off-limits to the public, visit the Department of Land and Natural Resource's website or calling them at (808) 587-0400.
5. How to prepare for a hurricane.
Water is an absolute necessity. It's recommended that a household has one gallon of water per person per day for at least 14 days. A 14-day supply of non-perishable food is also highly recommended. Flashlights, candles, extra batteries, hand crank radios and cell phones with a battery backup are other important items to have. You can see what else you may want to keep in store here.
6. Hawaiian Airlines is offering travel waivers.
Due to Hurricane Douglas, Hawaiian Airlines is allowing guests traveling from Thursday through Tuesday to change their flights without fees. Passengers can reschedule their reservation by Aug. 4 for new travel that begins no later than Oct. 31. To make changes to a reservation booked through the airline's website or reservations department, call 1-800-367-5320.
7. Where to evacuate and how to get there.
If you need to evacuate, here is the full list of Red Cross shelters.
Be safe, everyone!