Imu roasts: a longstanding Thanksgiving holiday tradition in Hawaii
An imu is an underground oven used to cook anything from turkeys and taro to pigs.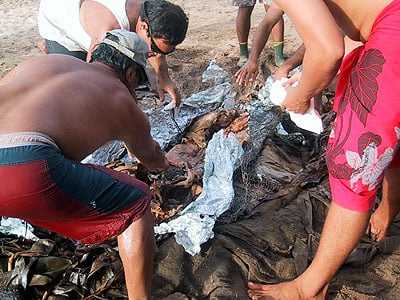 If you happen to be in the Islands during the Thanksgiving holiday, you may hear talk about turkey cooked in an imu. Note: the Hawaiian word sounds like emu — an ostrich-like Australian bird.
If you're unfamiliar with the Hawaiian term, it's possible that you may find yourself wondering whether traditional holiday tables here feature some sort of super-sized variation on turducken — a dish consisting of de-boned chicken stuffed into a de-boned duck, which is then stuffed into a de-boned turkey.
Much to the relief of even adventurous chefs, this is not the case. An imu is an underground oven, a deep pit in which steam is used to cook anything from turkeys and taro to pigs (for luau spreads).

Several imu roasts will be under way in the Islands this week. Typically, on the night before Thanksgiving, people drop off thawed, foil-wrapped turkeys, pork and assorted vegetables for overnight roasting. Then, on Thanksgiving morning, they pick up ready-to-eat steamed and sometimes smoke-infused holiday goodies. Reservations are often required. And some of the roasts, such as one on Oahu's windward side hosted by Kailua High School's athletic department, serve as fundraisers.

How to build an imu? Dig a pit and fill the base area it with kindling. Some roasters opt for kiawe (mesquite wood). Place baseball-sized stones atop the wood and then start the fire. The fire is usually maintained for hours, or at least until the stones are extremely hot. When the fire is snuffed out, the hot stones are evenly spread along the pit's floor. Next, the floor is covered with layers of ti leaves or grass to prevent the burning of the food. The wrapped food is then spread out atop the layers. It's topped with a few more layers of leaves/grass. Finally, the oven is sealed with a less-porous covering, such as banana leaves. The imu roasting process is called kalua, which translates as "to cook in an underground oven."