In honor of this year's Eddie, here's what's considered the biggest Waimea wave ever paddled into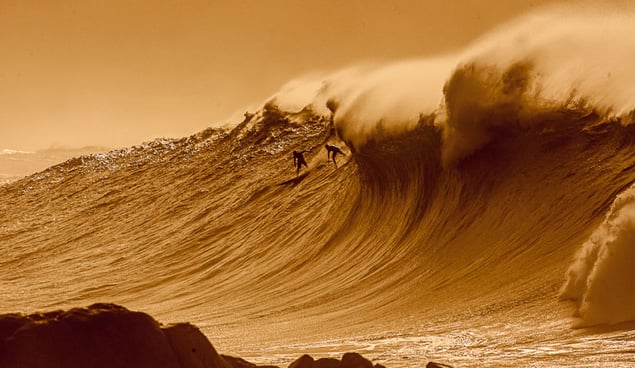 Breaking news out of Waimea today: The Eddie will go.
Organizers of The Quiksilver In Memory of Eddie Aikau Big Wave Invitational, commonly called The Eddie, have confirmed the event will happen at Waimea Bay this Wednesday—the first time the contest has been held since 2009, and only the ninth time in its 32 year history.
These few and far between runs are because the prestigious one-day event has a unique standard requiring 20 foot waves (40 foot wave faces) and perfect weather conditions in honor of Eddie Aikau, the late Native Hawaiian hero associated with Waimea Bay as its first official lifeguard.
To give you a sense of what that looks like, this photo by Australian photographer Brad Masters shows Hawaii Island's Shane Dorian and Mark Healey riding a monster just a day before The Eddie six years ago. Taken on December 8, 2009, it's believed to be one of, if not the the, biggest observed waves ever paddled into at Waimea.
In this video, Dorian and Healey recall being able to see this wave a full two or three minutes away from breaking.
Dorian and Healey will both be surfing Waimea again this Wednesday for the event, alongside other notable names like 2009's winner Greg Long, Makua Rothman, Sunny Garcia, John John Florence, Nathan Fletcher, Bruce Irons, Ian Walsh, Kala Alexander and Eddie's younger brother Clyde Aikau.