In the Heart of Waikīkī Rock-A-Hula Puts a Unique Spin on the Lūʻau
From E Komo Mai Tais to an Elvis tribute artist, this show offers unforgettable dining and entertainment.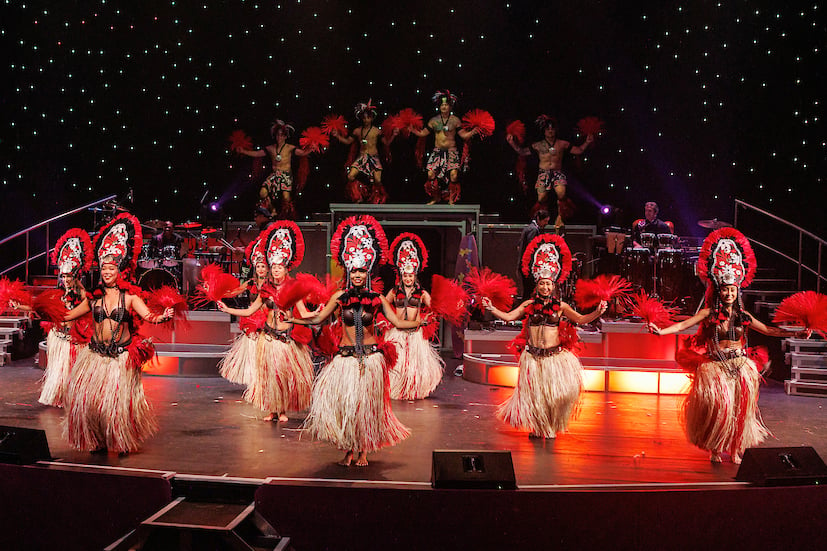 When vacationing on O'ahu, visitors almost always include a lūʻau on their to-do list.
Add award-winning entertainment, a 750-seat theater and Elvis Presley and Michael Jackson tribute artists to the mix, and you're in for a memorable one-of-a-kind treat.
It's not every day you get to spend an evening in the heart of Waikīkī, so when we got the opportunity to attend Rock-A-Hula's lūʻau buffet and show, we cleared our calendar.
As the biggest lūʻau and show in Waikīkī, Rock-A-Hula is famous for its gourmet cuisine and world-class performances. Now in its twelfth year, it is the longest running show in Waikīkī.
The night starts with a tasty, signature E Komo Mai Tai and a whole sweet pineapple to welcome guests to dinner. While we were serenaded with singing, ʻukulele and hula, the Rock-A-Hula chefs were hard at work preparing a fresh and bountiful buffet complete with all the lūʻau classics and island favorites: whole roasted lūʻau pig, teriyaki glazed chicken, lomilomi salmon, ʻuala (Hawaiian sweet potatoes), and much more.
Lūʻau attendees can also enjoy an array of desserts, including rainbow sorbet, classic coconut haupia, and chocolate dobash before heading into the theater.
With its impressive talent and state-of-the-art lighting and sound, the show immediately treats its audience to thrilling non-stop entertainment from beginning to end. We traveled through the decades of Hawaiʻi, catching glimpses of history through a musical lens. Vivacious performances of hula, Tahitian and fire knife dancing left us in awe. Even Elvis Presley and Michael Jackson (tribute artists, that is) took the stage to celebrate their unique ties to Hawaiʻi. After the show, you can meet the cast in person at the meet-and-greet for photos and autographs.
See our Instagram Reels for a sneak peek.
If you are planning to stay in Waikīkī, the show is conveniently located minutes away from most hotels and accommodations in the area. Rock-A-Hula offers a myriad of ways to enjoy the evening. Whether you're looking to celebrate a big night out with a VIP experience, just want to enjoy a delicious lūʻau buffet or want to stop in later in the evening to catch the show, you'll find the perfect package for you.
Head to RockAHulaHawaii.com to learn more and purchase tickets.