Jim Gusukuma: 5 Things I Love About the Hawaii Plate Lunch
The owner of Rainbow Drive-In reminisces about what makes the plate lunch so iconic.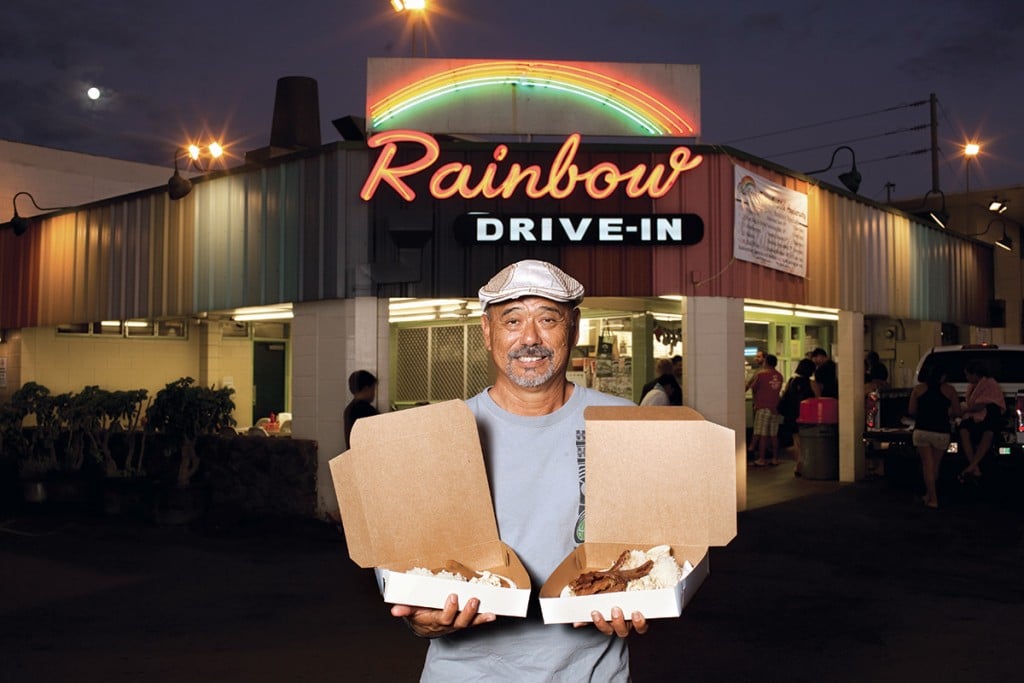 Jim Gusukuma sits at a picnic table near Rainbow Drive-In, his board shorts still damp from his morning surf in nearby Waikiki. A line of customers is already at the takeout window, ordering plates of fried rice, loco mocos and buttermilk pancakes.
This is Thursday ritual for Gusukuma, owner of the iconic comfort food haven, which has served up Hawaii-style plate lunches for 50 years. His in-laws, Seiju and Ayako Ifuku, opened the Oahu eatery in 1961, offering 50-cent chili-and-rice bowls, $1 barbecue steak plate lunches and food meant to appeal to residents and Waikiki beachgoers.
A half-century later, Rainbow Drive-In's ardent customer fan base includes Neighbor Island residents, visitors, celebrities and even a Hawaii-born U.S. president.
Gusukuma is a regular, too, favoring the barbecue pork plate, curry noodle saimin and pork cutlet with gravy—three of more than 60-plus items currently on the Rainbow Drive-In menu. Like most longtime Island residents, his palate was informed by the basic Hawaii plate-lunch formula—two scoops of white rice and a scoop of macaroni salad paired with just about any food favorite reflecting Hawaii's multicultural population. He has a theory on why the plate lunch remains ever popular with local diners.
"We have a tradition (in Hawaii) of mixing cultures. And one of the first things we shared was food," he says. "Hawaii is not unique in our love of food. But it is unique in the diversity of food available and the willingness of people here to accept new foods."
Gusukuma operates Rainbow Drive-In with the uncomplicated philosophy of his in-laws: Serve up plates of hearty, simple food in generous portions at reasonable prices. A plate lunch at Rainbow Drive-In—with entrées ranging from roast pork and ahi katsu to shoyu chicken and an ever-popular chicken cutlet with gravy—is still $9 or less.
"It's cheap, it's fast and it tastes good," says Gusukuma, of the Hawaii plate lunch, smiling. "What more could you want?"
5 Things I Love About the Hawaii Plate Lunch
1. Variety:
"You can get a variety of food in a plate lunch—from beef stew to shoyu chicken to loco moco. There's even an ethnic variety that you can get all on one plate. The food reflects the multitude of cultures in our Islands and makes people feel at home."
2. Price:
"Historically, plate lunches have been cheap. You can fill up at an affordable price. At Rainbow's you get a lot for your money. Everyone can afford a plate lunch."
3. Flavors:
"The plate lunch, while seemingly simple, is really a contrast in textures and flavors. The rice, which is the filling part of the plate, is bland and starchy. The entrée, whether it's teriyaki beef or pork cutlet, carries the flavor. The macaroni salad provides a textural contrast, with the mayonnaise base giving the plate a creamy, smooth feel. There's a temperature contrast, too. The mac salad should be ice cold and the rice steaming hot. That's why plate lunches should be eaten as soon as they're prepared. It's what differentiates it from a bento, a bowl of noodles, or a burger and fries."
4. Casual:
"You can come from the beach, from work or from a party and have a plate lunch. At Rainbow's we don't have signs that say: No shirt. No shoes. No service. You just get in line and get your plate lunch. You don't have to worry about how you look or what you're wearing. You can come as you are."
5. So Hawaii:
"I remember eating at the Kewalo (Harbor) lunch wagon small-kid time. I'd order hamburger steak, spare ribs or the mixed-plate special for 75 cents. They would put it on a paper plate with wax paper—so the gravy wouldn't soak through—and slide it in a paper bag. You know you're in Hawaii when you're eating a plate lunch. It's unique to the Islands. The food, the taste—you can eat hamburger steak somewhere else. But somehow it just doesn't taste the same. Plate lunches should be eaten in Hawaii, period."
Open 7 a.m. to 9 p.m. daily, 3308 Kanaina Ave., Honolulu, (808) 737-0177, www.rainbowdrivein.com