Joining Hands and Scaling Up to Feed Hawai'i's Food-Insecure
Hawai'i's public and private institutions partner in unprecedented ways to solve one of the most wicked problems of all: a pandemic-related sharp increase in hunger.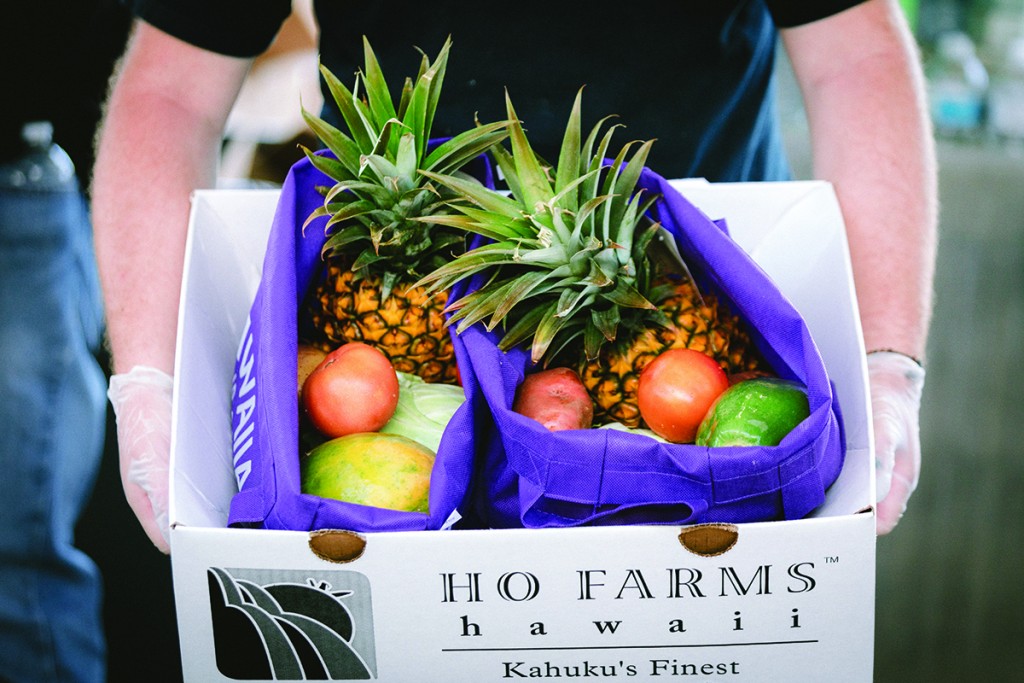 Until earlier this year, Honolulu's Aloha Stadium and its parking lot hosted joyful big events: football games, concerts, the swap meet, high school graduations. None of those were possible at press time, but the stadium has still been needed. It's one of the only venues large enough for the mass distributions of food to the public organized by the Hawai'i Foodbank since the coronavirus pandemic began. On distribution days, up to 4,000 cars wait in line to receive trunkloads of food.
In May, one of the people in one of those cars was William Sison, formerly a plant engineer with Meadow Gold. Sison, laid off because of the pandemic, waited in line with his wife and adopted 2-year-old daughter. It was his first time at a food distribution center. "I am grateful—but I don't like to take, take and keep taking without being able to give back," he said. "That is how I am: If you going help me, I going help you. I pay back—but kind of hard right now. Life sometimes is just not fair but we gotta do what we gotta do."
Sison is not alone. "Many of these families have never raised their hands in their lives," says Ron Mizutani, president and CEO of Hawai'i Foodbank. He says the food bank surveyed those in line, and at each distribution, "between 78% and 83% of those people in line had been directly impacted by COVID."
On Maui, Richard Yust, executive director of the Maui Food Bank, witnessed a similar scene at the Maui Food Bank's own food distribution sites: "Probably a good majority of those people have never had to ask for food assistance. These people have worked their whole lives, never gone a week without a paycheck. And now, it's been months without a steady paycheck." Neither Hawai'i Foodbank nor Maui Food Bank have ever operated at anything like this scale. "There is a whole new demographic of people that we're serving," says Yust.
In Hawai'i, with wages significantly lower than national averages and costs for basics like housing and food much higher, it's difficult for a working family in the Islands to save for a rainy day. The Aloha United Way's ALICE Report for 2018 (ALICE stands for Asset Limited, Income Constrained, Employed) estimated that 42% of Hawai'i families were employed but didn't earn enough to meet basic necessities, putting them a paycheck or two away from disaster. Yust says that families have had to choose between paying for rent and utilities, and buying food: "People just don't have the money for food. They want to keep a roof over their heads and the lights on, and [the money] is gone."
Demand for food support has been at record highs throughout the pandemic. In March, the Hawai'i Foodbank saw a 25% increase in year-on-year demand. The April year-on-year increase shot up to 85% as mass layoffs hit, leaving Hawai'i with the highest rate of unemployment in the nation.
But in May, Mizutani says, the demand for food support "just exploded." In May of 2019, the Hawai'i Foodbank distributed 972,000 pounds of food. In May of 2020, as people ate through their pantries and burned through their savings and backup resources, that number quadrupled to 3,498,000 pounds distributed.
Mizutani has been present for every one of those distributions. They are intense days. "When you're on the line, you can tell people are very emotional," he says. "Some of them are crying, thanking us with tears—and then there are those who don't even make eye contact and are uncomfortable about receiving assistance."
But Mizutani has also been surprised. The Hawai'i Foodbank started to prepare for the pandemic in February, looking at how things unfolded at food banks in Asia for their cues. The demand ensued as expected, he says, but he also thought volunteers would be hard to come by, as they had been at many Asian food banks.
Instead, he says: "We never lost our volunteers. They kept coming. And no businesses stopped coming. They asked, 'How can we help? How can we be a part of this?' It was amazing. It was something that I don't think Asia saw, and maybe even [other] parts of America."
On Maui, Yust was surprised by the number of $1,200 donations received by the food bank—the exact amount of the federal government's COVID-19 stimulus relief. One man walked up to the food bank with $1,200 in cash and handed it over, saying simply, "You guys are going to need this a lot more than I need it."
But what made food distributions possible on this scale, says Mizutani, was the public-private partnerships that sprang up in rapid response to the crisis. When the pandemic took hold and Hawai'i's economy shut down, the Bank of Hawai'i Foundation made a $3 million donation to the Hawai'i Resilience Fund of the Hawai'i Community Foundation. Of those funds, $1 million ($750,000 to O'ahu and $250,000 to the Neighbor Islands) was earmarked for targeting hunger. The Hawai'i Community Foundation then joined forces with Hawai'i's counties to create innovative public-private partnerships to match these resources. Says Mizutani: "We could not have gotten through the first few months of this without philanthropy. They carried the day."