The Kāʻanapali Beach Hotel's Restaurant Celebrates Hawaiian Culture and Cuisine
After its inaugural year, Huihui is already a popular culinary destination on Maui.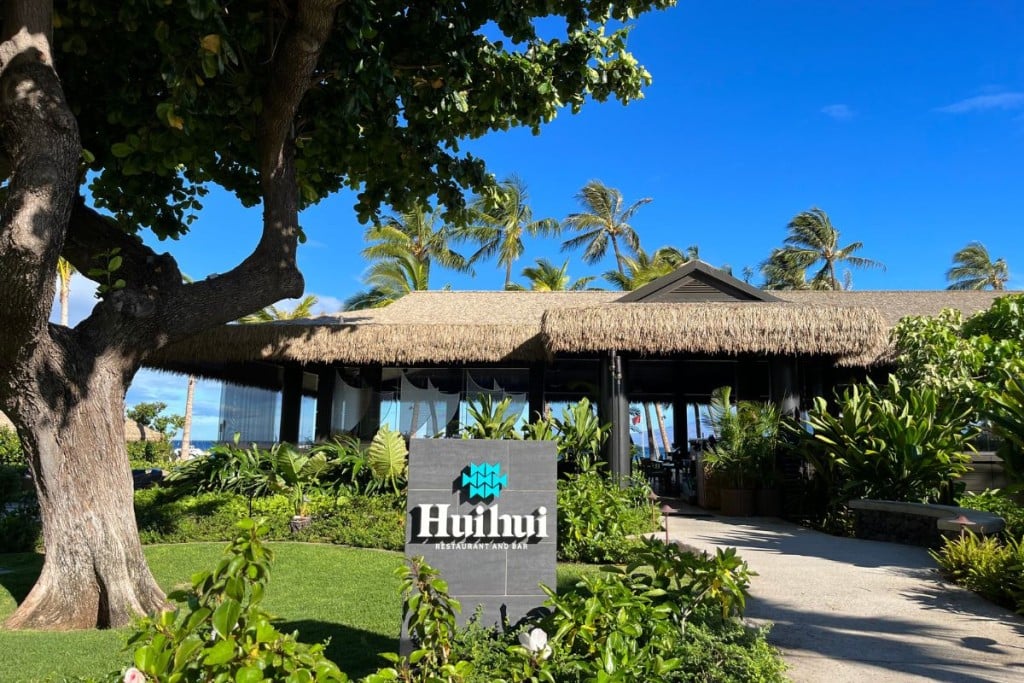 It is no surprise the beloved Kāʻanapali Beach Hotel's restaurant is an ode to traditional Hawaiian delicacies and moʻolelo (stories). After all, it considers itself Hawaiʻi's most Hawaiian hotel.
But Huihui is more than just an homage to ancient customs.
By weaving traditional wayfarer practices and ingredients into contemporary dishes, Chef Tom Muromoto celebrates Hawaiʻi's deep connection to the sea in addition to the modern cuisine found in the Islands today. From the chef's laulau with pork, lomi salmon and poi, to lobster dumplings and crispy fried pork belly, Huihui is a feast of local delicacies. And by pairing flavorful dishes that highlight island-sourced ingredients on an oceanfront property, Huihui is designed to be an unforgettable dining experience—one that stands out on a trip to the Islands.
As guests enter Huihui on Maui, it's clear the restaurant's inspiration is anchored in the sea and the ancient traditions of ocean wayfaring.
As early as 400 C.E., Polynesians embarked in waʻa, double-hulled canoes to the Hawaiian Islands. They crossed a tempestuous sea using stars, migratory birds, marine life and ocean currents, to arrive at one of the most isolated island chains on the planet. These ocean navigators brought dozens of animals including puaʻa (pigs) and mao (chickens), along with valuable plants to sustain themselves throughout their long voyage at sea. The hulls of the canoes were filled with hearty ʻuala (sweet potato), nutrient-rich maiʻa (banana), medicinal ʻolena (turmeric), versatile ʻulu (breadfruit) and of course kalo (taro), a cardinal crop in Hawaiian culture. In total, about two dozen plants comprise a class known as Hawaiian canoe crops.
These crops were also chosen by the wayfinders to be cultivated at their destination. During the voyage, great care was taken to protect these precious plants. Tubers, roots and cuttings of vegetative plants were wrapped in dried leaves to be propagated and replanted as food and sources of material in their new home.
Anela Benson, a cultural educator at the hotel explains, "The canoe is a microcosm of our island, and our island is the microcosm of our canoe." Polynesians recreated their communities and transported their most essential resources on waʻa, preserving old traditions and building new ones at sea. Life on these canoes greatly influenced the Islands' culture and cuisine, which continues to be evident in Hawaiʻi today.
In 2020, the Kāʻanapali Beach Hotel began a series of transformative renovations to elevate the classic hotel. One of the most exciting enhancements of the project was the launch of the hotel's new beachfront restaurant. The dining experience was completely reimagined with a new concept tethered to the art of ocean navigation and a menu that put a spotlight on canoe crops. At the helm of the menu redesign was Chef Muromoto, a veteran chef at Kāʻanapali Beach Hotel for more than 20 years. And for the chef, it was clear the menu would be inspired by the sea with local ingredients at the core.
Born and raised in Hawaiʻi, Muromoto has a deep connection to the ocean as a former professional surfer and a strong appreciation of its resources as a diver. He spent his youth surfing the notorious Pipeline on Oʻahu's North Shore. When he's not in the kitchen, he can still be spotted in the lineup at Hoʻokipa. "I'm a Pisces, we live and die by the ocean," he jokes. But with earnestness, he says it was obvious to pay tribute to the sea and incorporate canoe crops.
Huihui opened in July 2021 with the completion of the hotel's $75 million phase one renovation. With its sleek floor-to-ceiling windows and tropical palm roof, the establishment can't be missed along the Kāʻanapali boardwalk. From ceiling lights arranged in constellation patterns and rope etchings on the bar to a thoughtful menu accentuating ʻŌlelo Hawaiʻi (Hawaiian language), intricate details can be spotted throughout the restaurant. And being mere feet from Kāʻanapali Beach, every table is arranged to have an ocean view.
But as diners soak in the surroundings of Kāʻanapali Beach, their attention will be immediately drawn to the food. To start, the lobster dumplings are a popular appetizer and are exquisite when dipped in Muromoto's famous chili pepper water, a beloved concoction in Hawaiʻi. Drenched in garlic and spice, the dumplings will melt in your mouth. The Kula salad is bright and fresh, drizzled in the chef's sesame soy dressing, which is also a specialty by Muromoto. Julie Yoneyama, the sales and marketing manager at Huihui, says the chili pepper water and sesame soy dressing receive such strong reviews, the restaurant is considering bottling and selling them, a testament to the chef's culinary artistry.
The pan fried 'ahi is also a popular entrée, dressed with the chef's chili pepper sauce, calamansi aioli and furikake. Like the 'ahi, many of the dishes on the menu are influenced by Asian fare, a reflection of the various cultures that contribute to Hawaiʻi's unique cuisine. One can't help but compare the flavorful peanut sauce pasta to Thai noodle dishes. The noodles are even garnished with Thai basil and cilantro to add an herbal spiciness and fresh aroma to the rich pasta.
And one of Muromoto's most clever additions to the menu was laulau. While the dish is emblematic of local cuisine, diners will not find it on the menu at most upscale restaurants in Hawaiʻi. Laulau might be served at lūʻau feasts, but Muromoto's far surpasses those variations. The plate includes succulent pork, cod steamed in taro leaves, Molokaʻi sweet potato, pohole (fiddle fern) salad and the restaurant's homemade poi. The dish showcases the canoe crops and traditional cooking methods that influenced Hawaiian culture.
The restaurant has also partnered with Molokaʻi Wildlife Management in an effort to help tackle the invasive deer population on the island. Muromoto crafted items such as the Molokaʻi venison burger and Molokaʻi venison poke to maintain a sustainable partnership with the organization and help curve the axis deer populations.
After an oceanfront feast, don't skip out on dessert. At Huihui, dessert isn't an afterthought like it can appear at other restaurants. Huihui's signature dessert is a decadent banana bread ice cream sandwich. It's the pastry team's creative twist on the classic hula pie. And being on Maui, the epicenter of banana bread, it's only fitting. Diners will enjoy two thin slices of banana bread stuffed with macadamia nut ice cream, a key ingredient in hula mud pie. The banana bread isn't overly sweet and doesn't become soaked by the ice cream, either. The pineapple bread pudding is also a mouthwatering dish on the dessert menu. Inspired by pineapple upside down cake, the bread pudding is balanced with warm spices and a sharp tequila sauce.
With live entertainment, hula dancers, oceanfront views and exquisite food, Huihui is a place to gather and feast. After its inaugural year, Huihui has already become a beloved restaurant to commemorate birthdays, milestone anniversaries and special occasions. Regardless if there's a specific reason to celebrate, dining at Huihui is a good enough reason.
Kāʻanapali Beach Hotel, 2525 Kāʻanapali Parkway, Lahaina, huihuirestaurant.com