Kauai's stunning movie sets revealed in Kipu Ranch's all-terrain tour
No wonder Kipu Ranch's picturesque pastures, valleys and tropical forests keep turning up on the silver screen.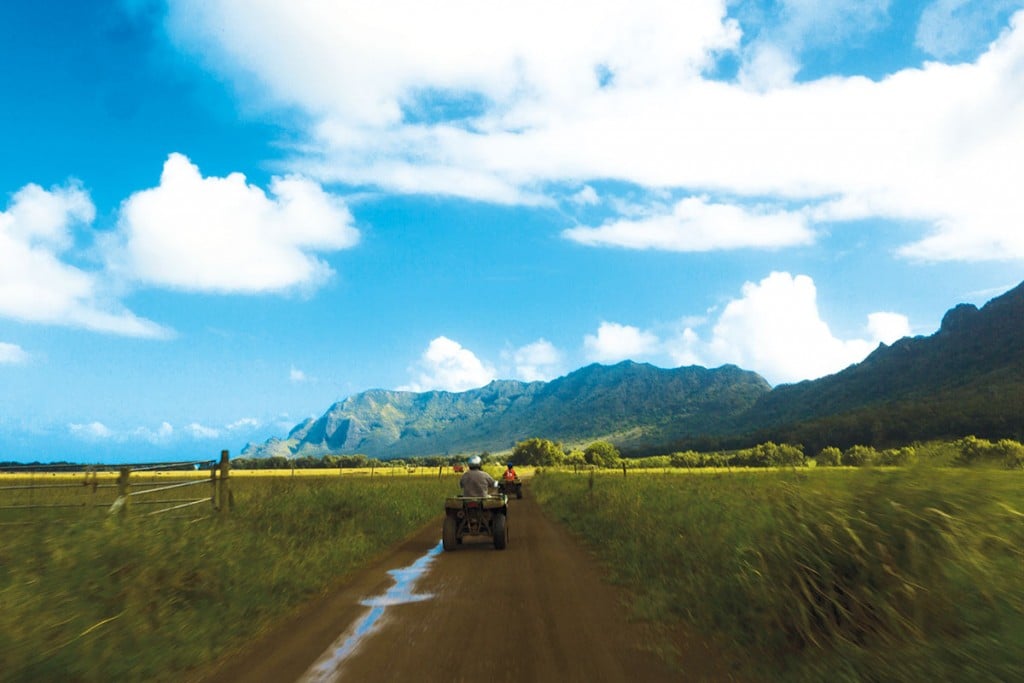 Tucked into the Garden Isle's sunny southeast coast, from Huleia River to Mount Haupu, Kipu Ranch is flush with picturesque pastures, valleys and tropical forests. No wonder it keeps turning up on the silver screen.
Rolling along a trail lined with towering Captain Cook Pines, I'm gripping the steering wheel of a sturdy, four-seat all-terrain vehicle, picking up speed steadily.
"I can handle this," I tell myself during the first few mildly lumpy miles of an off-road tour led by Kipu Ranch Adventures. It's my first time behind the wheel of an ATV. I'll find out later on why our guides so revere reliable power steering and premium suspension.
The three-hour trek I'm on—Kipu's Ultimate Ranch Tour—offers visitors a sprawling overview of the vast and varied acreage of the Kauai private ranch interspersed with glimpses of the island's heralded role as a tropical backlot for Hollywood films.
At our first stop, a lush meadow dotted with contented cows and flitting seabirds, Kipu Ranch guide James Marques advises us to "look in any direction" to see where filmmakers have set up crews and cameras to shoot scenes from famous feature films. The area has served as a location for films ranging from 2011's "Pirates of the Caribbean: On Stranger Tides," to the 1990s "Jurassic Park" adventure film series, to 1970's "The Hawaiians."
The ATV drivers and folks riding shotgun in our dozen-strong group enjoy a few minutes of swapping movie memories before strapping on helmets to wind through tougher Kauai terrain.
Tucked into the island's southeast coast, between Lihue and Poipu, Kipu Ranch encompasses 3,000 acres of rolling pastures, river valleys and forestland, stretching from the Huleia River to the top of 1,286-foot Mount Haupu. The property was once owned by Island royalty.
During the early 1870s, Princess Ruth Keelikolani, a member of the Kingdom of Hawaii's founding Kamehameha family, sold the land and additional acreage to her Kauai neighbor, William Hyde Rice, the son of Protestant missionary teachers from New York state. Two decades later, Rice would serve as the kingdom's last appointed governor of Kauai, before the overthrow of the monarchy in 1893.
Rice worked his new land acquisition as a cattle and horse ranch until 1907, when the property was transformed into acreage for one of Kauai's major sugar plantations. When Kipu Plantation closed about a half century ago, the Rice family hired a few cowboys and returned the property to ranch work, which continues today.
The trail to our second stop, still slippery from recent rains, leaves my jacket lightly mud-splattered. No matter. No longer nervous about guiding my ATV over hill and dale, I'm reveling in an outdoorsy afternoon. Reveling, that is, until Marques begins double-checking our driving know-how on a deeply rutted hill he calls a "bunny slope."
Tuning out a twitch of butterflies in my stomach, I pull into the drivers' lineup and focus my thoughts on Marques' advice about straddling the ruts and continually moving along rather than stopping. Stopping in a muddy rut? Bad idea.
After each driver successfully navigates the slope, Marques gives us the OK to push on into a woody area filled with bouncy turns and gasp-worthy potholes that leave me in absolute awe of ATV engineering.
When signaled to stop near the edge of the narrow Huleia River—part of which is home to the Huleia National Wildlife Refuge, and hundreds of endangered Hawaiian water birds—I spot one of the tour's most popular attractions: the Indiana Jones rope swing.
Strapped to the sturdy branch of a mango tree, the rope marks the spot where archaeologist Jones, chased by angry Hovitos warriors in 1981's "Raiders of the Lost Ark," leaps onto a rope swing and sails over the river to a waiting seaplane. Actor Harrison Ford reportedly stumbled on the stunt even after tree branches were cut to give him some clearance. Taking note of the tree's still-visible sawed-off sections, our group gets ready for swing turns. Some of us opt for the drier out-over-the-water-and-back swing option while others, spoofing action-hero antics, take dramatic, splashy plunges into the gentle Huleia current.
The final stop on the tour before turning back is near the summit of Mount Haupu. This also happens to mark the filming location for a key scene in 2011's "The Descendants," where George Clooney's Matt King character and his daughters survey their long-held, and much-argued-over, inherited land—a pristine valley that plunges to a beautiful beach. The fictional plot of "The Descendants" hinges on whether King, the descendant of a Hawaiian princess and a Caucasian banker and the land's sole trustee, will team up with his cousins to sell the Kauai property for resort development. The view from here is accessible to the public only by way of Kipu Ranch Adventures, which is permitted to operate ATV tours on privately owned Kipu Ranch.
Approaching the viewpoint, I see that the exact spot where Clooney stood is actually on the other side of a fence that separates Kipu Ranch from another private parcel, this one nearly 2,000 acres. It is also completely off limits to the public. And as it turns out, the property the actors gaze upon in "The Descendants" is the additional acreage Princess Ruth sold to William Hyde Rice.
Rice, in turn, sold the land to an in-law, Jack Waterhouse, who operated a green-minded family cattle ranch on the land. Decades ago, the acreage was passed to nieces and nephews with the understanding that, when their generation passed away, the land would be preserved under ownership of the state of Hawaii.
Only time will tell if that outcome is a sure bet for this unspoiled valley.
On the drive back to Kipu Ranch Adventures headquarters, I consider the film fiction depicted in "The Descendants" crossing paths with the real-life Rice-Waterhouse storyline. Here's hoping this slice of Garden Isle paradise finds a happy ending—just like in the movies.
Kipu Ranch Adventures Ultimate Ranch Tour, (808) 246-9288, www.kiputours.com.