How the Kīlauea Lighthouse Saved an Airship in 1927
Interestingly enough, the lighthouse at Kīlauea Point played a starring role in one of the earliest flights over any ocean.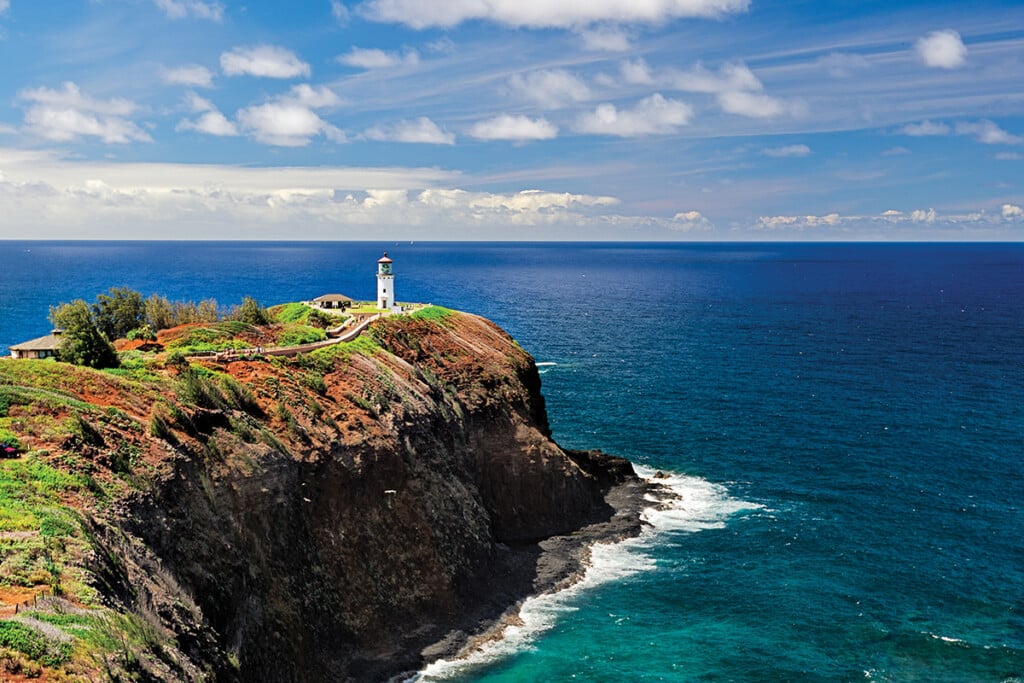 In today's world of technology with navigational aids in the palms of our hands, getting from here to there is pretty much a cinch. On land, smartphones provide turn-by-turn driving directions, and GPS devices can pinpoint your exact location on the globe, even in the middle of the sea.
But at the turn of the 20th century, navigation at sea relied on beacons of light. According to Love Dean in The Lighthouses of Hawai'i, there were once 176 lighthouses and other beacons across the islands. Some have historical significance. After a series of shipwrecks, the Makapu'u Point Lighthouse on O'ahu was built in 1909, relying on a hyperradiant lens, the largest lens of its type ever made. That same year, topping out at 132 feet, the tallest lighthouse tower in Hawai'i was erected at Kalaupapa on the north shore of Moloka'i, sending its flashing signal 21 miles out to sea. The northernmost lighthouse built in Hawai'i, at Kīlauea Point on Kaua'i, started signaling its double-flash every 10 seconds in 1913.
By their very nature, lighthouses spark our imaginations, evoking images of angry seas and daring rescues.
Interestingly enough, the lighthouse at Kīlauea Point played a starring role in one of the earliest flights over any ocean.
In 1927, on the other side of the country and over a different ocean, Charles Lindbergh completed the first solo nonstop trans-Atlantic airplane flight. Meanwhile, the U.S. Army was pondering the fastest ship to connect the U.S. Mainland to Hawai'i, to dispatch soldiers in case of war or to deliver serum in case of a plague. They chose an airship.
A few short weeks after Lindbergh's flight, before dawn on June 28, 1927, at Oakland Airport in California, Army Lts. Lester Maitland and Albert Hegenberger climbed aboard a retrofitted Fokker C-2 TriMotor, christened Bird of Paradise by the press. Their destination: Wheeler Field on O'ahu. The 2,418-mile journey was anticipated to take in the neighborhood of 24 hours.
The Bird of Paradise carried a load of 1,120 gallons of gasoline, 5 gallons of water, and thermoses of soup and coffee, as well as an inflatable rubber life raft and provisions of tinned beef and hardtack in case of emergency. It was also outfitted with the latest navigational aids of the day—some of them experimental: a radio beacon, induction compass, bubble sextant and three dozen smoke bombs.
But within the first two hours of flight, all the navigational aids failed in some way, including the smoke bombs due to heavy winds. So Maitland dropped the plane below the dense clouds, and Hegenberger navigated using an ordinary compass and measured wind speed by peering through a trap door in the floor of the plane and eyeballing wind spray coming off waves.
If they were on course, they would expect to see steamships puffing their way along the same route. At 2:40 p.m., about 7 1/2 hours into the flight, they spotted the Sonoma through a thin veil of clouds. But, after that, there were no more steamship sightings.
At 10 p.m., Hegenberger decided to try his hand at navigating by the stars, and Maitland nosed the airship up above the clouds. At 11,000 feet, the center engine cut out. Then the propeller stalled. Maitland guided the Bird of Paradise back down through the clouds while Hegenberger prepared the life raft.
At about 3,000 feet above sea level, the engine roared back to life and Hegenberger climbed back into his navigator's seat.
The hours wore on.
Later, Maitland would admit to an intense headache and sleep deprivation when, 22 hours and 50 minutes after taking off from Oakland, he saw a light on the horizon. It was yellow. Another steamship, he thought, and nudged Hegenberger, who timed the light. It produced a double flash every 10 seconds. It was Kīlauea Point Light Station.
The pilot and navigator had overshot O'ahu, but they'd found land. Once they did, they circled Kīlauea for half an hour until the sun rose and they could see O'ahu. When their wheels finally touched down at Wheeler Field, they'd been airborne for 25 hours and 49 minutes.
Then-U.S. Army Chief of Staff Gen. Charles Summerall declared, "The Hawaiian flight was the greatest military achievement for the defense of the United States since the construction of the Panama Canal."
The original 52-foot Kīlauea lighthouse, known now as the Daniel K. Inouye Kīlauea Point Lighthouse, was deactivated in 1976 and is now part of a larger complex known as Kīlauea Point National Wildlife Refuge, home to numerous nesting seabirds and nēnē (Hawaiian goose). Visitors can walk around it and glimpse the migratory and resident seabirds that take refuge there.
Birds of Kīlauea Point
Once, the entirety of the Hawaiian archipelago was a sanctuary for birds. Passerines. Raptors. Seabirds. Shorebirds. Water birds. All kinds of birds. Once humans arrived, bringing with them predators, all that changed. Some 71 known birds found only in Hawai'i and nowhere else in the world have gone extinct. Of the 42 remaining endemic birds found in Hawai'i, 31 are federally protected as threatened or endangered. Ten have not been seen in recent decades.
Kīlauea Point National Wildlife Refuge gives a glimpse into the past—and what Hawai'i could look like again with a few protections in place, notably predator-proof fencing.
Nēnē: The state bird of Hawai'i is one of the greatest success stories of all time—going from 30-some remaining individuals in the 1950s to over 3,000 today. Nēnē can regularly be seen at Kīlauea Point.
Mōlī: With 6 ½-foot wingspans, Laysan albatrosses soar through the air with barely a flap of their wings.
'Ua'u kani: The wedge-tailed shearwater breeds on the coasts of all the main Hawaiian Islands, nesting in underground burrows that can span up to 7 feet in length.
'Ā: Thanks to their colorful feet, this seabird is commonly known as the red-footed booby. They roost in trees, build nests of twigs and swim underwater in search of food.
Koa'e kea: White-tailed tropicbirds nest in the crevices and hollows of rocky cliffs. They sport two long white tail feathers.
Koa'e 'ula: Red-tailed tropicbirds nest in coastal areas under woody vegetation or in rocky divots. They have red bills and two long red tail feathers. They are known as "plunge feeders," diving into the sea in pursuit of squid, flying fish and mackerel.
'Iwa: With wings stretching in excess of 7 feet from tip to tip, these great frigate birds have the longest wingspan of any seabird regularly seen at Kīlauea Point.
$10 entry fee for people 16 years and older, kids and teens under 16 are free. Online reservations required for entry. 3500 Kīlauea Rd., Kīlauea, fws.gov/refuge/kilauea-point.
This story was originally published in our 2022 Fall issue. Buy a copy here.