Kōloa Rum Co. Expands to Its Namesake, the Historic Sugar Town of Kōloa, Kauaʻi
The local rum company pays tribute to Hawaiʻi's sugar cane history with a new Kōloa facility, slated to open in late 2020.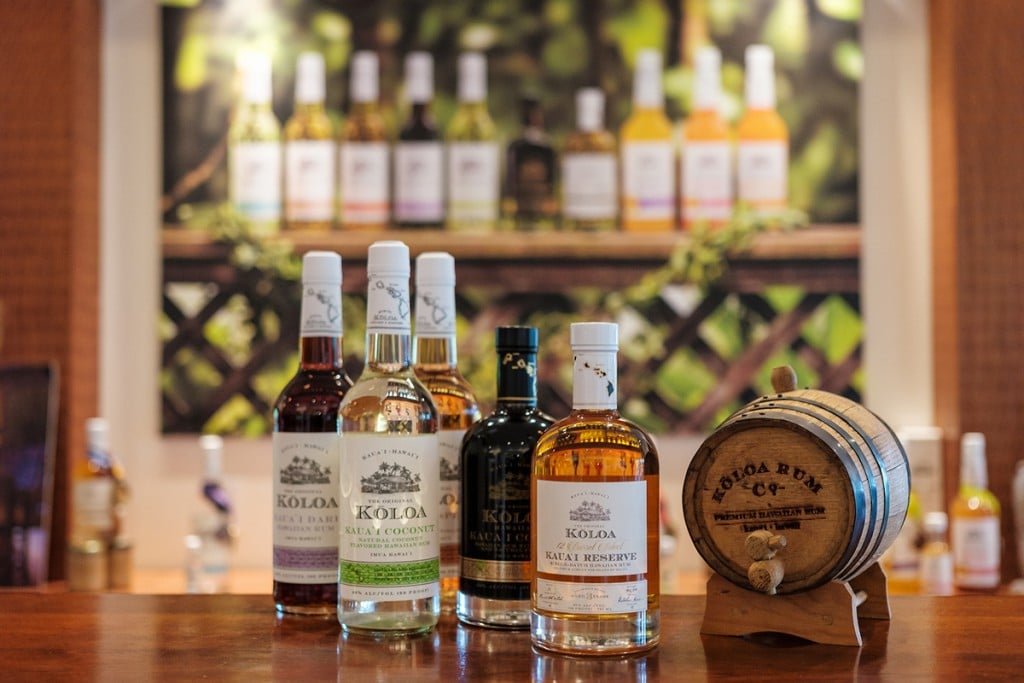 "This is so good, it's dangerous."
I'm intrigued—but since this woman is also handing out shots of alcohol, I'm also concerned.
Kalei fills up my small glass with a ready-to-drink cocktail that combines pineapple and passion fruit purée with premium Kōloa Kaua'i white rum. I consider her first statement as I easily down the cupful.
"The first time I tried this," she says to the dozen of us standing at the bar in Kōloa Rum Co.'s tasting room on the historic Kilohana Plantation in Līhu'e, "I finished the whole bottle by myself in three hours."
I believe her.
This is the first time I've had one of Kōloa Rum's cocktails served straight out of the bottle—and it's deceptively delicious. I imagine how much better this would taste ice cold in a cabana at the pool or, even better, sitting on Po'ipū Beach. I wouldn't even mind checking my work email while sipping this.
Hawai'i-made beers and spirits have come a long way over the past decade, and rum is no exception.
Kōloa Rum Co. started in 2009 using Hawai'i-grown sugarcane to produce its artisanal, single-batch rum at its distillery on Kaua'i. The company moved into the production facility that churned out the beloved Hawaiian Kukui brand of jams and jellies, which it also continued to produce (though production is on hold now). But as Hawai'i's sugar industry declined—the last sugar plantation in Hawai'i, the Hawaiian Commercial & Sugar Co. on Maui, closed in 2016—so did Kōloa's inventory of cane. And this happened at a time when interest in local rum, particularly Kōloa's, was surging. Right now, the company uses about 50 to 55 tons of local sugar a year for its line of premium rums, and it's running out of sugar.
"We're down to about less than a year supply of sugar," says Bob Gunter, Kōloa Rum's president and CEO.
But, in September 2019, the company, which posted year-over-year double-digit sales and revenue increases since it sold its first bottle 10 years ago, started expanding its operation. It secured 18 acres in Kōloa to build a 45,000-square-foot distillery and warehouse—doubling its current size—and began cultivating 12 acres of sugarcane fields nearby. (It already grows sugarcane at other, smaller fields on Kaua'i.)
The company is also refurbishing old Kōloa plantation camp structures, including a house from 1915, to memorialize the rich history of sugar in Hawai'i, which is rooted right here. The Old Sugar Mill of Kōloa was part of the first large-scale, commercially successful sugarcane plantations in the Islands, marking the start of what would become Hawai'i's largest industry.
Anticipated to be completed by the end of 2020, the new Kōloa facility—which will include a tasting room, store and café—will offer tours of the distillery and working farm.
"This being our namesake and us being located here [in Kōloa], it gives me chicken skin," Gunter says.
Sugarcane, one of the original canoe plants (plants that were brought to Hawai'i by ancient Polynesians) has been growing in the Islands for centuries. It wasn't until 1835, though, that Ladd & Co. opened Hawai'i's first successful sugarcane plantation here in Kōloa.
Today, Old Kōloa Town, about 10 miles west of Līhu'e, retains its rustic charm, with boutiques, eateries and coffee shops now occupying old plantation buildings along Kōloa Road.
Rum is a natural byproduct of the sugarcane industry, so it makes sense there are rum producers in Hawai'i. But it doesn't end with local cane: Kōloa Rum also uses pristine rainwater from Mount Wai'ale'ale, considered one of the wettest spots on Earth, in its rum production.
The rums are distilled twice in a vintage 1,210-gallon steam-powered copper still that dates back to 1947. Right now, the company produces white, dark, gold, spice, coconut and coffee rums, as well as ready-to-drink cocktails. (Its coffee rum blends cold-pressed dark-roasted Kaua'i Coffee Co. coffee—complete with that caffeine buzz—with Kōloa white rum and Hawaiian cane. "It's not a liqueur, it's a rum," Kalei reminds us. "I don't recommend adding this to your regular cup of coffee.") In 2018 Kōloa added a Kaua'i Reserve rum, which is aged for three years in charred American oak barrels. And early this year, Kōloa is releasing its newest product: chocolate rum created with cacao sourced by Lydgate Farms, a fifth-generation Kaua'i family farm. It's rich and robust, yet mildly sweet, with a burst of chocolate and hints of espresso. I imagine this, over vanilla ice cream, would be magical.
Kōloa's dark rum is its best-seller—it's bold, versatile and perfect in mai tais—but the all-natural coconut flavor does particularly well outside of the Islands.
The new space in Kōloa will allow the company to cultivate the varieties of sugarcane that were growing in the area before Western contact, Gunter says. That's special to him—and the brand.
"We will be preserving and perpetuating those varieties so we never lose them in Hawai'i and we'll be sharing that with people," he says. "The fact that we've been successful up to this point and that we have been able to create meaningful employment opportunities, these are the things I'm proud of."
Kōloa Rum Co. Store & Tasting Room
Kilohana Plantation, 3-2087 Kaumuali'i Highway, Līhu'e, Kaua'i, (808) 246-8900, koloarum.com.