Lava Has Once Again Returned to Halemaʻumaʻu Crater—Here's How to See It
After a nearly five-month respite, the lava lake of Halemaʻumaʻu Crater shows life once more.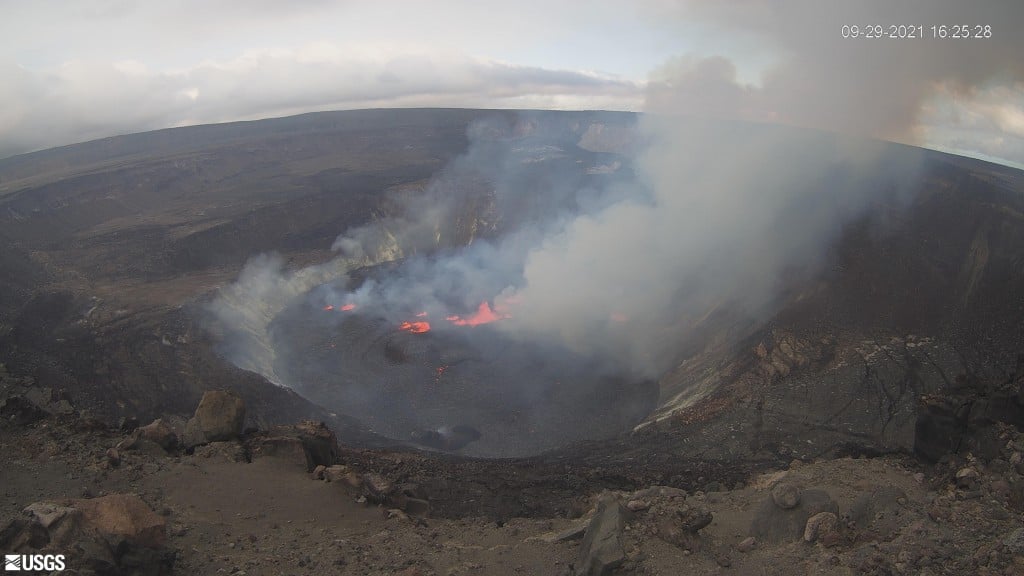 The eruptions atop Kīlauea have resumed once more as Halemaʻumaʻu Crater shows signs of life after a five-month rest.
At 3:40 p.m., the Hawaiian Volcano Observatory posted a photo on its website of lava surfacing in the crater of Halemaʻumaʻu—and have raised the alert level of the volcano from "watch" to "advisory." This was somewhat forecasted as the U.S. Geological Survey reported about 17 small earthquakes in the region over the past day, and HVO says there had been ground deformation and seismic activity in the area in the afternoon.
Want to see it for yourself? The good news is you can. With Hawaiʻi Volcanoes National Park once again open to visitors—after shutting down due to COVID-19—you can watch this natural spectacle happen in real-time. The eruption is occurring in almost the exact same location as last time, so your best bet for a great view would be from the Kīlauea Overlook, behind the Volcano House, at the Steam Vents or at the newly constructed Uēkahuna viewing platform, located near where the old Jaggar Museum used to be.
If you can't make it to Hawaiʻi Island and are stuck at home, but still want to stay up-to-date with the crater and its growing lava lake, don't fret. You can find photos—updated regularly—from the summit's webcams here.
For more information, call (808) 985-6000 or visit Hawaiʻi Volcanoes National Park's website.