Learn About Hawai'i's Beloved State Bird and the Guardians Helping to Save Them
Families and ranchers have hosted and cared for nēnē for generations.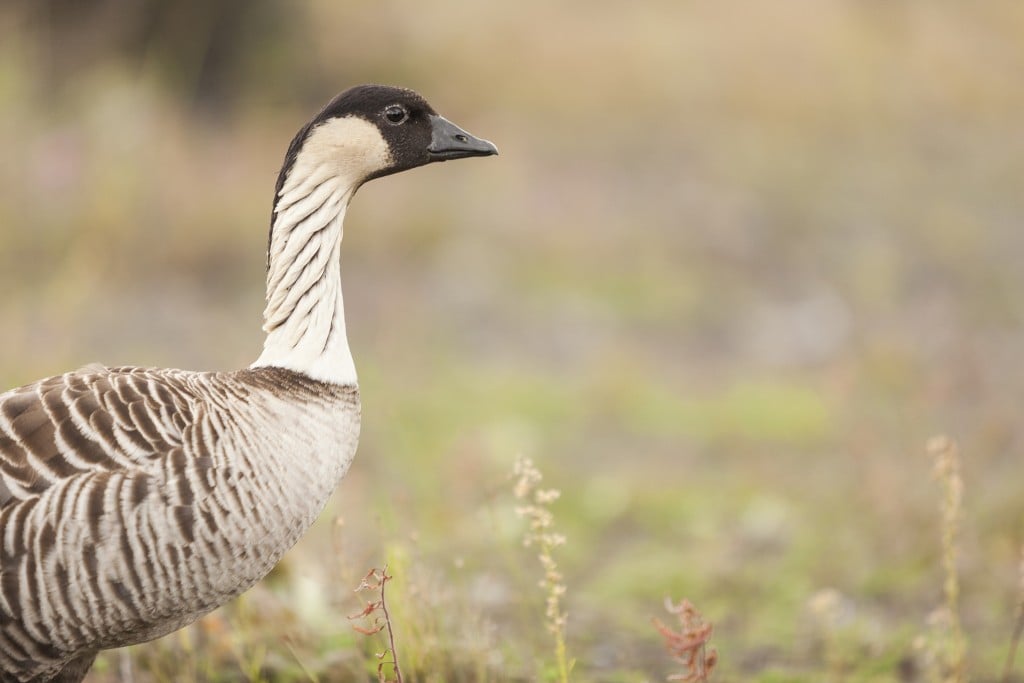 This story originally appeared in the July 2019 issue of our sister publication, Honolulu Magazine.
No matter where Peggy Farias goes, nēnē follow.
They show up in every shape and form, at the most unexpected times and places. They filled her childhood, congregating on her family's sprawling Big Island estate in Hā'ena as uninvited (and hungry) guests at countless picnics, overzealous wedding escorts (once chasing her cousin down the aisle) and beloved family members returning home to mate after a long absence.
They followed her 5,010 miles away to Harvard University, popping up in the form of a 15-cent red Reyn Spooner nēnē-printed aloha shirt she found in the heart of Boston while shopping for Halloween costumes. And they inspired her to pursue a career in environmental science.
It seems the nēnē have finally caught up with Farias, now president of her family's land management and development company, W.H. Shipman. In her Kea'au office, they are everywhere: a fluffy stuffed animal on the shelf, a painting and three portraits hanging on the walls, and printed on every piece of paper and correspondence. The birds are even on coasters, as the company's logo. They still roam freely on her family's Hā'ena estate, and every once in a while, they can be seen flying above the office.
"It's not something I thought about before, but looking back, they were always there," says Farias, 42. "Whether it was the nēnē seeking me out or just fate, I can't figure it out. It was kind of like, I was never going to escape them."
The nēnē's and her family's histories are deeply intertwined. As our state bird neared extinction several decades ago, Farias' great-great-uncle, Herbert Shipman, raised flocks of the endemic geese on the family's land, eventually working with the state to start a captive-breeding program. A 1950s photo of Shipman watching over a flock at Hā'ena hangs at the Hawai'i Volcanoes National Park visitor center. That same picture (below) is preserved in the company's archives, a treasure trove and testament to Shipman's conservation efforts. Farias knows her uncle would be proud that they've continued his legacy.
U.S. Fish and Wildlife Service officials credit the private landowners who volunteer to host the birds, like Shipman, for their vital role in the species' 61-year road to recovery. Their collective efforts have been so successful that the federal agency proposed downlisting the nēnē last year from endangered to the slightly less serious threatened status. While that effort is ongoing, the nēnē's story continues.
The Road to Recovery
It all started with a pair of nēnē 101 years ago.
As the youngest son of William and Mary Shipman, Herbert Shipman was never meant to take over the family's ranching business. But that changed when his older brother died of cancer in his 20s. By that time, Shipman's place in the family had allowed him to develop his undeniable passion for conservation. Farias, a Hilo native and Waiākea High grad, and her dad, Tom English, tell the stories of how Uncle Herbert, a no-nonsense, stern man, collected rare plants and grew them in his greenhouse, known as the orchard quarantine, which still sits in the back of their Hā'ena estate.
He also developed an affinity for the nēnē at a young age. It began in 1918. Barbara Ann Andersen, Farias' cousin, recalls that Shipman and his mom were visiting family in Kona when he looked out the window and saw a gaggle. The family's story goes that the mother goose ran away, frightened, and left the goslings to fend for themselves. Shipman took a pair of them back to Hā'ena with him and began rearing and breeding his own flock. He eventually took over as company president in 1943 after his dad died.
"For Uncle Herbert, the nēnē were near and dear to his heart," Farias says. "A lot of the nēnē now were in some way descended from our family's efforts. It's tremendously cool to have that history."
At that time, the species was facing a bleak future. Scientists believe the first Canadian geese arrived in the Hawaiian Islands prior to the Polynesians, around A.D. 400, and evolved a shorter wingspan and half-webbed feet to walk on lava. It is estimated that 25,000 were in Hawai'i prior to Captain Cook's arrival in 1778, but by 1952, the population had dwindled to a mere 30, a result of hunting, predation and loss of habitat.
The state intervened and began a captive-breeding program in 1949 using two pairs given to them by Shipman. Those birds were released in 1960 and eventually bred and multiplied.
But the comeback took time and diligence. Nēnē typically nest in lowland areas, where people can disrupt them. The geese also molt their feathers, which means they cannot fly during that time, making them especially vulnerable to mongooses and rats. A study conducted between 1978 and 1981 at Hawai'i Volcanoes National Park found that 77% of their eggs were ravaged by mongooses.
In 1967, the nēnē was listed as an endangered species, and in the years after, about 2,800 captive-bred birds were released at more than 20 sites statewide, including national parks, wildlife refuges and private lands.
Some of Shipman's nēnē were also sent to the Wildfowl and Wetlands Trust in England, one of the world's largest wetland conservation organizations, where they bred and were eventually sent back to Hawai'i to be released.
"We walk hand in hand," says Annie Marshall, a longtime USFWS biologist who specializes in nēnē. "The Shipman birds were very important in the early days of nēnē conservation. It's still important that the public is engaged in helping us move forward."