Learn How to Make the Perfect Hawaiian New Year's Cocktail (And More!)
Kōloa Rum Company is back with some exciting and festive drink recipes.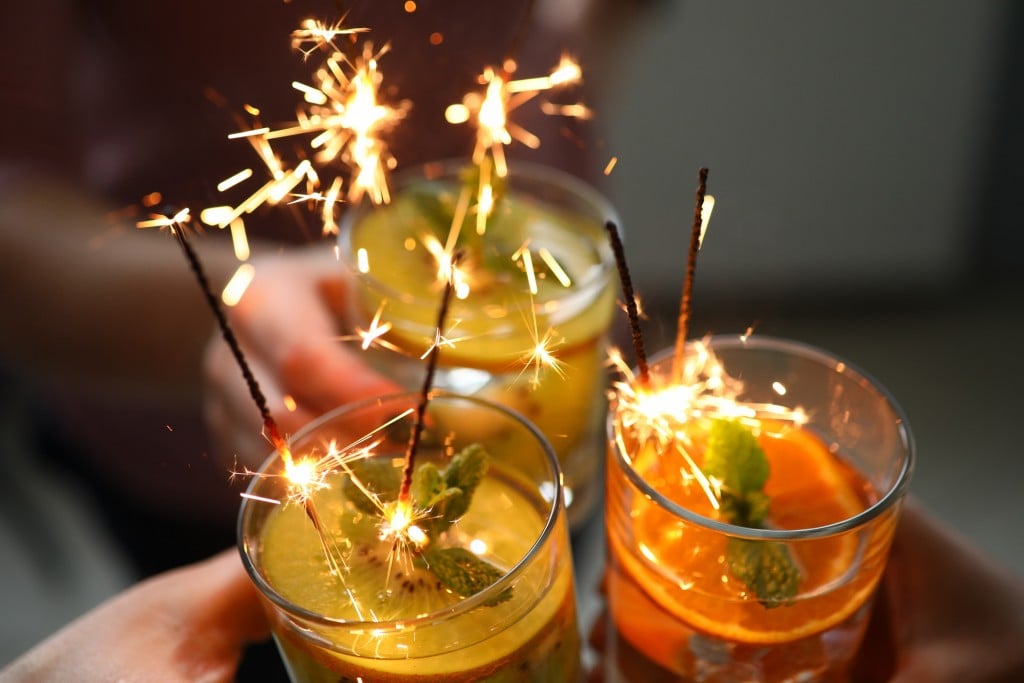 To celebrate the upcoming holiday season, get a little loose with these festive drink recipes made by our friends at Kōloa Rum Company and local mixologist Shanna Schad. Be sure to take it easy with the Hawaiian New Year's Cocktail however, since you will probably want to remember the moment when the clock strikes midnight.
Chocolate Rum Balls
Ingredients
1 ½ cups pitted dates
1 cup raw walnuts
¼ cup Koloa Kauai Cacao Rum
¼ cup high-quality cocoa powder
½ cup unsweetened, shredded coconut
Instructions
1. In a food processor, combine the dates, walnuts, rum and cocoa powder. Process until you achieve a very dense, fudgy texture, scraping down the sides as needed.
2. Spoon out the mixture in 1 tablespoon increments and roll each into a ball.
3. Roll the finished balls in shredded coconut.
4. Store the rum balls in the refrigerator for up to a week or in the freezer for up to several weeks. Serve chilled, right out of the refrigerator, for the best texture.
Coconut Rum Milk Punch
Ingredients
28 oz Coconut Milk (3.5 ounces per cocktail) (carton not canned)
1 1/2 c Koloa Coconut Rum
1/3 c coconut or cane sugar
1 tbsp vanilla extract
Garnish
Sweetened whipped cream
Freshly grated Nutmeg
Shredded coconut
Instructions
1. In a saucepan heat the coconut milk with the vanilla and sugar, stirring well until sugar is dissolved and the mixture is hot and simmering, about 5 minutes. Taste and add more sugar if a sweeter drink is desired.
2. Remove from heat. Divide the coconut rum amongst 8 glasses, 1.5 ounces of rum per glass, top with the hot coconut milk. Top with sweetened whipped cream and garnish with 1/4 tsp of freshly grated nutmeg and a tablespoon or so of shredded coconut. Serve immediately
3. You can also serve this cold or over ice. Heat the coconut milk as stated above then let chill completely. Add the rum and pour into glasses with ice or without ice. Garnish the same way as above.
Hawaiian New Year's Cocktail
Ingredients
4 oz Koloa Kauai Reserve Rum
4 oz Passion Fruit Juice
2 oz Passion Fruit Syrup
1 oz Fresh Lemon Juice
1 oz Pineapple Gum Syrup
4-6 dashes Tiki Bitters (Bittermen's brand)
Prosecco, sparkling wine or Brut Champagne
Garnish
Fresh passion fruit halves
Instructions
1. Combine all the cocktail ingredients up to bitters in a cocktail shaker, add ice and shake well.
2. Place a large ice cube ( or large ice square) into a glasses then fill 2/3 of the way with the cocktail.
3. Top with prosecco or sparkling wine, then float the passion fruit half on top.