Learn More About Hawaiʻi's Coffee Culture With This Book
"The Hawaiʻi Coffee Book: A Gourmet's Guide From Kona to Kauaʻi" will give you an understanding of how Hawaiʻi's coffee is made.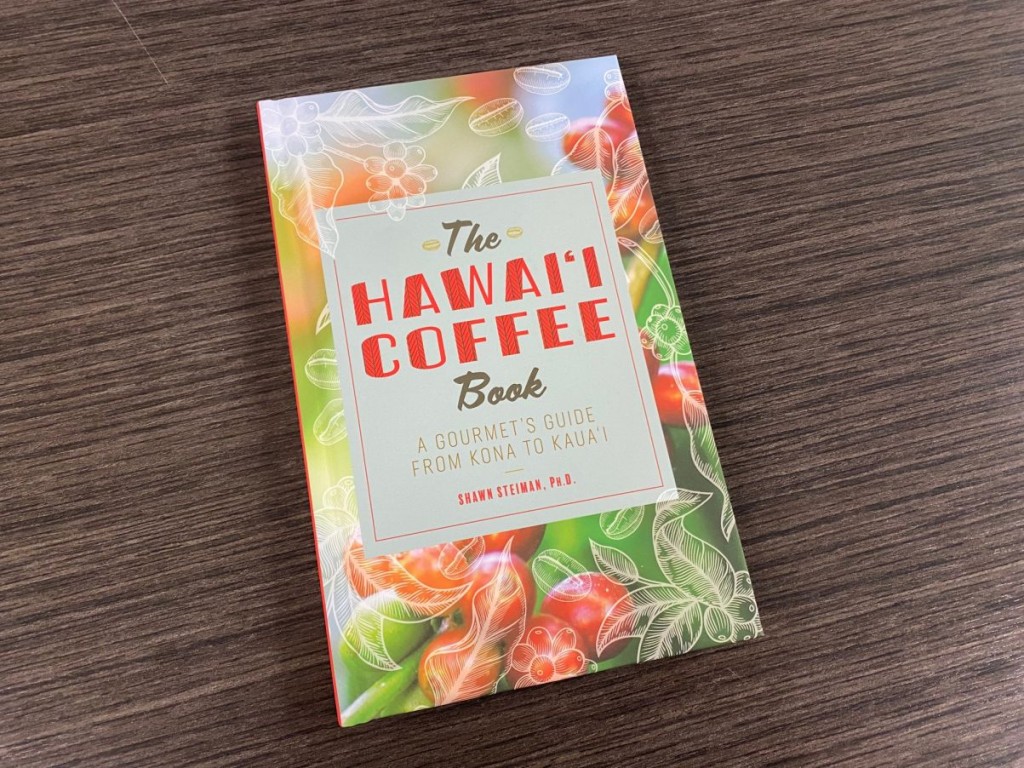 If you think you know a thing or two about coffee, pick up "The Hawaiʻi Coffee Book: A Gourmet's Guide From Kona to Kauaʻi" (Watermark Publishing, $17.95) and prepare to be enlightened. The 154-page love letter to coffee and Hawaiʻi's coffee culture is written by Shawn Steiman, a coffee scientist—he holds a doctorate in horticulture from the University of Hawaiʻi at Mānoa—and owner of Coffea Consulting, an international coffee consulting business. And while the book was originally written in 2008 and published as an uninviting spiral-bound tome, the newly revised 2019 version features a colorful hardcover, excellent photography and imagery and is something you wouldn't mind displaying on your coffee table.
"I wrote this amazing text full of information that nobody ever read, partly because people judge a book by its cover," says Steiman, who grew up in Kansas City before moving to Hawaiʻi to study coffee. "So part of me just wanted to have a good representation of what this could be."
It's not just the cover of the book that has changed, either. Much of the text has been revised and updated—not an easy task considering the publication covers a large swath of coffee-related subjects, from how coffee is produced here in the Islands to the scientific process of roasting coffee beans. Fortunately, Steiman's writing remains understandable, even as he explains the intricacies of brewing a good cup of coffee or what a "flavor profile" is. The information in this book feels approachable from a reader's perspective.
"The book is an introduction to coffee, covering everything from seed to cup. Nothing is exceptionally in-depth, but it talks a little bit about farmers and farming and roasting and drinking," says Steiman. "The hardest part about the revision was not taking every idea I've now had 11 years to understand and writing a lot more about those subjects."
Another of Steiman's reasons for revising "The Hawaiʻi Coffee Book" is that café culture has grown exponentially here in Hawaiʻi.
"There's a much bigger café scene now, which is evident in Honolulu, but I was also on Kauaʻi a few months ago and they've got a very impressive community of cafés and roasters," says Steiman, who travels locally and internationally on a regular basis for his coffee consulting work. "We also have more farms now than weʻve ever had, which came as a huge surprise to me when I was researching the book. I thought we were going to see a big crash after the coffee borer beetle arrived on the Islands."
SEE ALSO: Hot Hawaiʻi Coffee: The Stories Behind 5 Island Coffee Growers
Foodies will also be happy to know that the book comes with 40 pages of recipes, all of which feature coffee as a staple ingredient. These recipes, such as coffee-barbecue pulled pork and Kona coffee pumpernickel bread, were created by "prestigious chefs and everyday folks from across the Islands" like local chef Mark "Gooch" Noguchi and executive pastry chef Martin Rathbun. Instagram-worthy photography of many of these dishes are also included, so don't read on an empty stomach.
You can purchase the book through Watermark Publishing or on Steiman's website. (Watermark Publishing is a sister company to HAWAIʻI Magazine.)