Learn the Hawaiian Strategy Game Kōnane on Kauaʻi
This Kaua'i cultural practitioner says the game, sometimes called Hawaiian checkers, teaches people critical thinking and how to manage resources.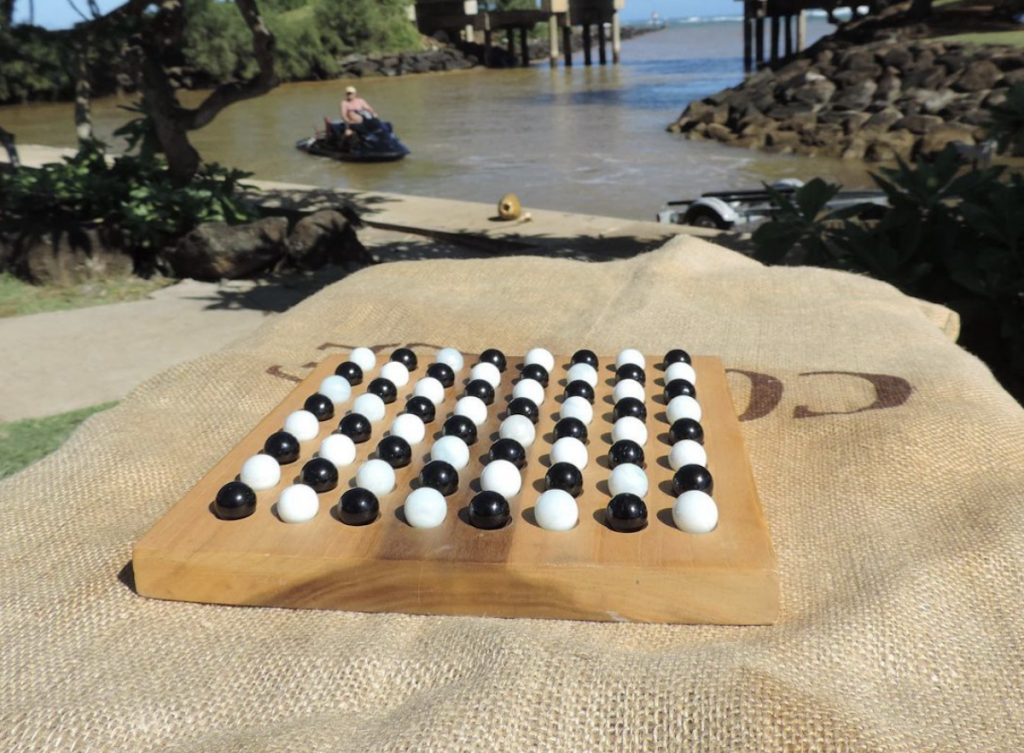 You wouldn't expect a slippah store to be a place for learning strategy, but in Kaua'i's Kapa'a town, that's exactly what Sole Mates turned out to be when I arrived on a weekday afternoon.
In between walls lined with various kinds of rubber slippers, sandals and Hydro Flasks sits a wooden table with a burlap papamū, or a Hawaiian checkerboard. It's basically an invitation to come learn and talk story with one of the shop's owners, John Kaohelaulii, a cultural practitioner has been playing the ancient Hawaiian strategy game of kōnane since he was eight years old.
He tells me he wants to teach me the game as a foundation for what we're going to talk about. He begins with a story about how Kaumuali'i, the king of Kaua'i and Ni'ihau, brokered peace instead of war with King Kamehameha I in the early 1800s. Kamehameha presented Kaumuali'i with two stones, one white and one black, and asked him to choose one. Kaumuali'i chose the white stone, which resulted in peace and diplomacy.
Kaohelaulii offers me the same choice when I sit down with him—in one hand he has a white marble and in the other a black one. I ended up with the white marble, which meant that Kaohelaulii would have the first move.
He created his business, hawaiiancheckers.com, in 2011 to perpetuate and revitalize this game, whose popularity declined after Westerners arrived in the Islands. Missionaries discouraged the game because they disliked the gambling that often accompanied it. (You can buy kōnane boards through his website.)
"Most Hawaiians don't know how to play this," he says. "To me that's a problem, and that's my kuleana (responsibility) to try and solve this problem."
Players move in one direction at a time; they can move forward or backwards, left or right, but not diagonally. To move, they must jump over their opponent and into an empty location. This enables them to remove their opponent's pieces and attempt to block their future moves. (To see how the game is played, check out Kaohelaulii's video.)
Kōnane is a game of making decisions and thinking about the consequences. You want to be the person who makes the final move, and you don't want to have to use all your game pieces—called 'ili'ili—to win. Before Westerners arrived, this game was played by ali'i (royalty) and commoners. It was used to teach critical thinking skills and how to manage natural and human resources, Kaohelaulii says. And the game's lessons are still applicable in today's world; Kaohelaulii uses it as a training tool to teach leadership and management skills.
Players are forced to analyze, come up with a strategy and be competitive "You want to always stay ahead of the game," he says. "A lot of the skills that are needed for business management today are the same skills you learn from playing kōnane."
Kaohelaulii, who grew up on O'ahu, learned the game by watching his father and uncle play. Later, while working as a tour bus driver on Kaua'i, he and other drivers would play kōnane during their down time, which enabled him to learn more about the game.
The cultural practitioner makes the cloth, burlap and wooden papamū that he sells at Sole Mates' storefront and website and on hawaiiancheckers.com. He adds white and black circles to the burlap and cloth papamū so that people new to the game can learn the correct set up. The wood boards have circular grooves carved into them but no colors.
"I want them to learn the right way," he says. "So now by developing this design, you cannot make that mistake."
View this post on Instagram
He acknowledges that there's a fine line between making a living and perpetuating Hawaiian culture, so he finds balance between the two by focusing on education. Over the years, he has taught families, students, tourists and organizations how to play kōnane, and a lot of his teaching occurs through activity stations at community events on Kaua'i.
I won my first game of kōnane thanks to Kaohelaulii's coaching, but I still don't entirely understand how. I'll have to keep playing to learn what I did right.
"Typically, it takes a person three games to understand how the pieces move relative to the space," he says. "By the fifth game, most people are starting to use simple strategy. They're starting to save the corners, things like that, using simple strategy. And usually by the tenth game, I always say, two things happen by the tenth game. They easily can teach somebody else. And the second is that they start figuring out why they keep losing."
He adds: "I always say that kōnane is like a portal to the past, and the secrets to this game is within the game itself. More people got to play in order to make those connections. Life is played on a papamū because every move you make is a decision."
Sole Mates. 4-1286 Kūhiō Highway, Unit A, Kapa'a, 96746. (808) 822-2180, solemates808.com.