Lihue's Kauaʻi Beer Embodies Brewing with Aloha
Kauaʻi Beer, open since 2013, is expanding its brewery, seating area and menu, but the spirit behind it remains unchanged.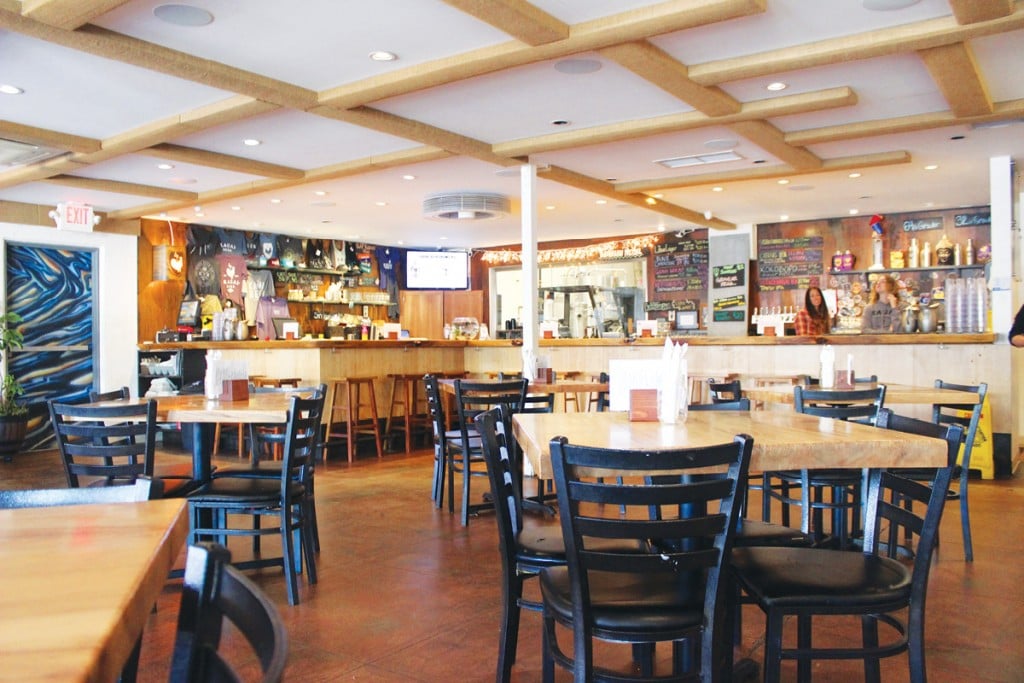 "Here, try this."
That seems to be the common directive I hear whenever I step into a local brewpub.
I'm not much of a drinker, but since my husband brews his own IPA at home, I've become accustomed to the invitation to sample frothy, hoppy, sometimes bitter, sometimes sour batches of beers. This is what homebrewers do—share their new brews with everyone, even nondrinkers like me, explaining, often in great detail, the process, the challenges, their hypotheses about why a certain batch turned out the way it did. It's a science, they proclaim. But it's also a craft.
Meeting Jim Guerger was exactly like that. The software developer from Belmont, California, started as a homebrewer in 1978, when the practice became legal in the U.S. After about a decade of brewing in his garage, he got serious, making 10-gallon batches he bottled at home. Then, in 1998, he and his family moved to Kauaʻi—with all of his brewing gear, of course. He immediately set up shop in his garage and met other homebrewers on the island. This is when he came up with what's now his signature brew, the Black Limousine, with a taste that's similar to combining Steinlager and Guinness. "It's a long, easy ride," Guerger says. "Really comfortable. You can drive it for a long time."
It's the first beer Guerger encouraged me to try—and his description was spot on. It's dark and rich but not filling. And, like all of the beers he makes, very drinkable.
Guerger embodies everything about his company, Kauaʻi Beer. He's friendly, warm and passionate. His affection for dogs is apparent when you walk toward the bathroom and see an entire wall devoted to photos of canine customers. (Dogs are welcome to dine with their humans outside.) And his love of food literally built the brewpub part of his business, which opened in 2013. The menu is full of perfect beer food: house-made Bavarian pretzels, taro fries served with a spicy remoulade, crispy egg rolls stuffed with house-cured pastrami and sauerkraut, and schnitzel draped in mushroom gravy and served with German-style potato salad.
The brewery is in the back of the restaurant. There's a window where you can see several 750-gallon stainless steel fermenter tanks and a 350-gallon mash tun used to mix the grains with water. This backroom is where thousands of gallons of Kauaʻi Beer are made every year. Right now the brewery churns out several different brews on tap at the restaurant and available for purchase in growlers, from the malty German-style pale Lihue Lager to a refreshing wheat beer brewed with 50 pounds of local guava purée.
Guerger's already expanding, too. He owns the lot next door and construction was underway when we visited in March to double the size of the brewery and build an outdoor seating area with mural paintings and maybe a climbing wall.
"It's wonderful, beautiful here," Guerger says, standing in the open space, with dirt covering the ground and a blue sky overhead. "So why not take advantage of it?"
Guerger has done what many homebrewers only dream about: run a successful brewery—and in paradise. Guerger bought this space in 2012, when it was just an overlooked stretch of real estate offices and a nail salon in the middle of Lihue town on Rice Street.
Building the brewery wasn't easy. He couldn't just buy the equipment he needed at a nearby supply store. He found a brewery in Portland—Roots Organic Brewing—that was selling its equipment. He bought everything it had, which was shipped to Kauaʻi in pieces. With no instructions. Guerger and his son, Justin, who moved back home to help his dad, had to put everything together—tanks, pumps, pipes—by themselves. (Justin is now the general manager.)
"Justin became an expert welder," Guerger says, laughing.
The brewery first opened as a tasting room, just two days a week. Once Kauaʻi Beer started serving food, it opened more often, from five days a week to now six. Every Thursday two food trucks pull up in front of the restaurant; it may seem counterintuitive to have trucks compete for your business, but Guerger says it works, and customers love it. "It's become a tradition," he says. "It's actually the busiest days we have."
And the little touches matter here. Like the free dog treats made from the brewery's spent grain that you can grab for your pooch. Like the fact that all servers have to pass the Brewers Association's cicerone certification program that Guerger pays for. Like the shelves of board games customers can play with. Like the beer cheese sauce and wasabi mustard all made in-house and using Kauaʻi Beer. Like the dining room tables and bar tops all made from donated remnants of an old Norfolk pine that once grew along Kaumualii Highway on the island's southwest side. Like an experimental IPA crafted with about 50 pounds of community-donated local honey. Like the relaxing ambiance that makes a Tuesday morning feel like a Friday afternoon.
And that's the whole point.
"We're not a sports bar," Guerger says. "It's a place where you can enjoy your friends. Our motto is we're the place between work and home. That's what we are."
Kauaʻi Beer
4265 Rice St., Lihue, (808) 245-2337, kauaibeer.com