Local Artists and a Waikīkī Hotel Team Up to Spread Aloha
Hawai'i art collective 808Urban and the Waikīkī Beach Marriott Resort & Spa are share the love through art, one lei at a time.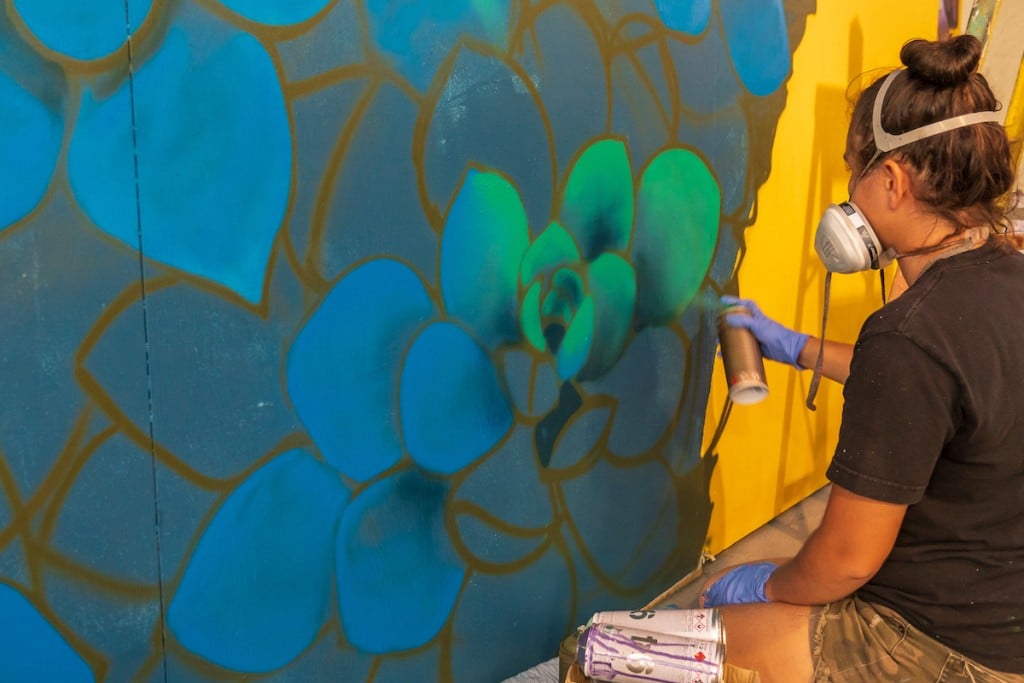 In Hawai'i art and aloha go hand in hand. For nearly 15 years, the Hawaiian nonprofit arts organization, 808Urban, known for its large-scale murals, has spread the aloha spirit through community organizing and art.
Most recently, 808Urban collaborated with the Waikīkī Beach Marriott Resort & Spa to create "Leialoha," a mural of lei spanning 15 walls on the Kalākaua Avenue side of the hotel and measuring up to 12 feet by 15 feet in some sections. Currently, the mural is painted on plywood that sits in front of storefronts that closed in the wake of COVID-19.  Once stores reopen, the Marriott will move the relocate the mural to the spaces between the shop entrances.
"Leialoha" took three nonprofit artists three days to complete. Directed by alakaʻi (leaders) Laetitia Kealakukui "Kukui" Mahoney and Ralph Dela Cruz, the vibrant mural is meant to "represent all the Hawaiian Islands, the people that call this place their home, and visitors that are still here or coming," Mahoney says.
"When we first arrived it was just bare walls," Mahoney adds. "As we started putting the colors, people were drawn to the walls. … Especially in this time of COVID-19, the message we wanted to share is to greet everyone with love."
Each panel of the mural showcases different local plants as lei. Among those featured are the red ʻōhiʻa lehua representing Hawai'i island, orange 'ilima representing O'ahu, green mokihana with maile celebrating Kaua'i, blue hinahina (silversword) for Kahoʻolawe, and purple pua kalaunu (crown flower) representing Queen Lili'uokalani's legacy and deep aloha for her people.
The mural's completion comes at an especially fitting time.
"It was a bit of a perfect storm," Dela Cruz says. "We felt that the idea and concept of aloha had to be present in Waikīkī. The idea that even with restrictions like social distancing it does not mean we cannot aloha one another. The symbol and act of giving lei embodies aloha, while each lei has a significant tie to each moku (island)."
808Urban artists have been busy spreading aloha in other ways as well. While they finished up "Leialoha," 808Urban simultaneously released free coloring pages of lei that correspond with those featured in the mural. Additionally, 808Urban has released other coloring pages that feature iconic Hawaiian animals, events and people. All coloring pages are available to download for free at 808urban.org.
"Leialoha" will be up for the public to enjoy through July. But don't worry if you're not able to see it in person. You can also click here to view the mural virtually.