Makawao History Museum in Upcountry Maui moves downtown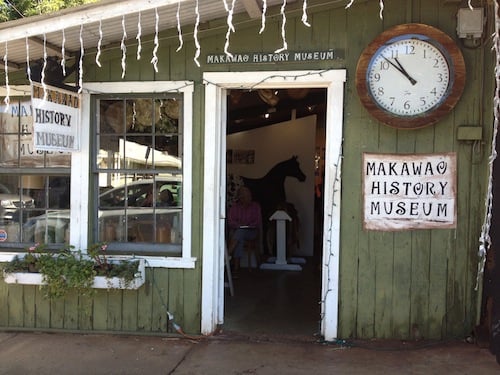 Makawao, a tiny and quirky inland town in Maui's Upcountry, has no stop lights, a population of around 7,000 and a frontier feel helped by the downtown's real hitching posts, a nod to the area's paniolo (Hawaiian cowboy) culture.
And, now, there's a new resident in its downtown business district.
The Makawao History Museum moved from its slightly further afield former location to its new home in the heart of downtown late last year.
The small museum, which was founded a little more than a year ago, chronicles the town's history from its establishment in ancient Hawaii through its role in the island's sugar and pineapple eras to the foundation of the town's rodeo culture that persists today.
"The museum celebrates a varied cultural history, all specifically Makawao," says museum advisor Judy Mertens.

Run by more than two-dozen community volunteers, the museum keeps daily hours and is free of charge to the public (though, donations are welcome). Visitors can expect old black and white photos depicting the town's buildings and residents, artifacts such as saddles, branding irons, parts of wagons from the former Haliimaile mule station used to transport pineapples, and an old shave ice machine.
A rotating exhibit spotlights the history of local businesses. The exhibit currently features the Haleakala Ranch Dairy, which opened in the area in 1896. Regular "talk story" and "fun night" events feature kupuna (elder) community members sharing memories of the town's past.
The museum first occupied its new location in the former Aloha Cowboy! Store late last October, and museum volunteers have already noticed an uptick in foot traffic. "In the old location, if there were 20 people that stopped by in a day we were very lucky," said Mertens, "now we're getting 50, 60, even 70 people stopping by in an afternoon."

Since entering their new space, the museum's volunteers have also created a historical walking map of the downtown area, available for $2. Designed by a local historian, the map details the histories of the buildings, businesses and families that have lived in downtown Makawao.
If you're planning a visit and would like to take some of Makawao's history home with you, a curated cookbook of new and old recipes from Makawao residents sells in the museum for $20. In it you'll find Mrs. George Tam's pineapple spare ribs, an English fruit cake served at one resident's wedding in 1920 and contributions from the popular local T. Komoda Store & Bakery. In some cases, recipes have been modified for modern kitchens, but for the most part retain their original wording. All of the proceeds from the cookbook's sale support the museum.
"The community has really embraced the museum," says Mertens, "when this small location came up on Baldwin Ave., it was perfect. It suits the whole history we are trying to share."