Manoa's Historic Waioli Tea Room Has a New Mission
The Oahu restaurant is open again with a new name, new menu and a new calling to help the community.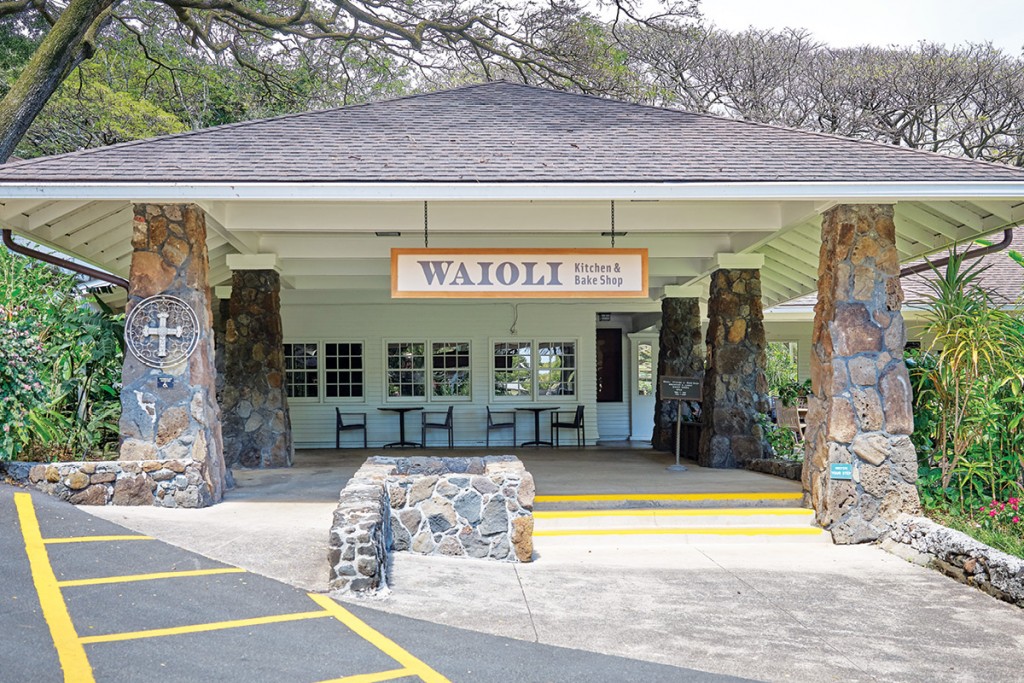 I got the last cranberry cream cheese scones, and I actually felt horrible about it.
The couple at the table next to me started sneaking looks at my plate, crowded with four hefty cranberry-studded disks, shimmering with a sugary glaze. I overheard that they were hoping to snag one—or two—before they left. They had met up with an old high school classmate, visiting from Georgia for their reunion, and they all had fond memories of this place, once Waioli Tea Room in Manoa. And they really wanted to try the scones.
Word had already spread about the freshly baked goods here, despite the new restaurant, now called Waioli Kitchen & Bake Shop, quietly opening just a couple of months earlier, back in November 2018. The only way people had heard about this place—including me— was seeing red feather flags on the side of Manoa Road, alerting the neighborhood a new restaurant was open.
New owners Ross and Stefanie Anderson took over the space, owned by The Salvation Army. They decided on a small menu—just a few sandwiches, salads and pastries—to keep it simple. The reason? The couple decided to pay homage to the history of this place and the social mission of The Salvation Army by employing people recovering from alcohol and drug abuse in the organization's rehabilitation programs and inmates from the Women's Community Correctional Center in Kailua. Most of these workers don't have any kitchen or restaurant experience, so keeping the menu as uncomplicated as possible made sense.
"We wanted to open a restaurant that had a purpose in the community," says Ross Anderson, who spent more than 20 years working for Duke's Waikiki and other TS Restaurants properties. "I see what we're doing as breathing life into this place."
The original Waioli Tea Room opened in 1922, serving as a classroom for the older children living at The Salvation Army's Children's House. It offered classes in cooking, baking, prepping, serving and cleaning—skills that could help them find jobs later. When Waioli opened, it was well-received by the community, thanks to its lush surroundings and popular afternoon tea service. A new wing was added to the main building in 1926, providing an outdoor space for dining. A bay window was added, perfectly framing a small grass shack that writer Robert Louis Stevenson stayed in for the six months he lived in Hawaii. The shack had been adjacent to the Ainahau estate villa in Waikiki, the former home of Princess Kaiulani, heir apparent to the throne. The Salvation Army won the bid for it, realizing—correctly—that the shack would be a visitor attraction. (It's still there but being restored.)
The Salvation Army evolved along with the community it was serving. Today, it offers drug and alcohol rehabilitation, senior services and housing and emergency disaster services. It runs preschools and soup kitchens on two islands and a homeless drop-in center on Maui. In 2018, the organization helped more than 88,000 people.
The Waioli Team Room had deviated from its original purpose, but its popularity didn't wane. For decades, people flocked to the tea room—the building was added to the National Register of Historic Places listing on Oahu in 1998—for finger sandwiches and fragrant teas in pretty china until it closed four years ago. The beautiful restaurant, with its lava-rock fireplace and garden views, sat empty and many, including me, wondered if it would ever open again.
And it did, with a purpose.
Anderson crafted a menu that would be fairly easy to execute for his kitchen newbies—the inmates from Kailua and recovering substance abusers—but delicious enough to lure patrons back. He was adamant about using local ingredients, from Big Island beef to locally grown veggies. There's even a small apiary here, with the staff harvesting and packaging small batches of honey by hand. The Andersons have also started a garden at the restaurant, hoping one day it will supply most of their needs.
And execution of these dishes does take skill. Consider the short rib loco moco ($14), a twist on the local favorite with a braised Big Island-raised short rib on a bed of rice with two sunny eggs and a decadent demi-glace instead of brown gravy. The meat is fork-tender and the rich brown sauce elevates this simple dish into one you wouldn't expect at this casual eatery.
The açaí bowl ($9.25) is another surprise. The tart açaí is tempered by sweet local honey, fresh seasonal fruits and crunchy granola, served in a coconut shell.
And all of the bread here—from the breakfast sandwich ($7.50) served on a croissant to the cheeseburger ($12) on a challah bun—is made in-house.
And then there are the pastries, baked fresh every morning. The offerings change daily, but I've seen almond-chocolate scones, cinnamon rolls, bread pudding and blueberry-lemon muffins. The best-selling pastry by far, though, has been the blueberry-cream-cheese scones, which often sell out in the morning.
For now, the menu will grow slowly, thoughtfully, Anderson says. He wants to add small fruit pies and bring back the curry chicken salad that used to be popular at the old tea room.
And if you miss the old tea room with its tropical-print tablecloths, the large windows that open up to the garden outside and shelves full of teapots and other souvenirs, don't worry. The bungalow-style structure is basically untouched, and the Andersons are honoring the tea room's past with more than 40 framed black-and-white photos that show the history of the property. And much of the interior, from the tables on the outdoor lanai (porch) to kitchen equipment, has been redone with repurposed goods, found at auctions or given to them from friends.
"Everything in here is on its second life," Anderson says. "They've been given a second chance."
And yes, I ended up sharing my scones. I figured I'd be back soon, anyway.
2950 Manoa Road, Manoa, open 7:30 a.m. to 2:30 p.m. Tuesday through Sunday, closed Mondays, (808) 744-1619, waiolikitchen.com.