Maui Fires: What You Can Do to Help
From rebooking your vacation to giving to local donation funds, here's what you can do to help.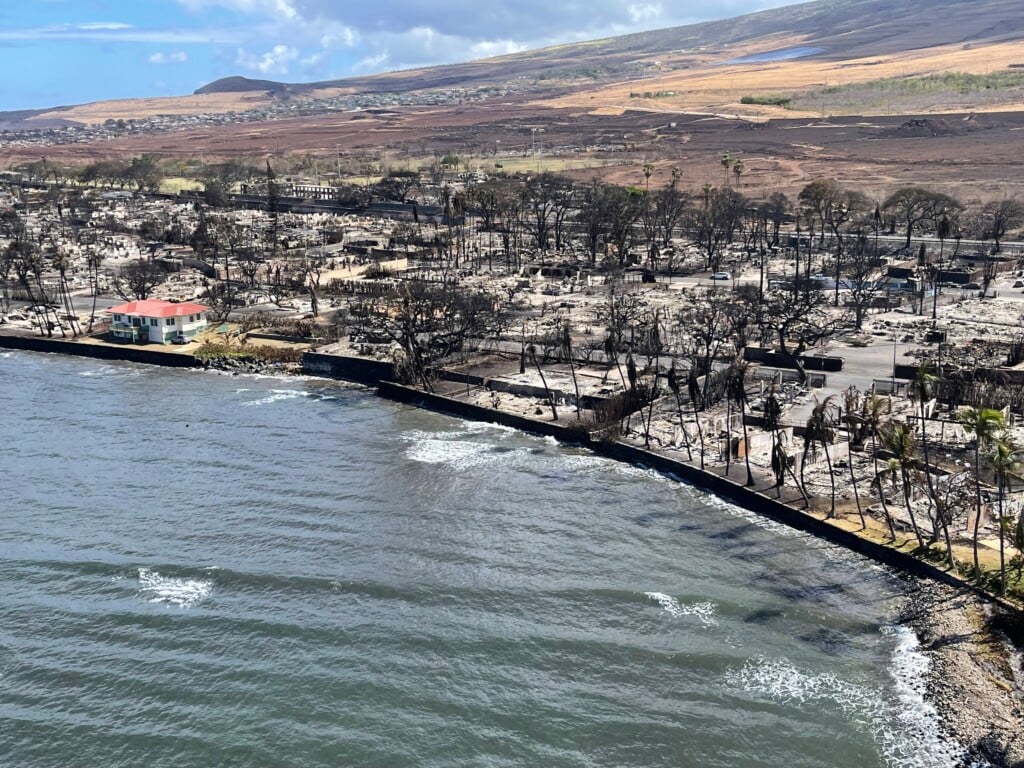 There's been a huge wave of support, both monetarily and through donated goods and clothing, for the situation on Maui. It's inspirational, and both residents and people who love Hawaiʻi, but may not live here, have been showing so much aloha over the past few days by contributing. But there's more that can be done to help those affected by the Maui fires—the situation is just so dire. So here are a few ways you can get involved and support Maui through your actions as well as your donations.
1. Don't Travel to Maui
This might be a hard pill to swallow for visitors who had trips planned to the Valley Isle, but at the moment, Maui needs all of its resources and facilities to help those who have experienced catastrophic losses, such as a loss of property, business or life. Fortunately for travelers, many major airlines are offering fee-free changes in dates and expansive travel waivers. Hawaiian Airlines has its policy listed here, which will let you reschedule your flight to new dates with no change fees, and you can also cancel your ticket to use as credit towards a new trip. Both Southwest Airlines and Alaska Airlines have implemented similar policies.
Of course, if you're looking for a new place to travel to instead of Maui, all of the Hawaiian Islands are great alternatives. For city sights and some of the world's best beaches, Oʻahu is home to Waikīkī Beach and the Islands' biggest city, Honolulu. Kauaʻi has all of the natural charm you could wish for, with the Kalalau Trail on the island's northern coastline offering exceptional views of the Napali Coast. And the Big Island is ideal for visitors looking to get away and disconnect in nature, with a sense of old-aloha permeating throughout the island.
2. Donate, Donate, Donate
Right now, one of the best ways you can help Maui and its affected residents is by simply donating what you can to trusted donation funds. While so many have already donated, the amount of funds that will be necessary to help rebuild what was lost, and assist those who are hurting, is truly staggering. We recommend giving to established funds and organizations, such as the Maui Strong Fund, the Maui Humane Society and Red Cross Hawaiʻi, which are all directly involved in the recovery of Maui.
Goods, such as clothing, nonperishable food items, bottled water, medical supplies and personal hygiene items are also in need on Maui. You can drop off items at donation centers throughout the state—all 24 Hour Fitness locations on Oʻahu will be accepting donations of bottled water, hygiene items, blankets (new or gently used) and nonperishable food items, and those on Kauaʻi can make drop-off donations at the Navy Exchange in Kekaha.
READ MORE: How You Can Donate and Help Support Maui Communities Right Now
3. Engage in Fundraising Events
If you're looking to enjoy your time in Hawaiʻi, or are kamaʻāina just looking for something to do on the weekend, many local events are donating much—if not all—of their proceeds to Maui donation funds, so you can have fun and help the Maui community at the same time. In fact, Maui Ola is a new benefit concert series which will be bringing together local Hawaiʻi musicians from across the state to play benefit shows at Bishop Museum on Oʻahu and Parker Ranch on Hawaiʻi Island in the month of August, with all proceeds going towards donation portals.
"Music has a wonderful way of opening people's hearts and reminding us of our connections to one another," said co-producer and executive producer of Ponoʻī Productions Keʻala Lucero, who is involved with the Maui Ola concerts. "We hope the music shared by some of Hawaiʻi's leading talents will have that kind of effect."