Maui Fires: The Search Continues for More Than 1,000 People Still Missing
More Maui victims are identified in what's now the deadliest U.S. wildfire in over a century.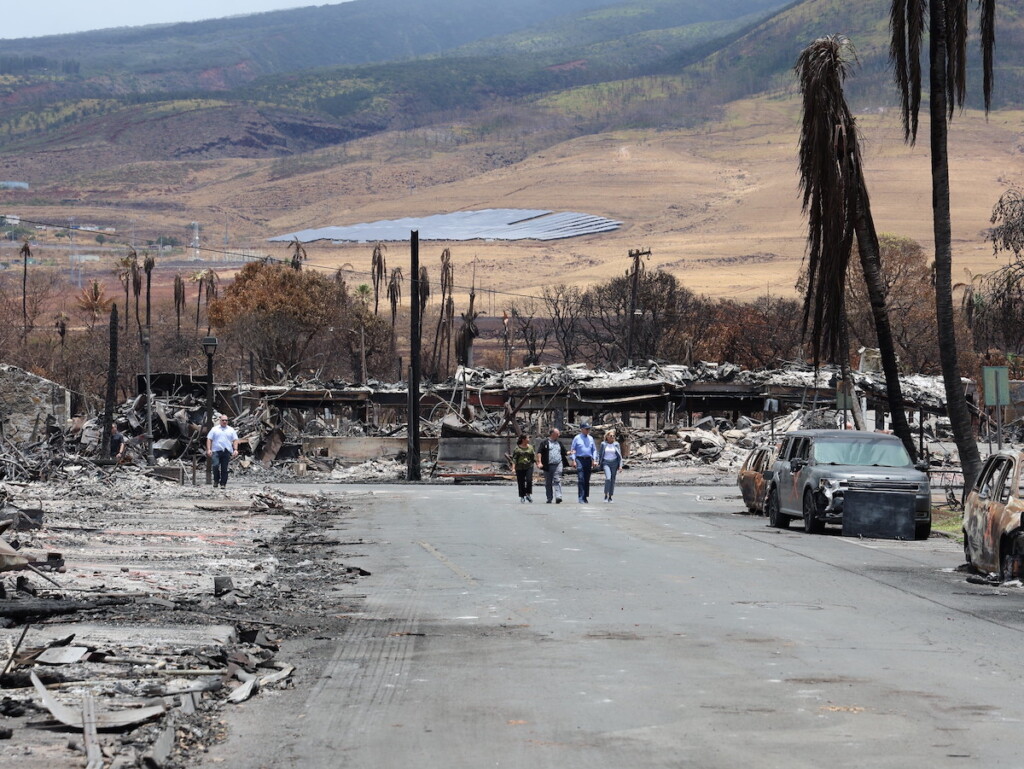 Updated Thursday, Aug. 24, 6:30 a.m.
It has been over two weeks since a deadly wildfire torn through the historic coastal town of Lahaina on Maui, leaving at least 115 people dead. More than 1,000 people—many children—are still missing. The fires also caused more than $5 billion in damage.
President Biden and First Lady Dr. Jill Biden visited Maui this week and toured the scorched remains of Lahaina and meet with survivors, first responders and government officials.
"I know how profoundly loss can impact a family and a community and I know nothing can replace the loss of life," Biden said in a statement. "I will do everything in my power to help Maui recover and rebuild from this tragedy. And throughout our efforts, we are focused on respecting sacred lands, cultures and traditions."
Of the 115 confirmed fatalities, 27 have been identified and their families notified, while 22 have been identified but their families have not been located or notified, Maui Police Department said yesterday.
In addition, crew from the Maui Fire Department and Ocean Safety continue to search the waters off Lahaina for human remains, using personal watercraft to conduct grid searches by firefighters using snorkel gear, instead of the dry suits and fully encapsulated face masks used last weekend by rescue and dive crews.
The search area stretches four miles, from Puamana Beach Park on the south end of Lāhainā to Waihikuli Wayside Park on the north.
"We're going though this sizable area from with a fine-toothed comb," said Maui Fire Dept. Captain Peter Vanderpoel in a statement. "Even with a crew this size, I have no doubt this is going to be a multi-day operation."
The outpouring of support for Maui from around the Islands continues.
On Saturday hundreds of surfers paddled out from Kūhiō Beach in Waikīkī to show their support for the victims and survivors on Maui. Organized by the Duke Kahanamoku Ocean Festival and Nā Kama Kai, the event also raised money for Maui families affected by the wildfires.
View this post on Instagram
This weekend the 29th annual Made in Hawaiʻi Festival donated 10% of ticket sale proceeds to Maui relief efforts. About 30 of the 450 local vendors were from Maui.
As of Sunday about 85% of the affected area had been searched and nearly 2,000 people remained without power and 10,000 were without telecom connectivity. Water in parts of west Maui is still not safe to drink.
Thousands of homes and buildings were destroyed in the Lahaina wildfire that started on Aug. 8, as Hurricane Dora passed south of the Hawaiian Islands. It's the deadliest wildfire in the U.S. in over a century.
To date, the Federal Emergency Management Agency (FEMA) has approved more than $2.3 million in assistance to 1,331 households, including more than $798,000 in initial rental assistance, to help survivors jumpstart their recovery.
"The suffering experienced as a result of the fires on Maui is a tragic blow to our state and the people of Hawaiʻi," said Hawaiʻi Gov. Josh Green in a press release. "However, we have been uplifted by the outpouring of support we have received from across our communities, across the nation, and throughout the world."
My Administration stands ready to support Hawai'i's recovery for as long as it takes. pic.twitter.com/P7jf7O6Z1x

— President Biden (@POTUS) August 16, 2023
The state has asked that anyone with plans to travel to Maui—especially West Maui, which includes Lahaina, Kāʻanapali and Kapalua) for non-essential purposes cancel or postpone their trips, in an attempt to prioritize the limited resources to Maui residents.
Hotels in West Maui have temporarily stopped accepting bookings of future reservations.
Travelers can still visit other islands, but, as the Hawaiʻi Tourism Authority advises: "We urge visitors to be especially mindful and respectful in our island home as our community continues through this tragedy."
About 4,000 visitors on Maui were evacuated to Oʻahu on last week and housed at the Hawaiʻi Convention Center or will get help in getting home. Airlines had been offering discounted airfares and waiving fees to help visitors get off Maui and head home.
Check our site and Twitter for updates.