Maui's Fat Daddy's Smokehouse Serves Some of the Best Barbecue in Hawaiʻi
Maui's Fat Daddy's Smokehouse serves some of the best barbecue in Hawaiʻi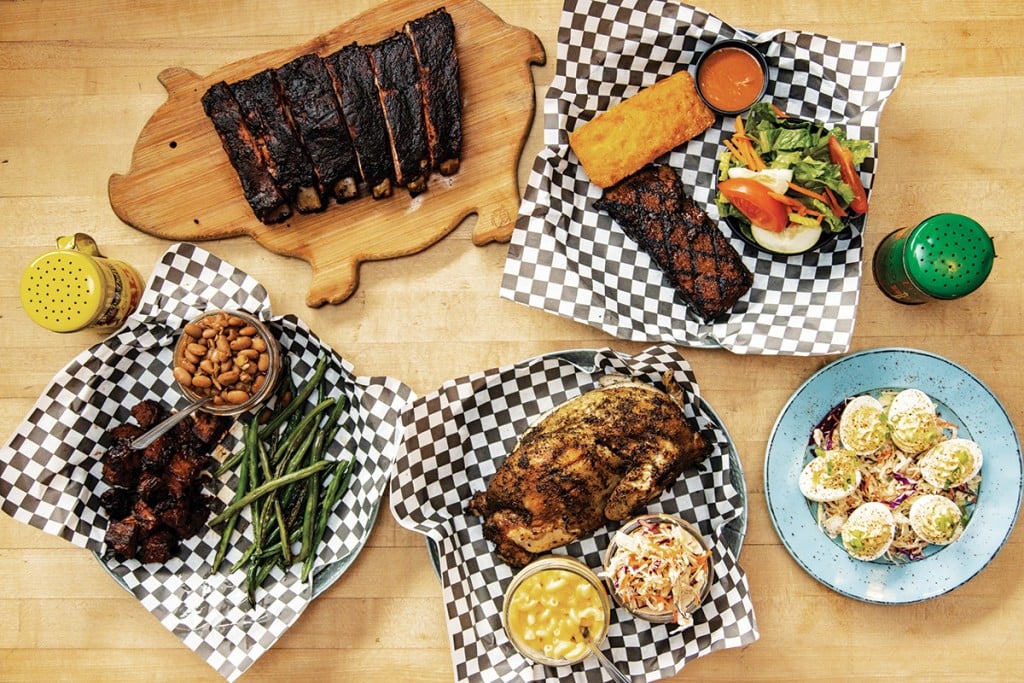 When people fly out of Kahului Airport on Maui, they usually stop at Krispy Kreme on Kele Street—it's the only location in Hawai'i—to snag a box of doughnuts. This Valley Isle tradition is on par with enjoying Ululani's Shave Ice or Minit Stop fried chicken for most locals.
But not for me.
Instead, I make a 20-mile trip south along the Kīhei coast to scoop up a full rack of ribs from a nondescript industrial building with sheet-metal roofing. Tucked away on a side street, you'll smell the restaurant before you see it: Fat Daddy's Smokehouse, where owner Chris Schobel is making the best barbecue on Maui.
"I call it the 'Bugs Bunny fingers.' It's when you see Looney Tunes characters smell something delicious and the wafting aroma turns into a hand and literally picks them up and carries them over," Schobel says. "People will be at Foodland or the park [across the street], smell the smoke, and come by. It's the best advertising we have."
Good press doesn't hurt, though. For the past three years, the Maui Time Weekly has awarded Fat Daddy's the title of "Best BBQ" on the island, and the restaurant was featured prominently in the Maui episode of the Food Network's "Diners, Drive-Ins and Dives" with Guy Fieri. "I'm prepping food for Guy and I tell him my cornbread will be some of the best he's ever tried. Guy says, 'Whoa!' and they edit in a literal screech on the show. But he tries it and likes it," says Schobel. "Guy came back to Maui a year later and stopped in with his crew for drinks. He told me that he had been thinking about it and that ours was actually the best cornbread he ever had."
It's high praise for a chef who got his start not in a kitchen but on Wall Street.
Long before Schobel graduated with honors from the Culinary Institute of America and earned a bachelor's degree in business at Le Cordon Bleu Adelaide in Australia, he was a commodities trader. "I used to yell and scream in the pit of the New York Stock Exchange. I started on the floor when I was 13, working for my father, who was a trader," says Schobel. "But the joke is, 'How do you make a million dollars in commodities? You start with $10 million.' It's a tough living."
After Sept. 11, 2001, Schobel, then 32, left Wall Street to pursue what had been a lifelong passion: food. In 2002, a 15-week externship at the Hula Grill on Maui for the Culinary Institute led to Schobel becoming the restaurant's executive chef in 2010. When the opportunity arose to purchase the struggling Fat Daddy's restaurant in Kīhei, Schobel decided to go all in.
"Let's just say this place didn't exactly have the best reputation before. For example, the previous owner carried a specific kaiser roll because it only cost 20 cents, but it was the kind you get in hospitals and prisons. Everything was painted red because they received a free 5-gallon bucket of red paint," says Schobel. "Nobody I knew on Maui would eat at Fat Daddy's. It took close to two years for people to figure out I was here and for me to change their minds."
It started with the menu. Fat Daddy's only uses prime, never-frozen meat ("no freezer, no microwaves, no heat lamps"), which Schobel cooks overnight in a convection and rotisserie smoker with kiawe (mesquite) wood. If you're familiar with different regional styles of barbecue, Fat Daddy's ribs are more Memphis-inspired (slow-cooked with a mix of dry rubs), the pulled pork is prepared more Carolina-style (with plenty of spices and slightly tangy vinegar), while the brisket, burnt ends and barbecue sauce are pure Texas (smoky and slightly sweet). "I say Fat Daddy's represents a blend of southern styles because Hawai'i is the farthest south" of all U.S. states, says Schobel. "The only thing we don't make from scratch are our hot links just because we don't have the space."
Fat Daddy's has just 1,200 square feet of space, total. Yet, from its single outdoor smoker (there isn't room for another), the restaurant will go through over 2,000 pounds of brisket, 700 racks of ribs and 700 pounds of pork shoulder a month. The demand for tasty Mainland-inspired barbecue is high on Maui, where most of the other smoked offerings are distinctly Island style—like at Ka Haku Smoke Shack on the Road to Hāna, which serves glazed pork belly, pohole (fiddleneck) fern, and sweet plantains in banana leaves; and the barbecue chicken plate lunches with two scoops of rice and mac salad from Braddah Hutts BBQ Grill in Hāna.
"Barbecue is different for everyone, and everyone makes it differently because it's not just about the food, otherwise people can order takeout or cook their own at home," says Schobel. "It's about the atmosphere at Fat Daddy's, it's about coming here and hearing the blues music, it's about maybe enjoying a bourbon or one of our local beers."
For barbecue aficionados interested in learning the best way to barbecue, Schobel recommends picking up a pen: "Write everything down in a journal—how long you marinate, how long you smoke for, what temperature, because one day you're gonna make it exactly how you like it but if you didn't write it all down, you're never going to know how to have it perfect again."
For the rest of us, I recommend a trip to Fat Daddy's, where the barbecue is perfect already.
When he's not eating ribs, Hawai'i-based writer and editor James Charisma covers stories relating to other types of food, entertainment, arts and culture for publications including HONOLULU Magazine, New York Magazine, Playboy, VICE and the Los Angeles Times.
Open daily from 3 to 8:30 p.m., 1913 Kīhei Road, Kīhei, (808) 879-8711, fatdaddysmaui.com