Meet Oʻahu's Very Own Ring Finder, Joe Au-Franz
With over 200 wedding ring returns in six years, Joe Au-Franz uses his metal detecting expertise to find and return lost jewelry to its rightful owners.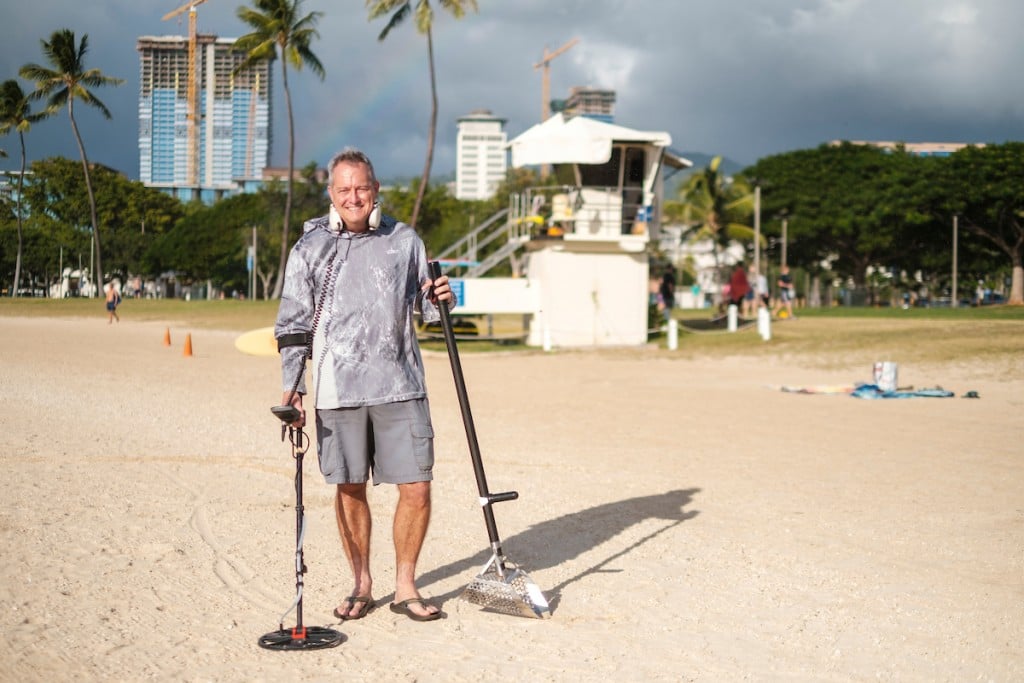 Joe Au-Franz remembers a recent ring hunt he'd been on at Waikīkī Beach.
"I knew I was going to find it because I pulled a nickel and a pull tab. You always pull a nickel and a pull tab because they sound like rings," he says. "So I knew if they lost a ring here, it's still here, because other metal detectorists wouldn't leave that nickel and pull tab."
Known as "The Ring Finder," Au-Franz ended up finding and returning the ring to its rightful owner who was—as you would expect—thrilled to have a prized possessions back.
For Au-Franz, a 60-year-old Navy veteran who runs Metal Detecting Oʻahu, the only metal detecting company on the island, finding and returning lost rings has become a lifelong passion. Working with international ring recovery organization, The Rings Finders—an online directory containing the contact information of hundreds of metal detectorists around the world—Au-Franz serves as one of five ring finders on Oʻahu, and has been covering the island, primarily the Honolulu-Waikīkī area, since 2014.
An avid collector, from Pittsburgh Steelers trading cards to historic bottles from his hometown of Erie, Pennsylvania, Au-Franz has always enjoyed finding niche and valuable items. (He also serves as the president of the Honolulu Coin Club.) This infatuation with finding things eventually led him to metal detecting, which Au-Franz jokingly refers to as an "old guy thing," since the hobby doesn't demand a high amount of physical strain. After learning to metal detect, Au-Franz tried to join The Ring Finders but was initially turned down due to a lack of experience. "Now I'm the big guy on island," says Au-Franz. "I have over 202 wedding ring returns on Oʻahu."
So how does he do it? If you ignore the delicate intricacies of metal detecting, it's simpler than it seems. When people lose their rings—in the water or on the beach—they call Au-Franz, who meets them in the general vicinity of where they think they lost the object. The individual will then tell Au-Franz how far they remember going in one direction, then the other, then how deep they think they went into the water. "From there, I've got my grid, my box," says Au-Franz. The detectorist will then walk in a straight line from one end of his grid to the other until he's covered the entire box. Normally, a hunt will take about 30 minutes, since people are relatively aware of where they lost their rings. "Sometimes, it happens right away," says Au-Franz. "This past weekend, I found a girl's ring in 20 seconds even though she gave me a large grid. I just happened to start in the right place."
While you may think finding rings is the hard part, for Au-Franz, it's finding the owners that poses the real challenge. Though the number of rings Au-Franz has returned is staggering, it pales in comparison to the amount of jewelry he's found that has yet to be claimed. Hoping to reunite these adornments with their owners, some of which have been appraised for thousands of dollars, Au-Franz posts what he finds on his Facebook account and has been able to return rings that have been missing for years. "I have rings I've held for years," says Au-Franz, "because I just hope someday, someone will come for it."
One such situation occurred earlier this year. Au-Franz received an email from a woman claiming that the ring he had posted belonged to her. To make sure it wasn't a stranger looking for free jewelry, he asked her to describe to him something about the ring nobody would know about—like a hidden inscription or specific damages. "She knew everything about it, and even sent me a picture of her wearing it on her wedding day," says Au-Franz, who happily shipped off the ring free-of-charge.
When it comes to payment, Au-Franz asks only that his gas expense is covered if he's driving a far distance—to the North Shore, for example. Aside from that, Au-Franz works on a reward-basis. "I've gotten everything from a loaf of banana bread to $2,500," says Au-Franz, who won't charge a cent even if he's spent days trying to recover a lost ring. He will ask for a slight fee if a ring was lost deep underwater, however, since he'll have to use his years of diving experience and scuba equipment for the job.
But really, for Au-Franz, it's the act of finding something that means so much for those who lost it that makes it all worthwhile. "To return a ring, something that someone thought was lost forever, you can't beat that feeling," says Au-Franz.
And among the dozens of rings, historic bottles, collector coins and Pittsburgh Steelers trading cards in his collection, one of his most prized items is what he has dubbed, "The Book of Smiles." It's a catalogue of all of his finds for The Ring Finders, an extremely well detailed and organized journal describing all of his hunts, as well as a heart-warming amount of thank-you notes and pictures from returnees. "And now, I'm working on book No. 2."
If youʻve lost your ring on Oʻahu, you can call Au-Franz at (808) 377-9377 or email him at joe.au-franz@theringfinders.com.