Monumental Mochi: A Morning at Hilo's Famous Two Ladies Kitchen
This little shop is a must-stop for Hilo residents and visitors buying Big Island omiyage.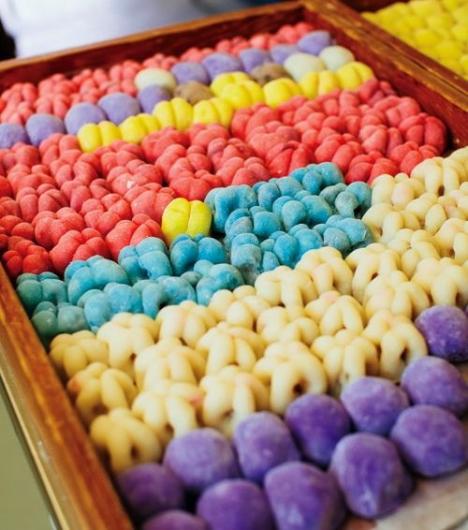 "You didn't pre-order?"
As she says this, the woman behind the counter at Two Ladies Kitchen stares at me in disbelief. A line of customers winds behind me and out of the small downtown Hilo mochi shop and onto the sidewalk alongside bustling Kilauea Avenue.
"You have to pre-order. They sell out," she scolds, gently.
The subject at hand is the shop's famed strawberry mochi—a fresh whole strawberry surrounded by hand-mashed sweet azuki beans, encased in the pillow-soft, handmade Japanese glutinous rice-cake paste that has made Two Ladies Kitchen a must-stop for Hilo residents and visitors buying Big Island omiyage—Japanese for "gifts" or "souvenirs"—for off-island family and friends. Strawberry mochi is the top-seller among the multiple mochi treats the shop crafts daily.
Behind the counter, Two Ladies' kitchen bustles with activity. A handful of college-age girls, each with a specific mochi-handling job, are huddled over stainless steel tables. One rolls the mochi paste into balls, while another dusts off potato starch from each. Another girl wields a metal rod to create various mochi shapes and designs. Three college-age boys man the kitchen's pots and ovens. Music by the British teen pop band One Direction blares on overhead speakers, as boxes of pre-ordered mochi are packed for afternoon parties, an early morning funeral and several sports teams visiting Hilo for games.
Two Ladies Kitchen co-founder Nora Uchida prepping strawberries for the shop's famous strawberry mochi.
An entire half of one of the kitchen's large stainless steel tables is dedicated to making strawberry mochi.
"People come here for this," says Two Ladies Kitchen owner Nora Uchida, carefully placing a large strawberry in a dollop of azuki beans in the center of a small, white mochi ball. She skillfully pinches the sweet rice dough until it encases the azuki and strawberry. "But you gotta like strawberries."
The growing line of customers outside Uchida's shop suggests that many do.
Uchida opened Two Ladies Kitchen almost two decades ago with her aunt, Tomi Tokeshi, and mother, Sachi Kishimoto. Truth be told, Uchida wanted the shop to be called Three Ladies Kitchen, but her mom, who's now 88 and still mixes mochi batters, didn't want the attention.
"When we first started, it was only us," Uchida says. "Only family. That's it."
Uchida had been a full-time elementary-school teacher when she decided she needed to learn how to make her Aunt Tomi's mochi.
"I knew it was an art. That it was much more than just mochi," says Uchida.
Strawberry mochi is the shop's bestseller.
Nearly every Saturday for the next two years, Uchida ensconced herself in her Aunt Tomi's kitchen to learn proper mochi-making technique. Whatever they made, they gave away. Soon, people began urging Uchida to open a mochi shop.
Two Ladies Kitchen began with Uchida churning out seven varieties of mochi treats (strawberry included) and three varieties of manju, a sweet, baked Japanese pastry, in a small commercial kitchen. A year later, with its customer base quickly growing, the shop moved to its current location, in one swoop giving it a storefront on one of Hilo's busiest streets and doubling kitchen space.
These days, Two Ladies Kitchen offers more than 20 different flavors, colors and creative shapes of mochi treats, from the non-traditional—filled with sweet potato, peanut butter or malted milk balls—to traditional mochi lightly scented with yomogi (mugwort leaf) and filled with azuki bean paste. The shop also sells a half-dozen varieties of manju.
All of the mochi treats at Two Ladies Kitchen are handmade daily by Uchida and her staff.
While most commonly consumed during the New Year's holiday in Hawai'i and Japan, mochi, especially here in the Islands, is a year-round snack found in convenience stores, in bowls of shave ice or at the bottom of Asian-style bubble-tea drinks. Many consider the mochi treats crafted by Two Ladies Kitchen the best in the Islands, with some residents planning entire Big Island vacations around a stop at the Hilo shop.
Uchida credits the younger members of her kitchen crew with dreaming up the shop's non-traditional flavors—mochi filled with white chocolate or a small, square bite of brownie, for instance. The newest addition to the treat lineup is a grape mochi, with an encased whole grape that bursts in your mouth as you bite into the mochi. Uchida was also working on a mochi creation using tangy pohā berries grown on a farm in Waimea.
Not all Two Ladies mochi ideas have come quickly or become permanent. An experiment with taro mochi turned slimy a day out. It's no longer offered. Uchida searched two years for a butter mochi recipe that met her high standards before one of her kitchen workers came up with one. She's also considering customer requests for a ginger mochi and a mochi treat filled with strawberry shortcake.
Pre-orders are highly recommended as the shop's daily mochi supply usually sells out.
"Everybody gives me ideas," Uchida says, still forming perfectly shaped strawberry mochi. "But you can't use every one."
Even at peak production, the kitchen at Two Ladies resembles more of a social club than a business, with workers chatting and laughing while stirring pots of mochi paste or shaping mochi balls. Everyone calls Nora "Mrs. Uchida"—a respect thing. Uchida's parents are "Grandma" and "Grandpa." Her 92-year-old father, Toshiyasu, makes deliveries in his old Toyota truck.
Customers regularly suggest that Uchida expand the business. Open up a Two Ladies Kitchen on O'ahu, some say. Mail the shop's mochi to California, others urge. Sell Two Ladies mochi wholesale to large retailers, a few advise. Uchida says she's not really interested, desiring instead to keep Two Ladies Kitchen small and manageable, and control the quality of her products and presentation.
"This is enough," she says, smiling, as the orders keep coming over the phone and the line outside keeps growing. "Really, this is enough."