Mountain View Bakery's Famous Stone Cookies are the Real Deal
The family-owned bakery has been in business since 1936.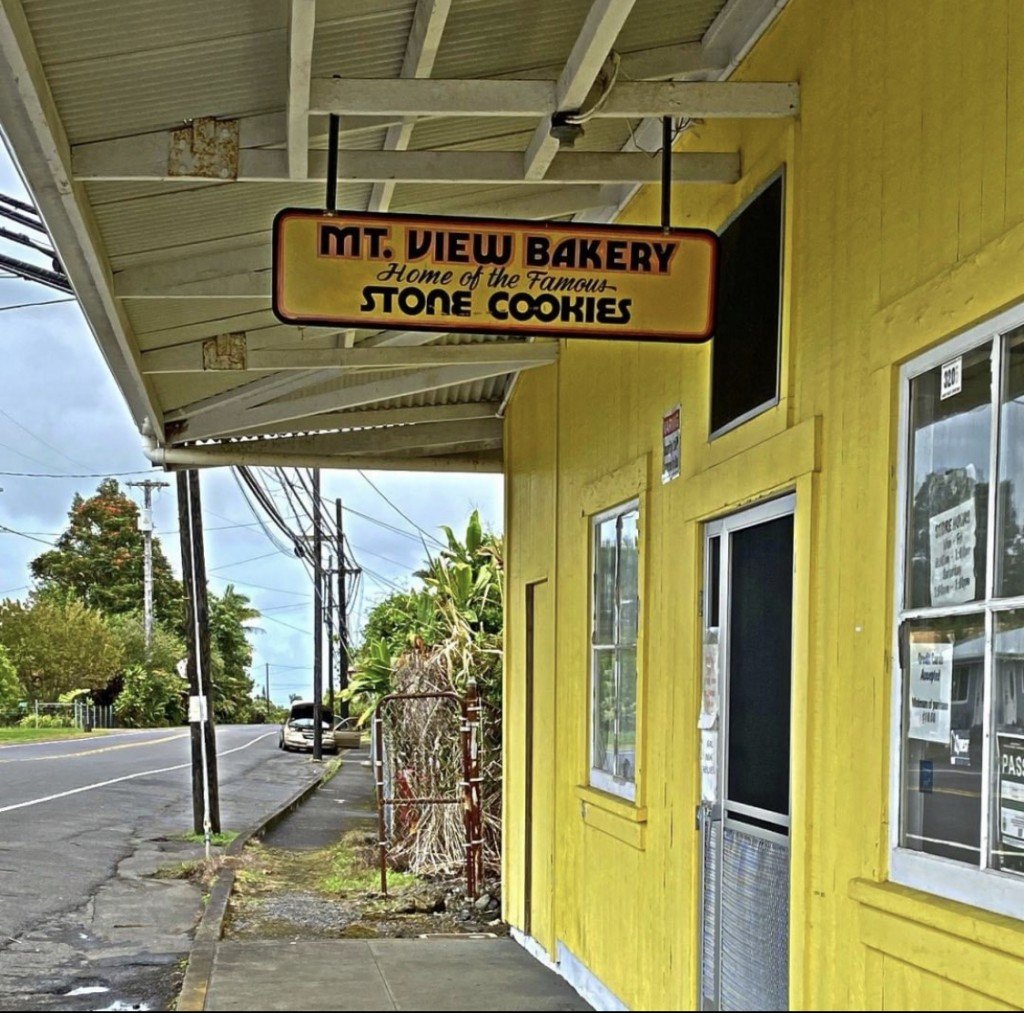 The quaint town of Mountain View on Hawai'i Island is home to Mountain View Bakery, a small family business 16 miles south of Hilo known for its Stone Cookies and homemade pastries.
Third-generation owners Lori and Russell Sueda purchased the bakery from Lori's uncle in 2004 and have been running the business alongside her niece Stefanie. "Being that we are a small family-owned business out in Mountain View, we always try to keep our prices low and affordable," Lori said.
Stone cookies—the bakery's most popular item—were created by founders Shigeru and Takeyo Kotomori in 1936. The hard-to-bite texture is similar to that of a biscotti. Every cookie is cut and pounded by hand.
"Many people express how they have been brought up with these cookies when they used to be sold in brown paper bags straight out of the oven," said Lori. "It's good for dunking in coffee, tea or milk."
The stone cookies come in a variety of flavors including chocolate chip and cinnamon raisin. Since not everyone likes the hard texture, the bakery started offering soft and half-baked versions, too. Customers even spread peanut butter, jelly and butter on the cookies to enhance the lightly sweet flavor.
The bakery recently introduced mochi doughnuts—a twist on the fried confection made of Japanese glutinous rice flour. The dessert originated in Honolulu when Charmaine Ocasek began making poi (thick paste made from taro root) mochi in her parents' garage in 1992.
Mountain View Bakery's version of the Hawaiian and Japanese fusion are not as sweet as the traditional doughnut yet packs the flavor and chewy texture of the original treat.
The doughnuts come in unique flavors including glazed taro, churro and orange dream. Customers frequently order in advance due to high demand.
If you are unable to make the trip to Mountain View, the products are available in stores such as Marukai Wholesale Mart and Don Quijote Honolulu.
Besides stone cookies and mochi doughnuts, the bakery offers homemade pies, breads and sweet butterhorn rolls. If you are making the trip to Mountain View, it is recommended to arrive early to avoid waiting in line to try the delicious pastries.
Open 6:30 a.m. to 1 p.m. Monday through Friday and 7:30 a.m. to 1 p.m. Saturday, 18-1319 Old Volcano Road, Mountain View, Hawai'i Island, @mt_view_bakery