Mrs. Barry's Kona Cookies is Big Island's Sweetest Hole-in-the-Wall
A Honoka'a schoolteacher goes from winning a cookie contest to starting Mrs. Barry's Kona Cookies.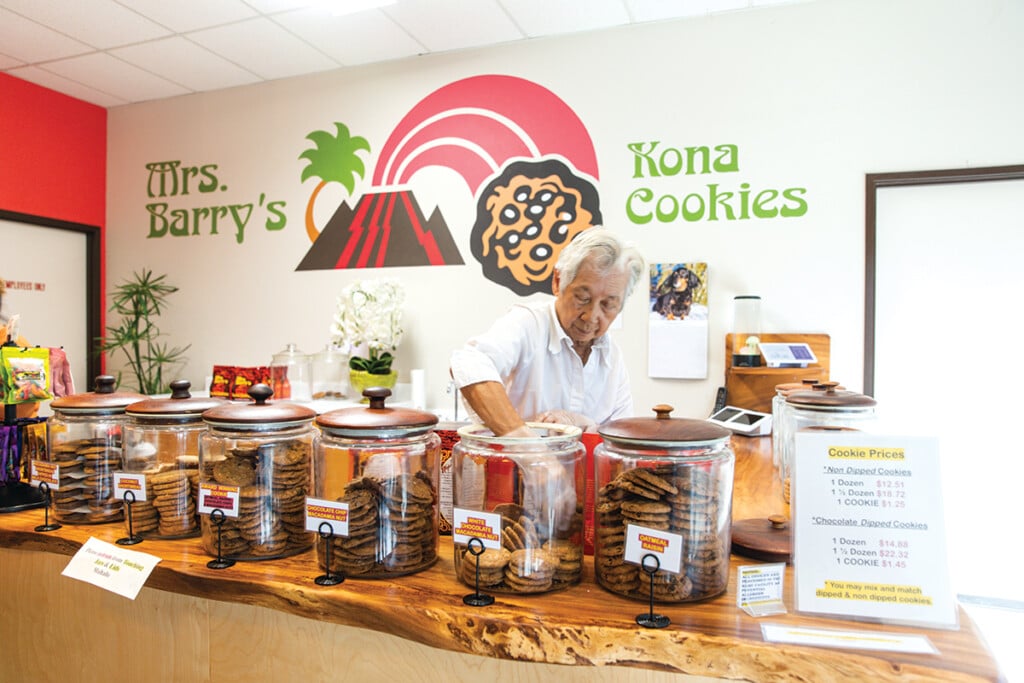 In 1980 Han Sung "Has" Barry quit her job as a schoolteacher and started a cookie business. All because of a horoscope. She grabs her wallet and pulls out the astrological forecast, cut from the newspaper decades ago, and hands it to me.
"You are ready for changes in business matters," it reads. "Don't let anybody hold you down."
"I was debating what to do," she explains. "And then I saw this."
Barry, now 86, started Mrs. Barry's Kona Cookies two years after she won first place in a cookie contest in the first-ever Macadamia Nut Festival in Honoka'a, a small town along the Hāmākua Coast of Hawai'i Island where she lived with her husband and two kids. The contest required the use of macadamia nuts, so Barry spent two months working on a recipe. The cookies she entered in the contest were made with oatmeal and studded with chocolate chips, fresh macadamia nuts and raisins. Her award-winning cookies are still sold at her Kona shop—and they're still among her bestsellers.
"All I got was $100 and a blue ribbon," Barry says, laughing.
But that's not all she walked away with. She also got the idea to start her own business, something that wasn't all that unfamiliar to her.
Barry grew up in Kea'au on Hawai'i Island, about 10 miles south of Hilo. Her family, who emigrated from South Korea, raised vegetables, pigs and chickens. They also wove lau hala into mats that were sold at a friend's shop. Barry's parents later started Kea'au Kim Chee, making and bottling the spicy Korean side dish made from fermented cabbage and other veggies. (The company's name was later changed to Harry Kim Kim Chee, after her brother who was mayor of Hawai'i County.) Entrepreneurship was in Barry's DNA.
But instead of working in the kimchi business, Barry left Hawai'i to get her teaching degree in California. That's where she met her future husband, Jim. She got married and lived in Los Angeles for nine years before heading back to Hawai'i Island to raise her kids. She got a teaching job in Honoka'a and her husband signed on as the football coach at Honoka'a High School.
Then she won the cookie contest, read her horoscope and everything changed.
Barry and her husband sold their Honoka'a home and moved to Kailua-Kona, which they thought would be a bigger market for their cookies. In August 1980 she opened Mrs. Barry's Kona Cookies in a small 429-square-foot shop in the Kona Inn. Her cookies—peanut butter, chocolate chip mac nut, oatmeal raisin, macadamia nut shortbread—were a huge hit. She was baking 200,000 cookies a day on average, 700,000 on busy days.
In 1997 Barry opened a new and much bigger location at the Kaloko Light Industrial Park, just five minutes from the Ellison Onizuka Kona International Airport at Keāhole. The 4,500-square-foot shop is open seven days a week, with Barry's son, Jamie, baking the 13 varieties the company now sells, including chocolate-dipped macadamia nut shortbread, coconut shortbread, coffee crunch and Hawaiian wedding cookies. The cookies are still made from scratch using fresh eggs, real butter and high-quality Guittard chocolate.
The most recent addition to the cookie lineup is the chocolatey Chocolate Whirl, which was a complete accident, Barry says. "When I was at the Kona Inn, the air conditioner didn't work and I was mixing chocolate chip cookie batter and the chocolate chips started melting. I thought it was wasteful to throw them away, so I just baked it. Now I have to melt chocolate to make them!"
Just don't ask the family to come up with new cookies; 13 is enough, Barry says.
The shop is the only brick-and-mortar place you can find Mrs. Barry's Kona Cookies in Hawai'i, though the company sells all of its products online, too. It's not uncommon to find the unassuming shop, surrounded by an electrical repair company and building materials stores, packed with locals visiting Kona armed with cookie orders from friends and family.
"That's the best part," Barry says, "seeing people buying cookies and looking happy."
Despite its success, the family has no intention of scaling up. There's no need.
"Either you stay small or you go big, but you don't go in-between," Barry says. "We decided to keep it small. I don't want headaches."
Today, Barry is semiretired; she picks up supplies and ingredients from Costco a couple of times a week and works in her yard at her Hōlualoa home. (Jamie and his wife, Candice, run the company.) Her husband, who became a beloved teacher and football coach at Konawaena High School, passed away last year. They were married for almost 62 years.
There's another part of that horoscope Barry keeps in her wallet. It reads, "You'll be confronted with certain upsetting situations, but if you use your sense of reasoning, everything will work out to your advantage."
That sounds about right.
Mrs. Barry's Kona Cookies, 73-5563 Maiau St., Kailua-Kona, (808) 329-6055, konacookies.com
This story was originally published in our 2023 Spring issue. Buy a copy here.