Must-Try Kauai Street Eats, Pop-Ups and Food Trucks
These mobile eateries are adding splashes of color and a delicious variety of international cuisine to the Garden Isle's green landscape.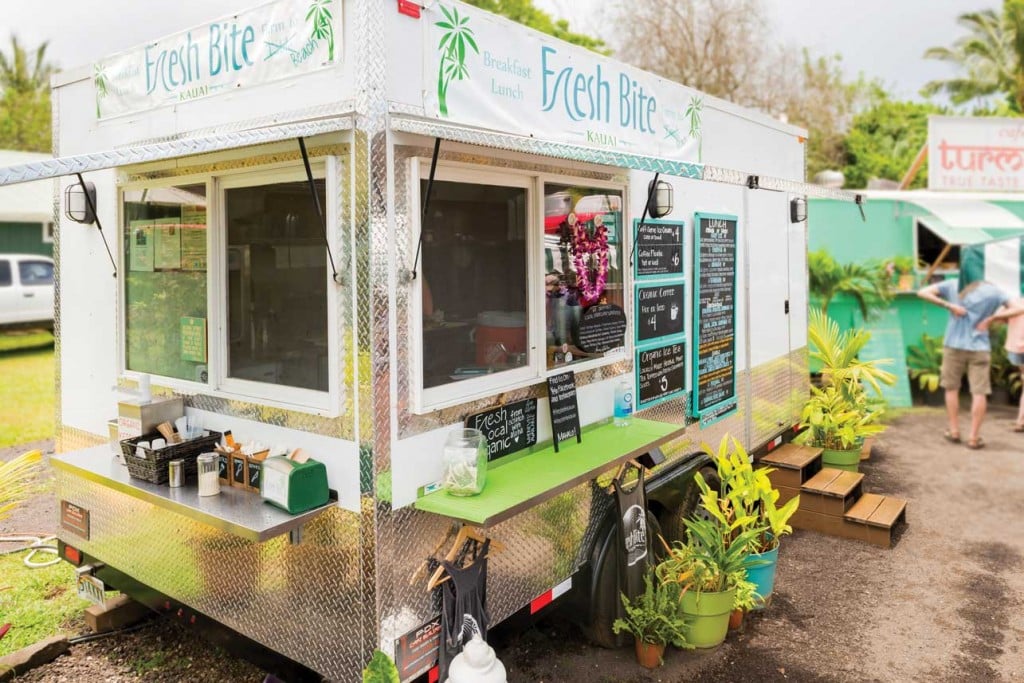 We hadn't expected this. A friend and I had planned a long weekend on Kauai, for all the things the island is famous for—the Napali Coast, the hidden beaches, the slower pace, an escape from the noisy Honolulu where we live. But we found something else.
We landed in Lihue at 6 a.m., and, still waking up, headed straight to a place a friend had recommended, a coffee food truck. For me, the ambiance of a café is as much a part of the morning ritual as the cup in my hand, so I was skeptical about his recommendation, a converted rental-car shuttle in a parking lot in Kapaa. But Small Town Coffee lived up to its reputation, with its simple, shaded wooden patio, like a front porch where neighbors convened to talk story. An elderly couple dressed in green handed out emerald-tinged carnations for St. Patrick's Day, and so many hunky surfers swung by I considered a move to Kauai. Inside the truck, friendly baristas served an impeccable espresso, the beans from nearby Imua Coffee Roasters (small town, indeed—the roaster is run by owner Anni Caporuscio's boyfriend).
It turns out that first stop set the tone for the rest of our trip. Not so much in the realm of cute surfer boys, unfortunately, but in exploring the food trucks scattered throughout Kauai, bustling little hubs of food, drink and people. We already know and love Kauai for its tucked-away waterfalls and sea caves and beaches nestled into the cliffs. However, on this most recent adventure, we discovered Kauai's equally delightful food trucks, little mobile units that pop up in enclaves throughout the island, serving everything from Venezuelan food to poi bowls in parking lots and at town community nights.
We spent the morning meandering through the lush grounds of the Hindu monastery, nestled against Wailua State Park. The monastery makes cheese from the cows kept on the almost 400-acre property, but, sadly, it's not available to the public. So we dropped back into Kapaa and wandered into an empty lot on the busier side of town, where Wailua Shave Ice and Scorpacciata, a pizza truck, have set up shop. Pizza and shave ice, some of the simplest foods in the world, lend themselves to the bare-bones, roadside atmosphere. At Scorpacciata, the pizza is prepared with a thin crust in the middle, that puffs out at the edges, ever so lightly charred. Pies run from the classic Italian margherita (my favorite), painted with marinara and scattered with fresh mozzarella and basil to the stereotypical "Hawaiian," studded with pork and pineapple and drizzled with a balsamic reduction. Some clichés will not die, and, judging by the popularity of the Hawaiian, people don't want them to.
At Wailua Shave Ice, marked by a logo that looks like it's been pulled out of a vintage outdoor ad, shave ice gets a refresh. Gone are the artificial dyes and flavors; instead are creations like the Lilikoi Cream, with fresh passion fruit, vanilla bean and milk, the island version of a creamsicle. Owners Brandon Baptiste (son of the late Kauai mayor Bryan Baptiste) and Josh Tamaoka, who grew up surfing and training in jiujitsu together, set out two years ago to remake Hawaii's iconic treat. Baptiste couldn't resist adding touches from his years as a fine-dining chef, which included a stint at New York's Per Se, and, hence, the Lava Flow, a mound of soft ice soaked in pineapple juice and topped with strawberry puree and coconut foam, as fluffy as the clouds we had flown over a few hours ago.
From beachside Kapaa, we drove to the Home Depot parking lot in Lihue, where a Venezuelan food truck serves arepas. Alejandra Gamero, born and raised in Venezuela, started Ally's Cocina in 2015, introducing Kauai to arepas, stuffing masa, or corn-flour dough, with ingredients such as an avocado salad and hamburger patties. We go all out with the King Kong arepa, which is indeed a hulking, hefty thing: It feels like a pound of pork, black beans, avocado, a fried egg and crumbled feta, doused in a cilantro garlic sauce and piled between two halves of a crispy-edged, griddled masa bun. At least, Gamero calls them buns, but there's no way we can eat this with our hands. It's a glorious, hot mess, cooled by the salty feta, brightened by the garlicky sauce and pulled together by the earthy sweetness of the corn cakes. On the hot pavement in front of Home Depot, we tasted someone else's home across the Pacific. It was a big arepa in a small world.
The world expanded again as we made our way to Waimea Canyon and stood above its vastness. It is so clear today—a rare occurrence, we are told—that we head to the Kalalau Lookout to watch the sun drop into the ocean, the Napali Coast turning golden, holding every last ray of light in its fluted cliffs.
Hanapepe by day is sleepy and quiet, but, on the Friday night art walk, a carnival-like atmosphere takes over. Strands of light highlighting the store fronts, various musicians and bands on every other block … and the food! Ribs on the grill, vegetarian Persian fare, mango passion-fruit pie. It takes us three passes down the main drag before we follow the smell of smoky kalua pig to Porky's food truck, where a crowd gathers for hot dogs. Or, rather, for pork sausages topped with kalua pig, pineapple relish and Porky's own barbecue sauce, resulting in a tangy, sweet, in-your-face meaty mass. Certainly, there are many ways to eat healthy on the island. We've just chosen to ignore them today.
The next day, however, is a fresh start, at the very least, in name—we charted a route to two trucks: The Fresh Shave in Lawai, and the other, Fresh Bite Kauai, in Hanalei. Most days, The Fresh Shave is parked in front of Warehouse 3540, once a heap of corrugated metal and decaying wood that vaguely resembled a building, and now an airy, industrial-chic hub for boutiques and galleries. My Instagram senses, already tingling, hit overdrive at the sight of The Fresh Shave, another all-natural shave-ice spot with a shiny, vintage trailer rounded like a giant Twinkie (a 1961 Aristocrat Lil Loafer, for the enthusiasts who want to know). The powdery, soft ice is shaved using a hand-cranked machine and stuck with straws sporting paper mustaches. To complete the barbershop theme, mustache styles mark the menu items: the Fu Manchu for a strawberry and cream creation crowned with fresh bananas, and The Chevron, a not-your-usual shave ice concoction of coconut and chia-seed cream revealing coconut- and lime-drenched ice underneath. There's a secret menu, too, which includes the Dirt McGirt, a layering of Kauai coffee cold brew, and housemade chocolate and coconut creams, finished with Oreo crumbles (organic, naturally). It was all achingly hip and ridiculously delicious. I'm beginning to wonder how it is that Kauai's shave-ice scene has surpassed that of Oahu in both flavor and flair.
On the drive north, we passed taro patches and a series of one-lane bridges to reach Hanalei. We pulled into Hanalei's version of a food court, a handful of food trucks parked around picnic tables off of Kuhio Highway. A group of friends, hair wet from a surf session, delivered the surf report ("epic"), while in line at The Fresh Bite, a spot that makes an effort to source almost all of its ingredients from the north shore of Kauai. Highlights here included the poi bowl, the poi thinned slightly with coconut milk and topped with granola and an assortment of seasonal fruit—today, banana, pineapple and papaya—and the Chop Lee wrap, a chopped salad with creamy ranch dressing and addictive, crunchy chickpeas tucked into a tortilla. "Farm to Beach" is The Fresh Bite's tagline, but the beach can wait, for now. We sit among visitors and locals, the tables crowded with plates of food from other trucks—chicken katsu and rice, fish vindaloo and naan—flavors from near and far, worlds of culinary discovery delivered from four wheels.
For more information, visit smalltowncoffee.com, scorpacciatakauai.com, wailuashaveice.com, instagram.com/porkyskauai, thefreshshave.com, freshbitekauai.com.