NASA shares photo of Hawaii Island from space
We know Hawaii is gorgeous, but this is a vantage we don't often see.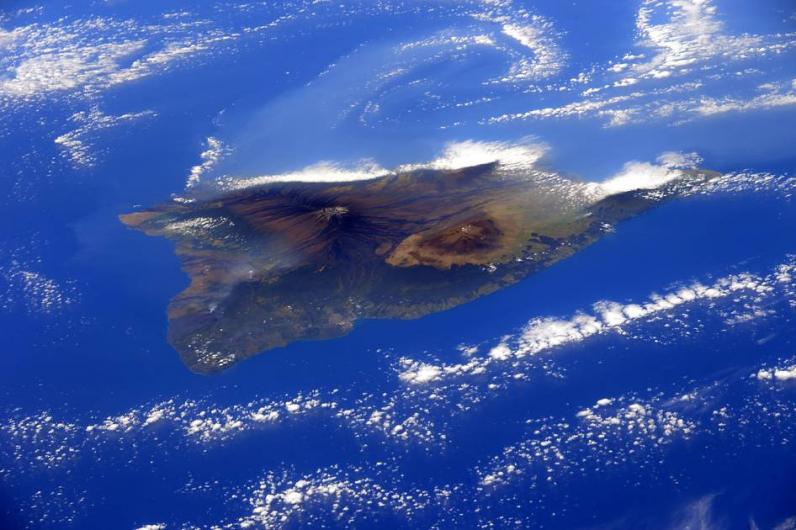 We know Hawaii is gorgeous, but this is a vantage we don't often see.
While the Big Island's residents and visitors were hiking, enjoying the beach, eating plate lunches and generally going about their day last Saturday, European Space Agency astronaut Samantha Cristoforetti was hovering some 200 miles above them taking this picture.
The mostly-cloudless photo of Hawaii's biggest island depicts its east-facing Hamakua Coast in the foreground. Hilo Bay, with the city behind it, notches the coastline. To the left of Hilo Bay, volcanic plumes rise from Kilauea volcano's Puu Oo cone eruption and Halemaumau summit crater in Hawaii Volcanoes National Park. The image shows massive Mauna Loa volcano dominating the island's center, with its brown, treeless upper-elevation slopes stretching in all directions. Mauna Kea, one of the tallest mountains in the world when measured from sea floor to summit, is seen to the right of Mauna Loa, ringed by light-brown upper-elevation acreage and green forests and pasturelands north (right) of Hilo.
The photo was taken from the International Space Station as part of NASA's Crew Earth Observation program, which captures images of Earth from space to look for changes over time.
Members of the Crew Earth Observation program have been snapping images of Earth from space since 1961. The program previously released an image of the main Hawaiian Islands (above) in January 2014.
Cristoforetti, a captain in the Italian Air Force, tweeted her photo of Hawaii Island with the message: "And suddenly as we flew over the Pacific… the island of #Hawaii with its volcanoes! #HelloEarth." She has been regularly posting shots of global locations on her Twitter feed since she left Earth for the space station in Dec. 2014.