Transformative Giving: The Next Generation of Philanthropy
The generations that followed the baby boomers bring fresh ideas and new priorities to giving.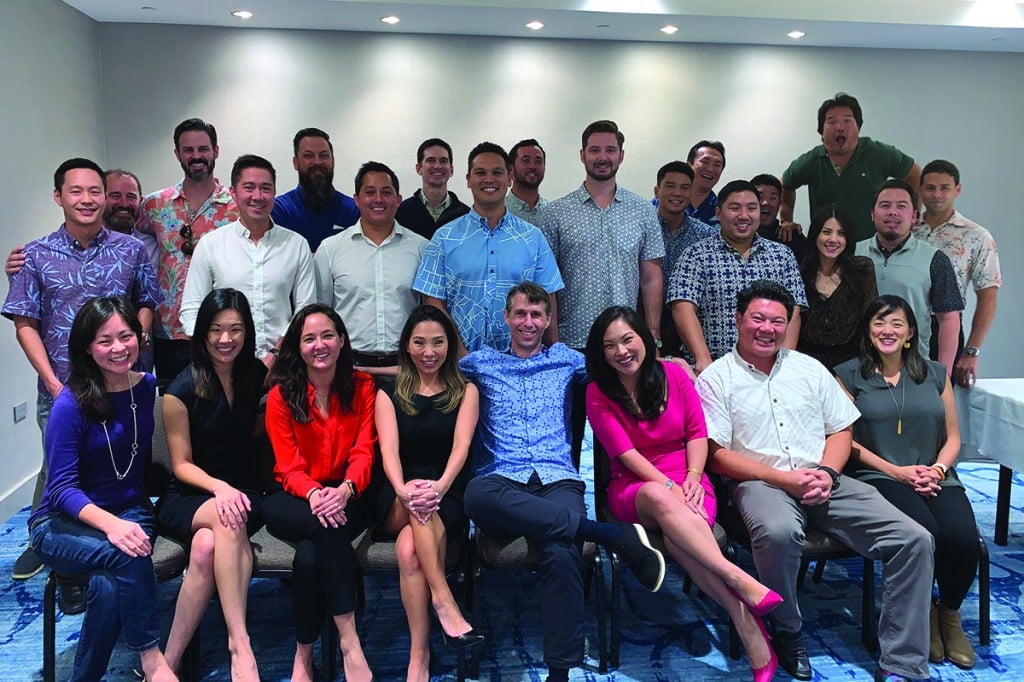 For decades, Hawai'i's nonprofits have turned to a generation of philanthropists who've donated generously, creating safe havens for keiki, protecting our fragile ecosystem, and creating entire systems to address the needs of our neighbors. As that generation, mostly baby boomers, looks toward retirement, younger generations — some of them children of those who've given over the years and others who are relatively new to philanthropy — are taking center stage.
Just as these baby boomers shaped the framework of philanthropy in Hawai'i, these younger donors are looking to leave their mark in the decades ahead. They face different challenges than those before them: wealth inequality, crushing student debt, high cost of living, and caring for their families in a 24/7 world where work bleeds into nights and weekends and emails never stop.
Every donor interviewed for this story immediately identified time as their most valuable commodity, which looms large as they decide where and how to engage in the community. Where they want to invest their time, how they view sitting on boards and going to traditional gala-type events, the value they perceive of the time they give to organizations — all those concerns came up again and again. They don't have time to warm chairs. They want to get things done.
Perhaps no organization in Hawai'i better reflects these new perspectives than the GIFT Foundation. The nonprofit was founded in 2003 by Kenwei Chong and a few friends after learning about the concept through the Boston GIFT chapter and identifying with its premise, "Giving Inspiration for Tomorrow." Chong, the only remaining founder still active on the board, remembers the early years, going to Kelvin Taketa at the Hawai'i Community Foundation for guidance on organizations worthy of their support. "Kelvin was invaluable, and yet, in his typical way, he said, 'Eh, you'll fizzle out in 10 years,'" Chong says, laughing. "That's perhaps what I'm most proud of. We didn't fizzle out, and we've grown from raising $40,000 a year to $200,000 year after year."
By design, Chong and other early GIFT board members age into "kūpuna" status after a decade or so. "That was the idea, to get young people involved and then hand it off," Chong says. "I'm definitely the old guy in the group now." The founders and those who've followed view GIFT as the stepping off point, where young professionals can discover philanthropy and then, as they cycle into kūpuna status, philanthropic giving is embedded in their way of life.
GIFT doesn't own that young donor space, however. Particularly given the civil unrest around the country, even high school and college students are engaging, perhaps more than ever before. They look to crowdsourcing, GoFundMe initiatives, and matching gifts to amplify their modest donations. Jenna Neher, who grew up in Maunawili and is a senior at UCLA, rallied friends to make a difference. "When Black Lives Matter came to the forefront, my friends and I started raising money for bail funds," she says. "We pitched in our own money, and then took to social media," with friends around the world sending modest donations through Venmo. They raised $2,000, and Neher found a 200% corporate match that ballooned it to $6,000, all of it going straight to funds addressing BLM needs.
"The social culture among my friends is that they are expected to give," she says. "They feel an obligation to do what they can," even when they are living on modest college budgets where every dollar counts. In Neher's case, she donated $100 to the BLM effort, an amount she describes as a big chunk of her budget. "I can't donate every time, but I do it when I feel like it really matters."
Brett MacNaughton, who grew up on the Mainland and is now back in Hawai'i working in the family's real estate development business, sees changes coming in the decades ahead. "I think the ability to give smaller amounts makes it easier—$5,000 and $10,000 tables aren't accessible to younger generations now," he says. "But if they can give a couple hundred dollars and feel it will make a difference, they will do it."
Both Neher and the GIFT Foundation board members see a possible paradigm shift among younger donors. "Our names aren't on any of these gifts, and that's fine with us," Neher says. "It's a means to an end, and that makes more sense than getting my name in a newsletter." GIFT shares a similar view and its members don't look to promote the foundation. They look to promote the organizations they fund, hoping to drive more funding and support their way.
While buying tables at various galas and events has been a long-held tradition for both his family and the business, MacNaughton says it's getting harder to fill those tables, that those three or four hours in a ballroom cut into family time and other obligations.
He struggles with that pressure routinely. "It's a huge time commitment, and sometimes there's at least one a week. That's a lot," he says. "Most of the time, I'd rather donate money and not attend the event." He points to the exceptions, of course, those events that have amassed local standing similar to New York City's Met Gala and are the "must get" tickets of the social and philanthropic community. But for MacNaughton, he's more likely to give and show up if it's engaging, different, and showcases the community served in interesting and insightful ways.
"I rarely ever hear anyone excited to go to events in the big ballrooms," he says. "I've heard people say, 'Oh, it's at Aulani in the pools —that's fun,' or 'Oh, it's at the Four Seasons in the fields—that's fun.'" He believes the unique venues offer a more casual vibe, where guests can mingle and visit, rather than being tied to their ballroom chairs for an extended program.
GIFT Foundation's mission is based on that view. Its annual October costume gala is considered by dedicated attendees as the one "must do" event in town. The parties are, in fact, epic. Chong remembers one in the early years, when Melissa Blake, the event coordinator, decided the gala needed a massive dead tree in the center of the Royal Hawaiian's iconic ballroom. The theme was macabre goth, and she wanted to decorate the tree with skeletons and other spooky décor. Chong borrowed a truck, headed to Koko Head with friends and loaded a dead kiawe tree in the back of the truck. "It was crazy," Chong recalls. "We're driving down Kalaniana'ole Highway, with this tree, easily two lanes wide, in the back. Then we pulled up at the Royal Hawaiian with this massive tree to drag into their ballroom." No one remembers how they got the tree out, after the event, but they clearly remember the hotel insisting they get it done.
In recent years, the premier diamond sponsors have been welcomed with rows of beds, decked out like a cemetery under a full moon, with headstones recognizing their generous gifts. Another year took them to Maui Brewing, which had been transformed into a dungeon. "There's always a theme of good versus evil in our décor," Blake says, "and we look to surprise our guests with ingenuity without spending a lot of money." Blake also recalls one of the foundation's earliest events, the superheroes and villains year at The Pacific Club — an event that was a raging success. Not so much for the Pacific Club, though, which politely suggested the foundation find a different location next time.
While most events try to highlight and focus on the beneficiaries, GIFT takes a different approach. Its outreach to donors is personal, with phone calls and letters making the case for the beneficiaries chosen that year. Once donors buy in, the party is their celebration, their reward for making a difference in the community. GIFT board member Kris Hui puts it this way: "It's GIFT's goal that attendees leave every year saying, 'I'm going to start saving now so I can come back next year, and maybe up my donation. This was the best party I've been to all year.'"
"While we're known for the parties we throw, that's not what we do," says board member Tony Mizuno. With no staff, GIFT is entirely volunteer driven, with board members reviewing and vetting as many as 90 grant requests each year before homing in on their finalists for interviews, further vetting, and then choosing that year's beneficiaries. "It's a lot of hours, but that's what's most meaningful to me," says Alison Tomisato-Alves. "We learn about dozens and dozens of nonprofits doing really great work," and in many cases individual board members end up "adopting" their favorites, even if it doesn't make the final cut for a grant.
GIFT board members collaborate and debate until they settle on their beneficiaries. Often, they quickly align; other times discussions are more spirited. "Voting is an anti-GIFT culture," Mizuno says. "And it's not uncommon when we have a new board member who'll say, 'Let's take a vote,' and we say, 'No, we're going to talk about this and decide together."
These young donors know that organizations across the state are looking to add younger people to their boards, and they recognize that organizations are still figuring out how to do that effectively. MacNaughton sits on the board of the Nature Conservancy, an organization his father also supported for years. "I'm the youngest board member by far, and I think it's important to get new viewpoints into these organizations," he says. "I hope they see value in my perspective."
He also knows young donors are a valuable target. "These younger generations definitely care, maybe more than others," he says. "You can see it in the protests; they can't stand injustice, and they look to the legacy organizations and figure they're doing fine," so they put their money and time into other causes that aren't getting as much attention but really matter to them.
He, and many of the others we spoke with, hope that organizations will find creative ways to welcome young donors, and find new ways to engage them. Blake agrees, pointing to some organizations that are creating youth leadership boards, a training ground of sorts to engage this generation before moving them on to the official board. She also points to organizations doing hybrid events—traditional galas that appeal to longtime donors and then more casual, hands-on events that draw younger crowds.
Suzy Churchill, for decades a dedicated donor and volunteer in Hawai'i's philanthropic community—she's supported everything from the Boys & Girls Club to Kapi'olani Women and Children's Hospital to numerous schools and education endeavors—is inspired by these next generations. "My generation is making sure we're able to honor the philanthropic commitments we've already made," she says, "while preparing for the unexpected that can suddenly surface in an aging population." Watching this next generation forge their own path, just as she and her peers did years ago, assures Churchill that what she has been part of building will continue to grow, infused with new ideas, new strategies and new money.
MacNaughton compares the coming shifts to PayPal. "PayPal realized it was born in a different generation, so it rebranded to Venmo to be cool," he says, and it worked. "Now young people flock to Venmo," just as Neher did to raise money for Black Lives Matter.